Based out of Oklahoma City, Oklahoma, Omen is a metallic hardcore band whose most recent single, "Void," is the kind of chugging, riff-driven beast that the moshers live for. "Omen started back when I was—I believe—16 or so," frontman Skyler Conder told No Echo via email. The young vocalist and his early bandmates got busy early on, playing shows and building up their presence in their region, but you know how these things often work.
"When we started touring and whatnot, it became mad stressful and some of the old members really couldn't make it happen, so with the tour we did Fortunes Fool and Fatebringer, I got in contact with [guitarist] Dakota [Solis] and [drummer] James [Mace]. They were down to fill in for it, so we packed out my old Toyota 4Runner and jumped on the road.
"That was an absolute blast, except for when we got in a wreck and were stranded down in San Antonio for a few days. That was a super-overwhelming experience, but we made it home safe and that's what mattered the most. We were all bummed that we had to drop the last few days of tour, but sometimes the inevitable happens, and you've gotta do what you gotta do. [Bassist] Josh [Lehew] joined a few months after our tour with Cold Shoulder, and we were really stoked on that. He's been a good friend of ours for years, so getting the chance to play music with him was exciting for all of us."
In our email conversation, Skyler gave some background on their aforementioned "Void" single. "We had already been working on some stuff here and there, but hadn't really put anything together, thoroughly. Everything was a bit scattered around at the time, and we were unsure what sound we wanted to gravitate towards, which led to the question of 'What foundation are we trying to set? What sound do we want to achieve as a collective?' But when we began signing with 1126 Records, we really started grinding it out every day for a few weeks to put something together, and a lot of the ideas that were floating around were what ended up turning into this specific track.
"As far as the lyrics go, I had been sitting on these for a while. It's about a very close person to me who struggled with addiction throughout their life, and the pain that it caused around them. I didn't dig into too much depth when writing them, but I think when people read the lyrics, they can understand the idea behind them.
"We were all very happy with how it turned out at the end of it all. We are now in the process of putting out a new record sometime this year and touring as soon as possible. With the pandemic that's happening at the moment, a lot of things had to be pushed back, but we promise we aren't finished yet. We're looking forward to sharing these new songs with everyone."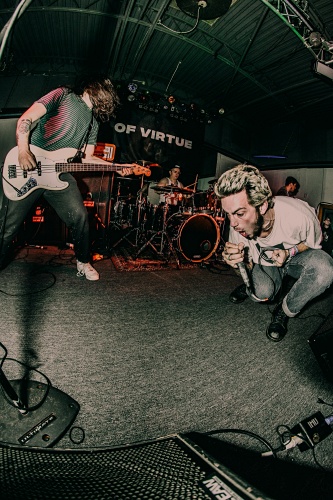 What's happening in the Oklahoma hardcore scene right now? Skyler obviously—and justly—rides hard for his local community: "Through the years of growing up and playing in other bands, we've made friends with tons of bands who have passed through, as well as when we've been on the road, such as I Am, Orthodox, Remain and Sustain, Frost Koffin, Fortune's Fool, and Heavens Die.
"Some local friends of ours play in bands such as Sledge, Strangled, Third Strike, and Self Inflicted. There's honestly too many to name off. But we're happy to have built friendships around music. That's one of the coolest things about doing this."
Omen on social media: Facebook | Instagram | Twitter
***
Donate a few bucks to help with No Echo's operating costs:
Tagged: omen