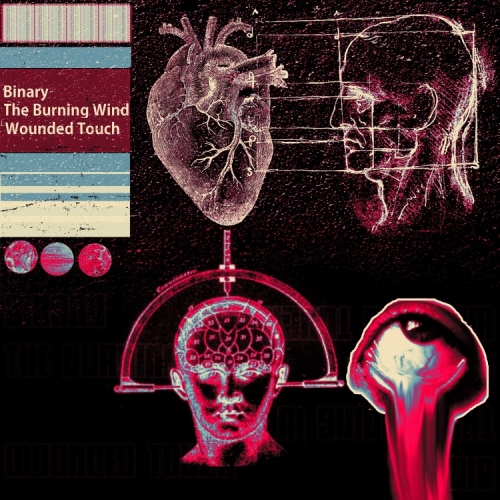 In the next few weeks, Bitter Melody Records will be dropping a 3-way flexi split featuring Binary, The Burning Wind, and Wounded Touch, and No Echo wanted to help spread the word about the project.
Firstly, the split will include the final track from Binary, the Philadelphia metalcore outfit No Echo profiled last year on the site. "Wither Without You" follows the band's farewell 2020 EP, Fall From Grace Face Down.
"The song is about having a suicidal response to trauma and is questioning the validity of anything we feel for other people," Binary vocalist Shteif told us via email. "As relationships that once held you together fall apart it only feels right to fall apart yourself."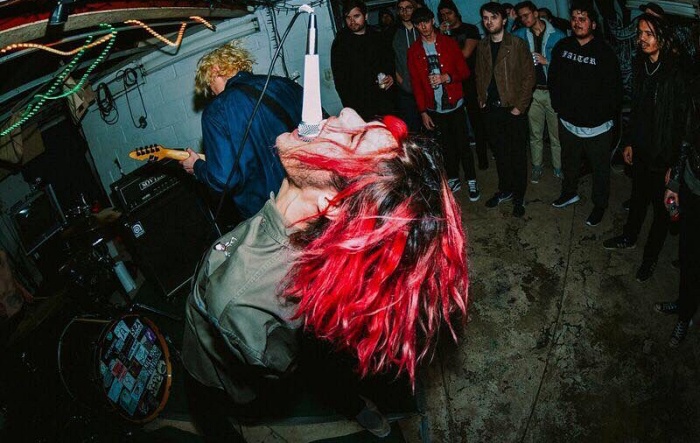 The Burning Wind was formed by Jeremy White (ex-Dwell) and Kris Wishon (vocals) in Kernersville, North Carolina in 2017. The group was eventually rounded out by guitarists Coston Harnell and Jacob Lily (Dwell, Chamber), and bassist Matt Brotherton.
Influenced by likes of Converge and the Dillinger Escape Plan, the North Carolina combo released two EPs, with An Inheritance in A# hitting stores last year.
The Burning Wind's portion of the real estate on the split is a track called "Without Blood," which will likely be their last song, sadly:
This is what Jeremy said about "Without Blood" and its lyrics: "This song is written for our dear friend, Ian Gilchrist, who was recently diagnosed with Ligma. All proceeds will go to his recovery and also his Sugma vaccination."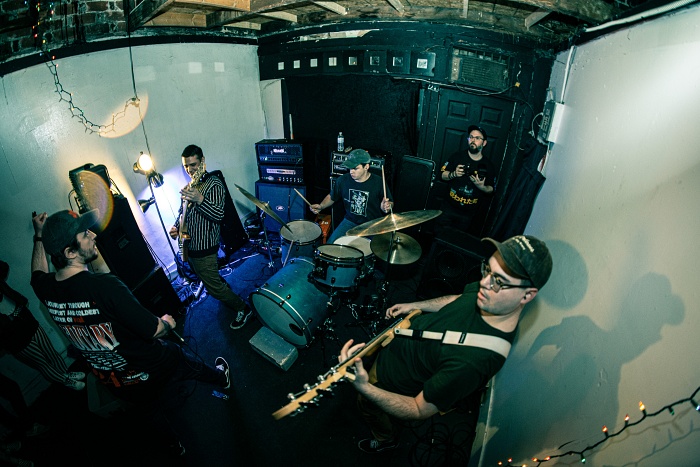 The 3-way split closes out with Wounded Touch, a Michigan band comprised of musicians who some readers might know from their work in Sunlight's Bane, And Hell Followed With, and Steamroller. Their contribution to the site comes in the form of "Suicide Note Forgery," a dizzying maelstrom of metallic hardcore that is as brutal as its title implies.
"As young people, I think most musicians (especially the 5 of us) learned to make music and performing it live an important part of our processes of grieving or coping," says Nick of Wounded Touch.
"When we didn't have it at the time we perhaps needed it most, it devastated a lot of people I know in this community and I think a lot of musicians found themselves confronting personal demons and the ugliness of the world in a way we hadn't experienced since before our teenage years."
Nick continues: "Even our plans for this split and what it would mean to us as a band changed drastically. What started as plans for a fun and easy going release at the beginning of the year ended up being the only thing we would be able to offer as a band after the year's plans came crashing down and we drug it through the mud with us and every obstacle imaginable in the hopes of being able to offer it up like a treasured heirloom.
"This all comes from an incredible point of privilege but I think it's a feeling a lot of artists I know are struggling with right now. So while the song lyrically is about artists/bands who use the very real horrors of suicide and mental illness as a hollow aesthetic to push records, it has come to mean a lot more to us as a band than we realized."
The Binary x The Burning Wind x Wounded Touch 3-way flexi split is available for pre-order on the Bitter Melody Records store.
Pressing info (all copies come with rainbow holographic foil imprint and full color printed cover):
100 red flexis
150 blue flexis 3 new tracks. 90 seconds each.
Digital will be available from the bands on the release day but each flexi will come with a download card.
***
Donate a few bucks to help with No Echo's operating costs:
***
Tagged: binary, the burning wind, wounded touch