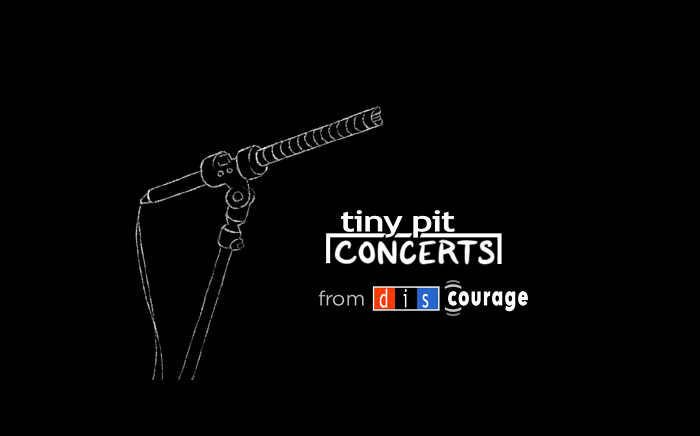 Since 2008, NPR's Tiny Desk Concerts video series has been hosting musical acts from from across the globe for intimate live performances. Though they've covered tons of different musical genres, there hasn't been any hardcore representation. I mean, not a shocker, right?
That brings us to Discourage. The Oakland hardcore outfit have taken things into their own hands and had a little fun with the whole "Tiny" concept. In this No Echo exclusive, we're presenting Discourage — Tiny Pit Concerts.
"It began like many projects the past year as a result of the pandemic," says Discourage drummer Matt Tyler. "Like most bands, we released 2 records on Patient Zero Records last year and haven't had a chance to play live on them. Initially, the idea was something very simple. Richard (guitar) suggested we go to our local guitar center rehearsal studio with a camera or two, record the session, and just toss it up on social media, but the pandemic kept getting worse so nothing materialized.
"Meanwhile, I was studying audio engineering and we ended up with enough AV equipment and know-how to produce something a little more polished."
"On this, we play through our 7 inch EP, Forlorn Hope, and also debut a new track, 'Echo Chamber,' which will be on our upcoming LP. We recorded and filmed in May, 2021, at our practice space in Oakland, CA.
"Our friend, Paul Ehat, came and operated a GoPro that James Carroll (Time and Pressure) loaned us, the rest was shot on phones and computer cameras, and we decorated the hell out of the studio to just have a good ole party complete with A's colors, beer pong, and Smirnoff Ice. All the audio was done by Matt and the video was edited as a group so it's pretty much a completely in house project."
In other news, Matt gives us a Discourage update: "Now that the pandemic is waning in the States and shows are coming back, we're finishing writing an LP for Patient Zero Records. We'll head down to Sunsick Studios in San Diego to record that Labor Day weekend with Alex Jacobelli (Lewd Acts). Also, a second press has been ordered for Forlorn Hope as the first press sold out. There will be new colorways and a variant cover.
"As far as shows go, we're working on something in San Diego with our friends in Bent Blue (WAR Records) around our trip down there. We've also just confirmed that we'll be going to the Midwest in October for Promcore and a few other shows around the fest. Lastly, being that it's called Tiny Pit Concerts with an "S," maybe there will be another one with some new material. Who knows!?"
***
Help Support What No Echo Does via Patreon:
***
Tagged: discourage