Hailing from the "other" Baltimore, the pummeling Ohioans known as Body Farm peddle a brand of hardcore punk-influenced power violence that's blindingly fast, cutting, and fun as fuck.
January 10th saw them drop a S/T 7" which is a split release between ...So This Is Progress and Financial Ruin Records, respectively. The former is, I found, owned by the Club Chill swigging punks on the back cover themselves, who're incidentally responsible for a podcast by the same name. Give a listen here, if for no other reason than to expand your record collection via their killer Top Ten of 2019 special.
Admittedly, the "power violence" tag, while certainly applicable when the band is going "all bash, no flash," is a bit reductive when considering the staggering variety they've managed to cram into. As described by the self-appointed label descriptor "Detestation meets Dropdead", there are elements of traditional PV to be found on display here, mostly when they're exploring the start/stop dizziness of fastcore and the chugging bits of sludge that classically act as a change of pace.
More interestingly, though, the forensics on Body Farm reveal a band far more varied. There are elements clearly lifted from the halcyon days of USHC, with '80s riffs brazenly frontloading a number of the tracks. The proceedings ultimately fall somewhere closer to more recent wild ones like Cerce, Exit Order, C.H.E.W., Sick Shit, and Tørsö.
The dual opening salvo of "Tower of Babel/Gang Vocals" starts as a somewhat pleasant ruse, the dissonant feedback and ambient noise, while not altogether calming, is the false flag that preempts devolvement into an impossibly raucous burst of blastbeats and buzzsaw guitars. The upfront vocals are the perfect marriage of deafening, confrontational, and echoey that, when paired with the backing vocals of the first track's back half, feels like the entire block is shouting along to the closing line of "Not In My Town."
Be it Maryland's Charm City or Baltimore's sister city over there in the Rust Belt, I can only imagine how well this must go over live. It feels organic and overflowing with energy that feels both like seething bouts of nihilism and the celebratory "us for them"-isms inherent in punk. They even manage to tack on a sidewinding slither of a southern guitar riff as a kissoff. They squeeze in a fleeting flash of two step that again highlights a band fusing bruising traditionalism and forward thinking hardcore.
Body Farm have certainly spent time with the Capitalist Casualties catalog, but I wouldn't be shocked to find a far more well-rounded and, dare I say, melodic collection in their midst. As lightspeed as the band plays, they seem to know their way around a, you know, actual song.
"1984" and, subsequently, "Poison" together clock in at an even minute. These are perhaps the tunes that'd get them lumped in with the Rhode Island titans that penned "Unjustified Murder," but Body Farm are equally at their best when peddling their nihilistic fury in bursts just south of 30 seconds. The Orwellian nightmare that has sadly become everyday reality lands in the former's lyrical crosshairs, while the poison in question is certainly not the sugar rush of their Speedway refreshments on the rear of the insert.
Elsewhere, the hopelessly bleak and acronym-baiting "s.a.d." crushes from word one. It's an unsettling defeatist anthem, though its teeth are still gnashed and bared.
"Rough Night" finds them riding wildly on the back of a ripping, "blink and you'll miss it" classic hardcore guitar run and it's follow-up "Screen Life" is yet another exploration of brevity via brutality, bouncing between grinding passages and something more traditionally punk. Exploring thematic terrain oft-ignored even in the punk community, here Body Farm feel lyrically and musically adventurous, dropping in dazzling bits of low end, all with their phasers set on "kill."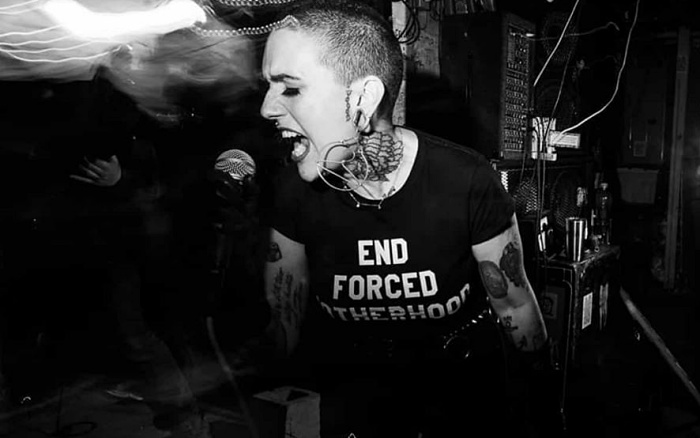 "45/June" continues their penchant for dutifully crafting the mini-suite, pairing the 40-second barbed takedown of the Trumpian nightmare with an unflinching yet hyper literate treatise on the innate evils of forced motherhood. This dystopian duo of tracks feels more violent and roughshod than elsewhere on the 7", unleashing maniacal and barked backing vocal that plays as if a secret weapon, falling somewhere more in line with the tradeoff found traditional power violence. That they don't rely on the lower register, unhinged backing vocal only speaks to the amount of restraint and subtlety in the band's attack.
Ocean, the vocalist, is confident, fearsome, and commanding. The guitars are both thick and trebly and the rhythm section is devastating. This is the type of record that's over by the time you've turned your back on the turntable, but rest assured, shit is rewarding. I've never visited an actual body farm, y'all, though i'd venture a guess that your freshly decomposing corpse would regret not picking up this slab of hot wax when you had the chance. They've got some rad shows coming in 2020, so keep up with 'em on IG to stay in the know...
To snag the record, hit up either: Financial Ruin Records or Bandcamp.
Tagged: body farm