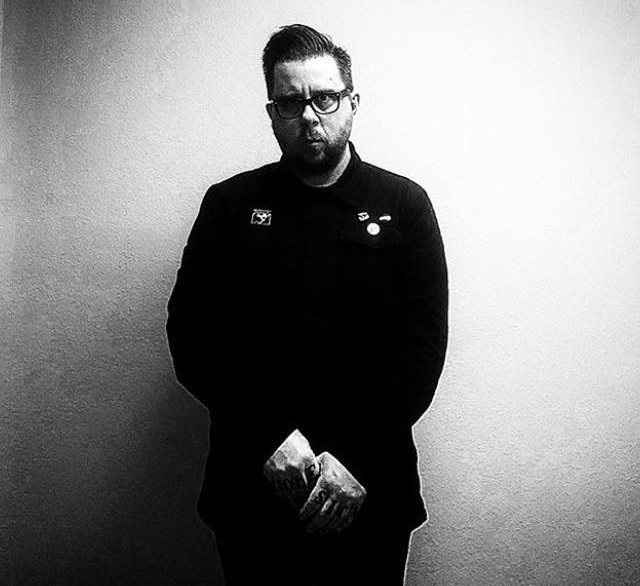 Scott Danough is a co-founder and former guitar player of Bleeding Through. These days, he lives in the East Bay area of Northern California, where he works as a platemaker and quality control expert for a printing plant by day. Scott still plays guitar and is an avid record collector, so you know the drill.
When did you start collecting records?
I've been collecting records on and off again since 1982 when I was a kid living in upstate New York. It all started in 6th grade when neighborhood friends and I got into KISS and though I was really into it the following year would cement everything when I discovered the first Venom record, Welcome to Hell. From then on everything had to be faster and angrier. I dove in head first and never looked back despite selling my collection off to survive on tour. I started collecting again and buying all my music on vinyl about 4 years ago.
Where/how do you usually find your records these days?
These days I buy a lot of stuff directly through labels, Discogs, and I can't resist hitting up record stores and digging through the bins. Here in the San Francisco Bay Area we're lucky to have tons of record stores so I'm pretty spoiled as far as options to pick up new stuff.
What is the most you paid for a single record, where/how did you obtain it, and what was it?
The downside to living where I do now is that it's very expensive so I spend a lot over the course of a month but I rarely spend large amounts on one record unless it's something I have to have. The most I've spent on a used record would be Overcast Fight Ambition to Kill. I paid $50 for that on blue vinyl and it was a good deal especially for it being a near mint copy.
If you had to pick one record label you feel had/has the best track record of quality releases, who would that be and what are some key titles you love?
Picking just one record label as a favorite is way too hard when your tastes are all over the map. As for who gets most of my money it's a toss up between Season of Mist and Deathwish Inc. Deathwish hasn't been putting out a whole lot of stuff I'm into over the past year or so. For metal stuff other labels I really like are Debemur Morti and Agonia. For hardcore stuff I one of the most consistent that I really like is Indecision. There's no one more deserving than Dave Mandel. He's put out some amazing stuff from finding awesome new bands to repressing legendary bands records. He's released records from some amazing bands like Unbroken, Throwdown, Adamantium, Mean Season, etc. I feel proud and lucky to say that he's also released stuff from my former band.
Of everything in your current collection, what is your most prized record and why?
Of everything in my collection there's not many I don't cherish and feel lucky to own. I guess the most important ones to me are records released by friends that were given as gifts. I would have to say hands down the ones that mean the most are records I played on. For obvious reasons. To hold that physical copy In your hand of something you poured yourself into is the best. I'm thankful and proud of what I've done. There's also those records like Mean Season's Grace LP that mean the world to me cause of all those memories of screaming along and watching them play so often. Those old hardcore records have so many irreplaceable memories attached. Those ones mean the most.
Is there anything that frustrates you about the current record collecting scene?
I try not to get frustrated about things these days with collecting but when I look at records I sold years back for maybe $25 like the True Till Death record that now sells for a ridiculous price. I would love to have that again but now it's impossible for me to pay a few hundred dollars on a 7". Flippers also are very frustrating. The variant sells out before it's released and then you see like ten copies going for almost $100 a piece on discogs. Those people are evil [laughs].
Which records are still on your want list that you've had a tough time tracking down through the years?
There's so many on my want list that I used to own but I just have to play the waiting game and get lucky to find a clean copy at a decent price. There's too many to mention so I'll just throw a couple out like the Strain full-length would be one. Also the Martyr AD record on Ferret. They're out there I'm sure but no one wants to part with them.
***
Follow Scott on Instagram.
Tagged: record collector