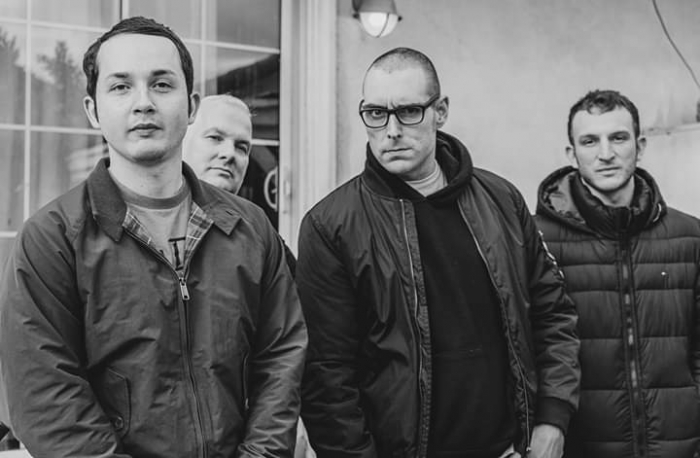 Based in No Echo's homebase of Los Angeles, Criminal Outfit is a band playing street-ready Oi! with songs made for prime sing-along action. Though they're a new unit, Criminal Outfit includes some veteran musicians from the hardcore scene within its ranks. "Our drummer, Colin, and I have known each other for close to 10 years from playing in a short-lived hardcore band with Jeff from Up Front/Smorgasboard Records," vocalist Ditch tells me. "Colin had played in Even Score, One Choice, Amendment 18, and Outspoken, so I already knew of him before we played together.
"He was a guy that I always liked and respected and he had always told me that when I wanted to start a new band to make sure to get in touch with him. We ran into each other at a Gorilla Biscuits show in LA and I told him I was going to start a new Oi! band and he immediately said he was interested. We jammed for several months with one group of people and it just sort of split into two different camps.
Ditch contiues: "I had wanted to play with my buddy Alex on guitar as well so when the opportunity opened up, he was the first person I called. Alex and I met at a monthly meet up in Long Beach called Working Class Disco where DJ's play a lot of glam, Oi!, and early punk. We immediately hit it off talking about our love of hardcore and Oi! and we started going to gigs together all around California. I knew that he was a solid guitar player from his playing in Combat Force and Repeat Offender, and I also knew we were on the same page with our love for bands like Slaughter and the Dogs, 4-Skins, the Strike, Camera Silens, Slade, Sweet, and old hardcore like Negative Approach and Agnostic Front.
"I knew Willie from his band Vis Vires and when he told me that he wanted to play bass in a band, I knew that if he could play bass half as well as he could shred on guitar that we would want him on board. When Vis Vires played their first show with Angelic Upstarts, Willie was wearing a Side by Side t shirt and had a crucified skinhead tattoo. A friend of mine pointed to him and said 'Ditch, that is the guy you need to start a band with.' Not too long after I did just that."
Heard above, Criminal Outfit's demo dropped last month, just barely. "We were literally in the studio recording it as we were getting notifications that the State of California was basically shutting down due to the spread of the Coronavirus. Things had already gotten weird and a few large events had already been postponed but we were essentially coming to the realization that life as we knew it was about to change for an indefinite period of time.
No Echo asks Ditch about the lyrics on the Criminal Outfit demo: "My lyrical inspiration comes from just living life. For the most part, I would prefer to write about friends and family and personal issues. The song 'Criminal Outfit' is just sort of a tongue and cheek wind up about the subcultures we are in and the music we listen to.
"There is a line in it that goes: 'We're not mods and we're not rude boys. We love hardcore and we love Oi!' That part of it was sort of poking fun at our friends who ride scooters and kind of give us shit for loving hardcore. To me, hardcore is really the true roots of American skinheads and to deny that is just revisionist history."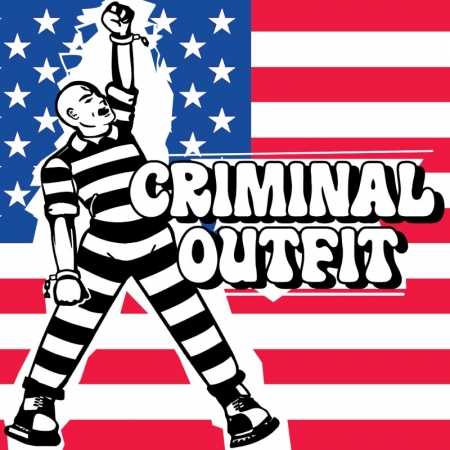 So, how has their local scene reacted to Criminal Outfit so far? "We have really been humbled by how much support we have already received from the greater Los Angeles scene. We have had so many people reach out and telling us how much they love our demo and so many people trying to help us spread the word about our band.
"Also before the Corona crisis, we were pretty blown away by how many people were reaching out, offering us gigs. Artist friends have helped us out. My brother Osh drew us our demo cover and then we already had another friend offer up artwork just to show his appreciation. David, who plays in the band Hardknocks recorded our demo in his studio for next to nothing just because he is our friend. I hope that it is because people recognize that we support our scene. We are not just guys trying to get a spotlight. We have all been out every weekend, seeing bands, hanging out when our friends DJ, and supporting local artists."
If you read No Echo on a regular basis, you already know we love asking musicians to tell us what else is cooking in their scene. "In terms of local bands, we are friends with the guys in Vis Vires and the Hardknocks. Musically I would say our approach is different, but in terms of our friendships some of those bonds are pretty strong. The guys in Claymore are very cool. I have always been a fan of Doug and Slugz and have been going to see them since they got back together a few years ago. They are often called Los Angeles's first Oi! band, so it is cool to see them back. We probably have more in common with them musically than other local bands. I have always loved and respected the guys in Channel 3 both onstage and offstage. They are musically underrated and great examples of positive people who help others.
"So many of the old timers around here have egos and a sense of entitlement when they haven't really contributed to the scene in decades and those guys are the complete opposite. On a personal level we are also friends with guys in local hardcore bands like Skullcrack, Shiner's Club, and Fury."
Criminal Outfit on social media: Facebook | Instagram | Bandcamp
***
Donate a few bucks to help with No Echo's operating costs:
Tagged: criminal outfit