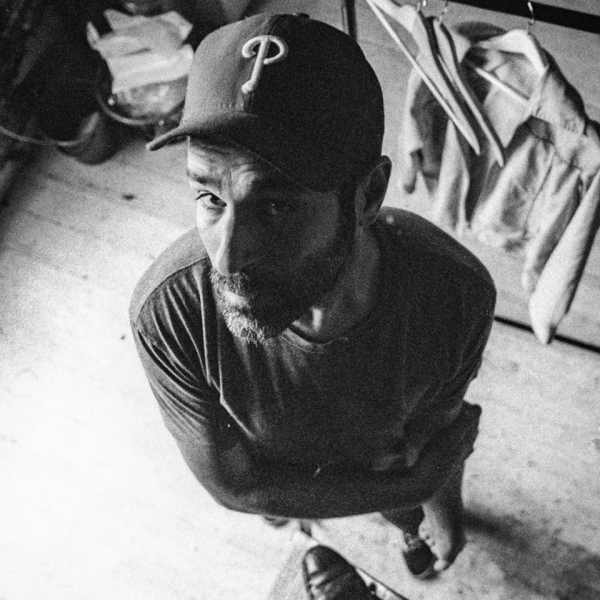 Nick Sayers is a photographer who has been shooting bands since the '90s, and he's one of my favorite people chronicling the music scene across the pond. The English photographer has been commissioned by such labels as Sargent House, Thrill jockey, and Deathwish Inc. Raised on guys like Glen E. Friedman and Charles Peterson, Nick has a beautiful way of capturing the energy and spirit of a live show.
It's with great honor that I present you the Photographer Spotlight on my new friend, Nick.
Where were you born and raised, and were your parents into the arts?
A small village in Berkshire, UK called Wargrave, about 30 miles from London, where everyone knew your name and nothing happened. Fortunately, the nearest major town was Reading, home of the rock festival where from 88-94, I snuck in and caught some of the most amazing bands in their prime. Arts wise, my mother was a professional photographer and guitar teacher, so I was brought up in a house with full access to cameras a photographic darkroom and guitars. I was pretty encouraged to take up one or the other, and one way or another, I've pretty much had a camera in my hands since I was 10 and got slowly better, whereas I've been spectacularly rubbish at guitar ever since [laughs].
How did you discover hardcore/punk?
Sharing a room with my older brother from the mid-'70s till around '88, I was exposed to early punk music through NWOBHM to the early days of thrash due to him having the louder and bigger stereo.
I consider a lot of music "punk" in ethos, even if musically it may not be obviously so. I was into early hip-hop and was really into the punk/hardcore/thrash crossover scene of the late '80s. When the Sub Pop scene broke, it totally blew my mind that a label/city could be so consistent with all these amazing bands at the time, and looking back, I feel we were spoilt back then and consider myself lucky that when I hit age 20 Reading (festival) '91 was famously the backdrop for what was described "as the year that punk rock broke"— and for the brief window before the majors came in and turned our counter culture into the mainstream both American and European alt music was definitely punk as fuck.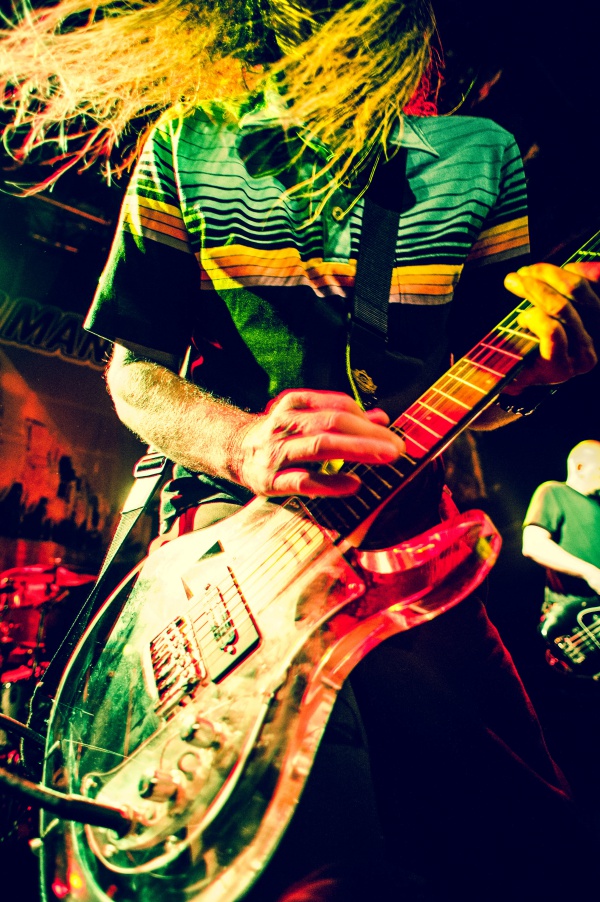 I definitely believed that Indie labels like Sub Pop, SST, and Cruz Records, and the grunge scene were definitely a return to the punk rock DIY aesthetic. '89-'96 were my main gigging years, and I saw a lot of bands then that are returning now the first time round. I can remember Fugazi playing my university gym in 1996 I had tried to take my camera to early shows, but I wasn't allowed entry with it as it was forbidden to bring cameras with separate lenses into shows back then, as bootlegging was a huge thing, the security at venues treated cameras like recording equipment.
After '96, I pretty much gave up on guitar music and especially going to shows until 2011, so I have a huge chasm in my musical history of bands of that period, and it wouldn't be until 2010 that I'd start consider taking a camera into a show.
I'd consider myself really ignorant of any bands formed in that period. I totally bumped into (literally) and met The Dillinger Escape Plan and Converge through sheer luck in the last four years. I'd never heard of either bands before I started shooting for Sargent House.
In 2012, I found myself living in Dallas and unemployed, so I got myself down to Deep Ellum and shot a show of two bands I'd never heard of: Ceremony and Titus Andronicus. I was fucking hooked again. When I moved back to the UK I sought out these bands when they toured again, and through those shows I met Ho99o9 and other bands that i still shoot to this day.
Who were some of the photographers you looked up to during your formative years?
I was never really influenced by many photographers when I was younger, but I've always had a respect for David Bailey and his approach to portraits and his deconstruct of the old-school of photography. Ya know, take the camera of the tripod and be more free about composition.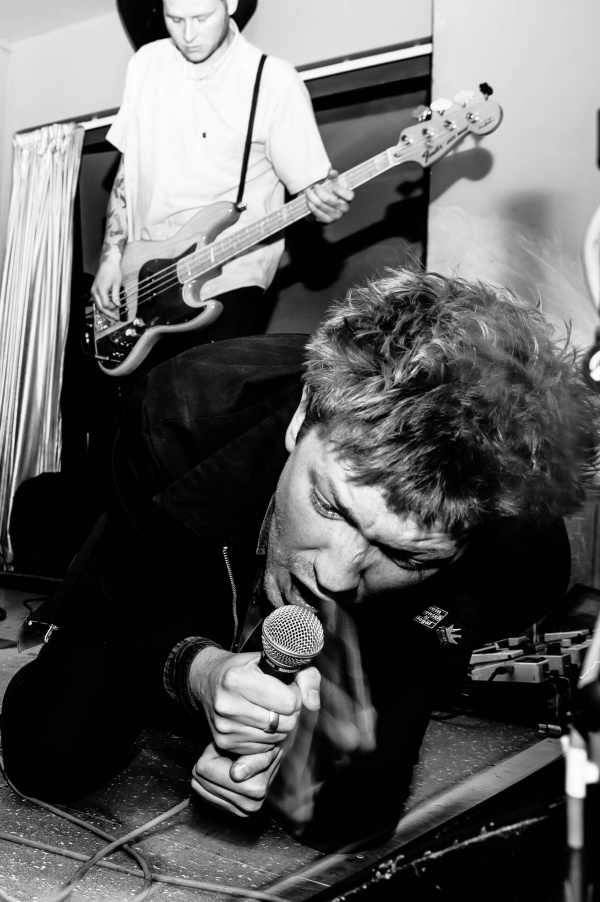 Were there any music-related photographers you followed?
Oh, for sure! Steve Gullick just killed it for me. When I saw his stuff in Sounds, Melody Maker, and then NME in the live review section back in the '80s and '90s, it just blew me away. I just wanted to see these bands he photographed, even though I had no idea what they sounded like. No one shot like him. His photos stood out a fucking mile. His wide compositions he (and it sounds a fucking cliche now - with so many wack photographers spewing this mantra, but) he captured the energy he seemed to shoot to his own rules. I knew that when I took my camera to a gig, this is the way I wanted my images to look, and when I finally got a chance to shoot a gig with a 50mm, aperture priority and TTL flash... well I just couldn't work out why I wasn't nailing it like him.
Charles Peterson at Sub Pop was also incredibly influential to me. Sub Pop and its artists back in the early '90s and his harsh flash B&W shots are iconic, and suited that period down to the ground. I love that hard flash and black & white.
Glen E. Friedman—this dude was just in the right place at the right time with all the right people. He pretty much created a look and feel to photography that all skateboarding and US punk rock/hip-hop to this day owes a homage to.
What is your camera and post set up?
Digital - Nikon D3s
Adobe Lightroom
Film - Various Nikon SLR's
Ilford FP4 and HP5
Rodinol
de Vere 504 enlarger
Ilford MG paper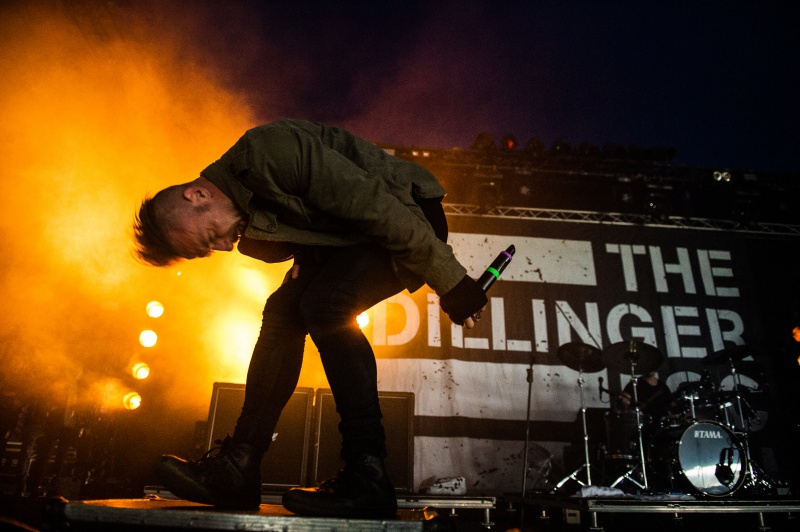 Who are some of your favorite bands to shoot?
Ho99o9, YAK, The Dillinger Escape Plan, Bad Breeding, Heck/HCBP, etc.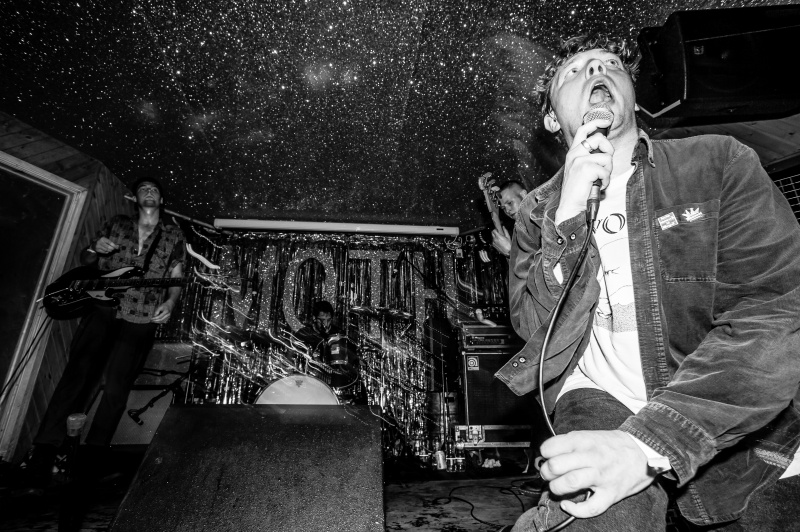 If you could go back in time, who are some bands that you would have loved to shoot?
Fugazi/Minor Threat, early '90s Sub Pop (Nirvana, Mudhoney, Tad, Soundgarden), Bon Scott-era AC/DC, '80s Def Jam-era Public Enemy, Beastie Boys, EPMD, etc.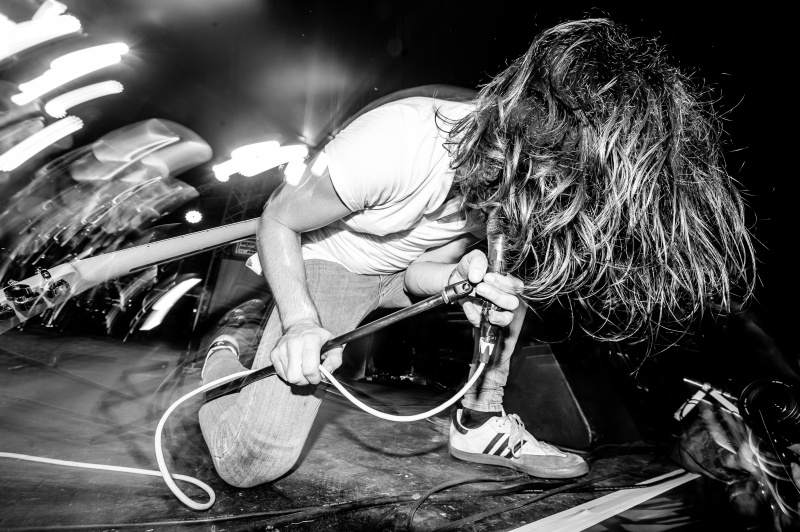 What are the toughest aspects to shooting hardcore/punk shows?
Keeping your wits about you and your camera above navel height, and not getting it beat being in the right spot at the right time getting and keeping close to the action.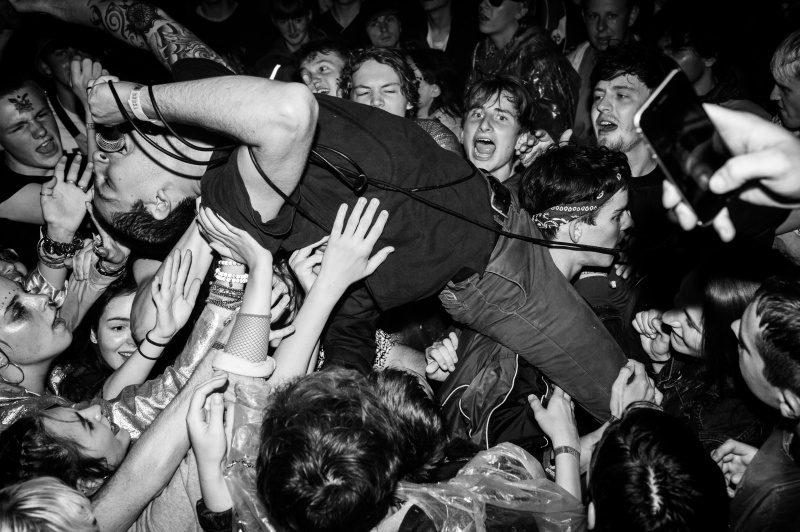 Tell me about some newer bands that we should all be on the lookout for.
Bad Breeding, YAK, Ho99o9, and Shitwife.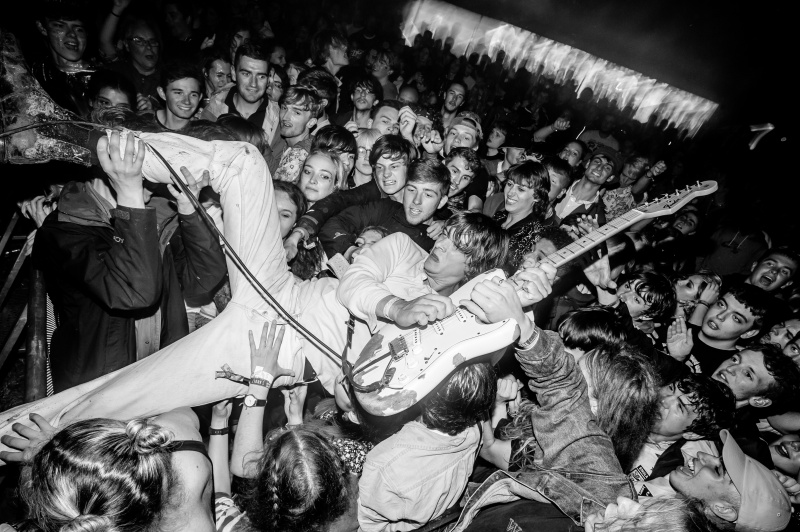 Who are some modern-day photographers that you admire?
Reid Haithcock and David Evanko.
If you had to pick one of your photos that best encapsulates why you love shooting hardcore bands, which one would it by and why?
*Nick simply tells me that his All Pigs Must Die photos are among some of his favorites.
***
See more of Nick's work on his official site, and he's also on Instagram.
Tagged: photographer spotlight