Fixation has been featured on No Echo various times since forming in 2018, most famously on my 12 Newer Hardcore Bands to Check Out list a year later. The Philadelphia-based group has gone through membership changes throughout the years, currently featuring musicians who have also played in Chemical Fix, Drowse, and Wild Red.
Now, Fixation is ready to make the biggest statement of their time together with The Secrets We Keep, their forthcoming debut full-length LP. Recorded, mixed, and mastered by Fixation's vocalist, Wyatt Oberholzer, the album will (mark my words) appear on year-end lists come December.
In this No Echo exclusive, we chat with Wyatt and guitarist Mike Bifolco about the record, Fixation's evolving sound, and the current state of Philly hardcore. We're also premiering a track from The Secrets We Keep called "Lachrymose" as a teaser of what lies ahead for you when the album finally drops later this summer.
What can people expect from the new record?
Wyatt Oberholzer (vocals): As the name of the record and the opening track suggest, a lot of it is about my personal internal struggles, written during a particularly dark time in life. I had some life events that were pretty challenging, and they happened to coincide with the world shutting down, so I had an abundance of time with not much to do but to sit with some pretty dark thoughts and feelings, which I think is reflected in the lyrics on the record.
Since we're premiering "Lachrymose" today, what can you tell us about its lyrics?
Wyatt Oberholzer (vocals): Lyrically, the song is about living with depression, which most of the record is about. Being the opening track on the record, it serves to introduce that theme as a specific moment in time—lying awake in the middle of the night and trying to recall an earlier time in my life, when I didn't live with this ugly thing hanging over me, and wondering if there will ever be a time where it isn't there anymore, or if I'll live the rest of my life with it.
I'll leave it at that, because I express things much more directly and in a darker tone in the lyrics, and a lot of those feelings and ideas are things I'm only comfortable expressing within the context of the music.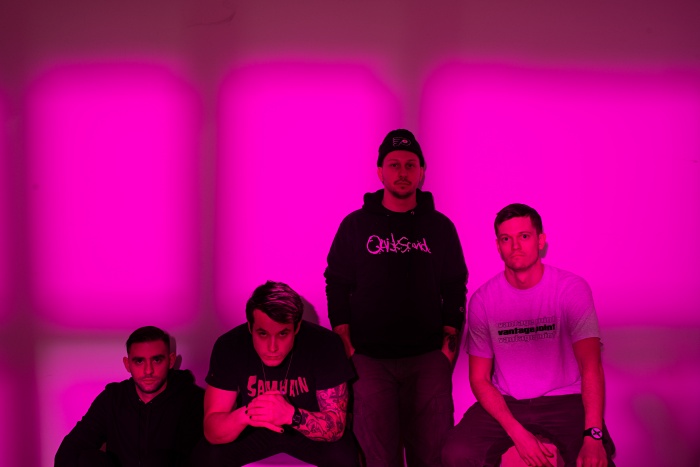 Before I even heard any of the new material, Andrew Kline of WAR Records told me the band's sound had changed dramatically since the last record. What can you attribute to the change in sound, and what are some bands that influenced the new record?
Wyatt Oberholzer (vocals): Being a close friend and a long-time collaborator of the band prior to joining in late 2019, I actually don't feel like the change in sound is that dramatic.
The band always took a lot of influence from bands like AFI, Nerve Agents, American Nightmare, Blacklisted, etc., but when I joined, they had started writing new material that just leaned into the darker aspects of those influences.
Mike, since Wyatt not only fronts Fixation but also recorded and produced The Secrets We Keep, I was curious to get your thoughts on working with him in both those capacities.
Mike Bifolco (guitars): Recording the Fixation LP with Wyatt felt very natural almost as if nothing's changed. We've worked together so many times before but we've been friends for such a long time that it just felt like we're doing a record ourselves. We knew exactly the kind of record we wanted to make and that's just what we did.
Philly has one of the best hardcore scenes in the world. What are some bands from Philadelphia that you feel need more recognition?
Wyatt Oberholzer (vocals): There's not actually an abundance of specifically Philadelphia-based bands, but I consider the PA, NJ, DE area to be pretty much the same scene. That being said, I feel like all of the bands I've been wanting to see get more love are finally having their moment.
Bands like Life's Question, Worn, Gel, Foreign Hands, and Shackled all have really carved out a space for themselves and I love seeing that happen.
What next for Fixation now that the album is slated to come out soon?
Wyatt Oberholzer (vocals): We all play in multiple bands and have careers so we've been laying low lately, until we were able to share this record with everyone, so I think the focus for the time being will be ramping back up into playing shows, both locally and out-of-state when we can.
We have a few new ideas kicking around, but there's no concrete timeline or plans for them at the moment. We're a group of people that tends to get restless though, so I'm sure we'll be working on new music again soon.
***
The Secrets We Keep will be out this summer via WAR Records (pre-order).
Fixation on social media: Instagram | Bandcamp
***
Help Support What No Echo Does via Patreon:
***
Tagged: fixation