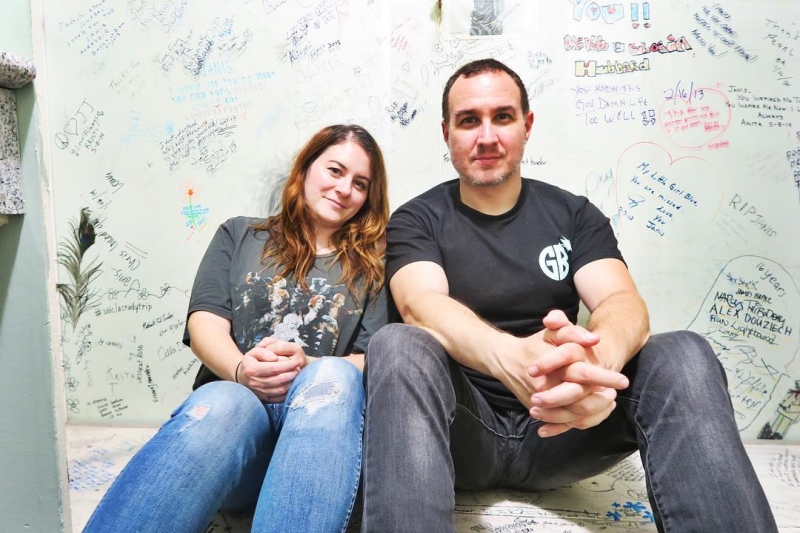 Earlier this year, I had the pleasure of being a guest on the Friends Without Benefits podcast. The show is hosted by comedian and longtime hardcore fan Jason Horton, and since then, he's launched a new podcast called Ghost Town. Co-hosted by Rebecca Leib, the series finds them discussing all places haunted, abandoned, & mysterious.
The latest episode of Ghost Town is centered around The Black House in San Francisco, the former home of Anton Lavey and the Church of Satan. Check that out right here, but before you do, take a look at a list of 5 songs Jason picked for No Echo that helped inspire his interest in all-things creepy.
***
From Jason Horton:
I'm sure my obsession over abandoned and haunted places comes from the music I've gravitated to over the years. When I'm writing and researching episodes for the podcast Ghost Town, music helps with the process. These 5 albums best represent the subject matter, at least in my mind. I never thought about why these albums were so influential to me, until now.
Mötley Crüe, Shout at the Devil
This would be the album that started it all for me. I was probably 11 when I got my hands on the Shout at the Devil record. I was sold on Mötley Crüe's look alone. Fortunately for me, the sound matched what I was seeing on the record jacket. It was my introduction to the Pentagram, and the rest is history.
Ghost, Infestissumam
One of my favorite new-ish bands delivers on all fronts. They hit all the marks when it comes to image, performance, and aesthetic. The songs are solid, catchy, and the band is constantly keeping it fresh. I realize they are polarizing in the metal/rock scene, but they create a mood and sound that speaks to me. Hail Satan!
The Sisters of Mercy, Floodland
I could have easily dropped Joy Division or Bauhaus in this spot, but the Sisters of Mercy offer something notably different for me. Their metal riffs along with a well–produced yet bleak sound is a perfect combo. I could hear this as a backdrop to an abandoned mall or factory.
Misfits, Walk Among Us
This is an obvious choice. It's not just the horror themes, or infectious choruses. The low-fi production just sounds like the early 1980s. It conjures images of economic and forgotten wasteland. The fact that I lived in Lodi, NJ as kid and that the Misfits are from Lodi isn't lost on me.
Integrity, Those Who Fear Tomorrow
Here is another example where I could have easily made this a Slayer album (probably South of Heaven). However, the relentless and abysmal onslaught of my favorite Integrity album always does the trick. They have delivered time after time but their first album is really paved the way for the eventual apocalypse.
Tagged: ghost, integrity, misfits, motley crue, podcast, sisters of mercy