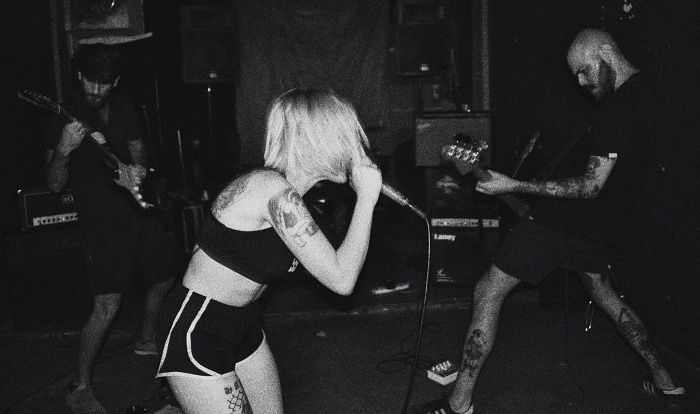 For the most part, I think we can all agree 2020 ended on a pretty bad note. Thankfully, this low-point in our social lives has not depraved us from listening to awesome new music and discovering great bands from all around.
In late December last year, I sat down with my friend Denise from Buenos Aires to speak about her band Farmaco's latest release, Descolonizar.
Denise and I bonded over admiration towards some of the same bands, the love of discovering new ones and —off the record — over our obsession for the Libertadores Cup and our respectful football clubs.
More importantly, Denise corrected me in some misconceptions I had about Farmaco, and helped me notice how above all things it is a South American hardcore band.
Farmaco is the embodiment of latin harcore punk looking to the far east. A quick chat with Denise will show you just how much of a fan she is of all things Japanese hardcore, just as much as she is a Boca Juniors fanatic. The inventive sound of classic Japanese hardcore bands is thoroughly infiltrated in the 4 tracks in Descolonizar.
But, make no mistake, the main vein of Farmaco is what connects it to its hometown and grassroots DIY scene and the connections within it that are spread all throughout the continent. All songs — purposely sung in Spanish — have already taken the band to neighboring country Chile, and this is clearly just the beginning.
The best from Farmaco is surely yet to come, and you won't want to miss out on being a part of it.
There is a huge network of bands in Latin America that usually fly under the radar and hopefully this interview below might inspire you to take some time and dig into them. It definitely helped ignite a deeper curiosity in me about what's been happening around these parts. May it all be of inspiration to the coming months and years we have ahead.
Hi Denise! Thank you for taking the time to speak with me on my first piece at No Echo. This is exciting.
Thank you! My mates were so excited about this as well. This is great!
Who is in the current lineup of Farmaco?
Kraken on Bass; Naku on Drums; Rainer on guitar and me on vocals. And we're the same 4 members since the beginning of the band, and we're not really open to changing the line-up.
I think this is important to clarify because I was wondering if maybe people could think the lineup changed because the demo is so different from the new EP, but no. Changing the lineup would mean the end of this band because, in a world where everything seems to be replaceable, we don't really want to feed into that formula. We're all indispensable for this band.
Last year's release was already amazing and caught the attention of a lot of people worldwide, I thought. And I think this new EP sounds even better. How would you say one differs from the other?
We never really expected all of this you mentioned regarding the demo, and we still don't know exactly how it happened. But we're glad it did, because it opened a lot of doors for touring. Sadly this was all put on hold due to the pandemic. But we hope to resume those plans next year.
This EP is closer to what we always hoped to sound like. Since the first rehearsal, the bands we had as references have been exactly the same. We had them on loop to see how they reached their results, how to achieve those sonorities, those vibes, etc.
But the demo was composed in just a month, very quickly, because we really wanted to tour Chile during the social outbreak.
This year, we stopped for a few months because of COVID-19 lockdown, but once we resumed rehearsals, we composed and recorded the EP in 6 months. And we always wanted to reach this blend between heavy metal-hardcore that you hear.
Yeah I totally got those vibes. I was talking to a few friends and mentioned how I got Iron Maiden vibes when I first started listening to the first track, on the very beginning . And, in parallel, I know you like Japanese hardcore a lot and those bands achieved that blend you mentioned really well.
[Laughs] Yeah, I love the Maiden vibe, but I also love GISM. I love Randy Uchida and his riffs also always pointed in that metal direction [in a different way]. So there was actually some dispute as to which heavy metal path we wanted to take, you know?
But I think Farmaco simply goes more in the vein of bands that follow, I don't know, Motörhead? But I do hope to be as close as possible to Iron Maiden in the upcoming LP [laughs].
Your vocals though, inevitably, remit me to Japan. I don't know if you share that point of view?
Umm, maybe in the melodies? But I think that I can't sing without sounding Latin American, you know?
Right.
I would love to sound Japanese, because I think that language is perfect for punk. But I know Spanish is a lot different — each language sounds different.
I think that Spanish is unique because there's no way to prevent people from knowing exactly what you're saying, you know? No room for confusion. For some reason, I think this happens the most with Spanish-speaking bands.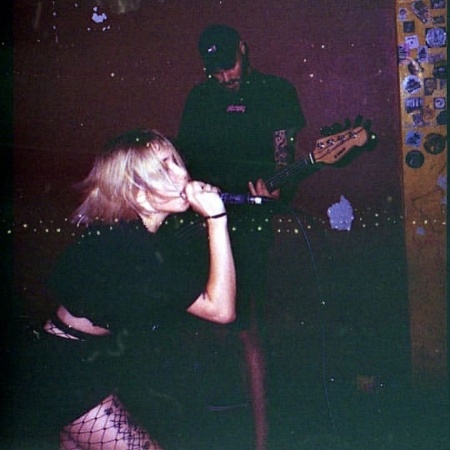 But do you think speaking in Spanish helps you get a message across more easily? I'm very curious about this.
I'm not talking about a message necessarily, but more the sonorities. I can't scream in Spanish without every word being very clear, you know?
Would you be able to cite a few of the band's or this particular EP's main influences?
Well, maybe it's not that obvious but we're mainly influenced by Japanese hardcore bands like LSD. I could say the 2 first tracks are closer to LSD and the last two are closer to Death Side.
But there are a lot of bands who trained our ears, you know? Like Gudon, Human Gas, Effigy, Randy Uchida Group, etc. Except for the first track! That was written specifically after we all listened to the Destroy flexi by LSD for hours. Then once we kind of "unlocked" that way to play it was easier to continue and the others just kind of rolled out.
There was one day where the bassist and guitarist came to my house and we just listened to LSD for the whole day and were trying to understand how they made those songs. It seemed impossible at first, but eventually they got it. I can't speak much on that because I can't play any instruments [laughs].
And what I most like about Japanese hardcore is its ties to heavy metal. Maybe the biggest challenge with this EP was making sure we didn't sound too metal, you know? We threw away a lot of tracks that we liked, but that just didn't sound like our breed of hardcore. There's a fine line between one thing and another.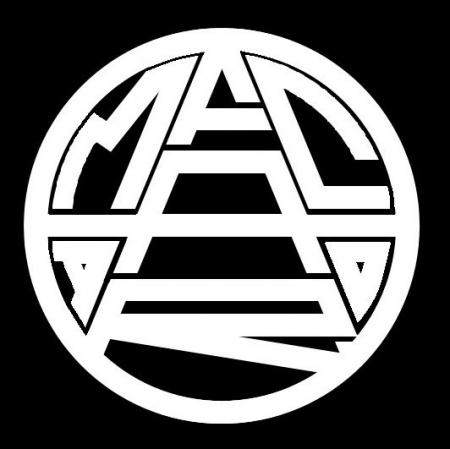 How would you summarize the songwriting process in Farmaco? Who starts? How does an idea get developed?
Well, all songs start from little ideas like riffs or intros, but we only work to develop them when we're all together. Except for the solos, that's all Rainer. Everything else is done in rehearsal.
It's a very organic and collective process. Farmaco is the only band I'm part of that goes this way, and that ties in with what I was saying about how important it is to stick to this lineup. Changing one of us would just make it a different band. I could move forth with lineup changes in other bands, but not with Farmaco.
Your lyrics paint a grim (but very real) picture of what life in today's world feels like. Politically and socially as well as mentally. Is there a particular message you'd like to get across?
No, not really. I just try to be honest and follow this sinister vibe. But the lyrics are just what pops up in my head. I don't think too much about it.
But the real political side of this band isn't really embodied in our aesthetics or lyrics as much as it is in our actions. We were happy to tour Chile because we were going to help distribute food and first aid kits to those who were still left in the streets there.
We also donated all profits from the Flexi released by ECPB from Mexico for public dining rooms—and stuff like that—that we just feel we have to keep doing.
Right on!
We really wanted to help with first aid to Chile, because we were feeling pretty bad reading up on everything that was going on there. So we just started to set up gigs there right off the bat and trying to join forces with local bands and friends there to put together supplies and money, etc.
We'd only played about 3 gigs up til then and we already had tickets bought to go. So we were in a big hurry to finish writing and recording the demo.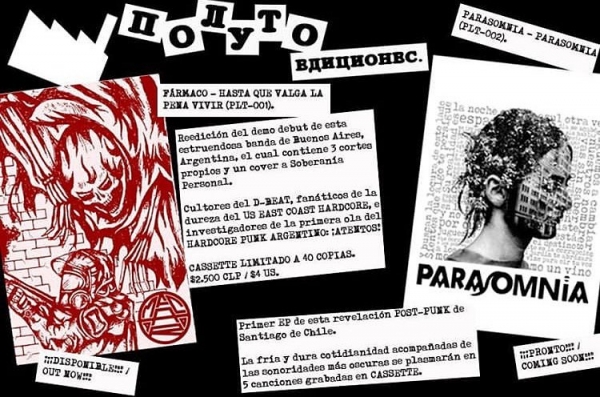 Fill in the blank: A perfect Farmaco gig is one that ___.
We're far from home and maybe drunk.
I don't need too much, you know [laughs].
Farmaco's dream lineup for a show would include (bands, 2-5) at (venue) in (year):
Cutre from Argentina
ARGH from Chile
Futura from Los Angeles
Death Side from Japan
The show would happen at La Cultura del Barrio, a skinhead venue here in Buenos Aires, in 2021, because I still want it to happen [laughs].
What are your plans as soon as we're all vaccinated and COVID-19 is no longer an issue?
Touring Canada, USA, and Brazil, which we were supposed to do this year. We just accepted every invitation, and would do the impossible to make them happen. It's just what we most enjoy in life.
Yeah, we have to make the Brazil tour happen.
For sure. We're really excited to tour Brazil, but right now Brazil just seems like the most difficult country to tour in. But it's just a matter of time.
What are some inactive bands you think people missed out on and should pay more attention to?
I think Heterofobia from Mexico had a great reception by people, but still not enough, you know? They were the last printed Maximum Rocknroll cover, but they deserved even better, you know?
Yep! I think I actually have that issue right behind me on my shelf.
Awesome! The same happened with Anarquia Vertical, Aspirina Infantil from Barcelona... I could also add Los Monjo from Mexico and I Shot Cyrus, who I know were a huge band in Brazil, but I'm talking from my Argentinian point of view.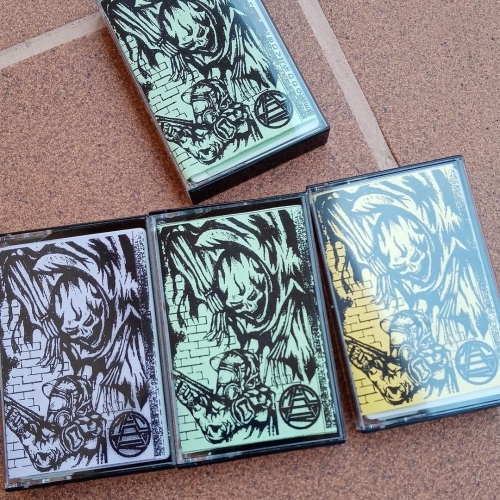 Any current bands you'd like to recommend, from both your local scene as well as the rest of the world? We can also talk about your label, Educacion Cinica!
Well most of the bands I would like to recommend have been or will be released by Educacion Cinica [laughs]. But I would highly recommend the following:
Cutre
ARGH
Güiña
Degollada
Auto-agresion
WWW
NMA
DPCD
Suicide Club
Pesadilla
Quimeras
UZI
Cankro
B'URST!
Burako
Ignorantes
Irreal
Algara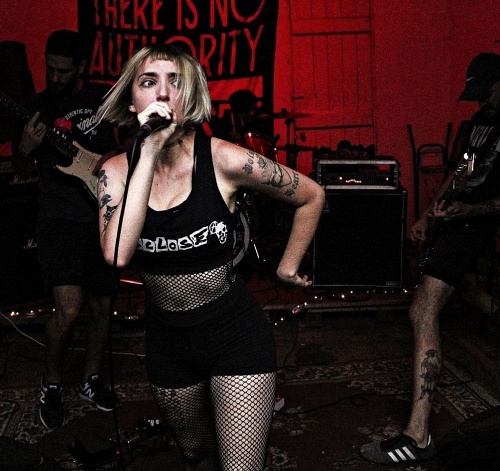 Final thoughts? Shout outs?
Just want to give you my thanks for giving us this space and helping promote our EP. We're really glad you liked it!
Of course, and I'm glad you agreed to do this. It'll be an honor to have my first piece on No Echo be about Farmaco.
No, no, it's an honor for us, really. Our drummer went crazy when he found out. He loves No Echo and discovered a lot of bands through the website.
So did I [laughs]. Thanks again and I'm glad we could once again exercise these South American hardcore bonds of friendship.
Yeah! The most significant part about this is Sudaka's bonds!
***
Farmaco on social media: Instagram | Bandcamp
***
No Echo has launched a Patreon with 3 tiers offering all kinds of hardcore-related goodies to help support the site:
***
Tagged: farmaco, international hardcore bands