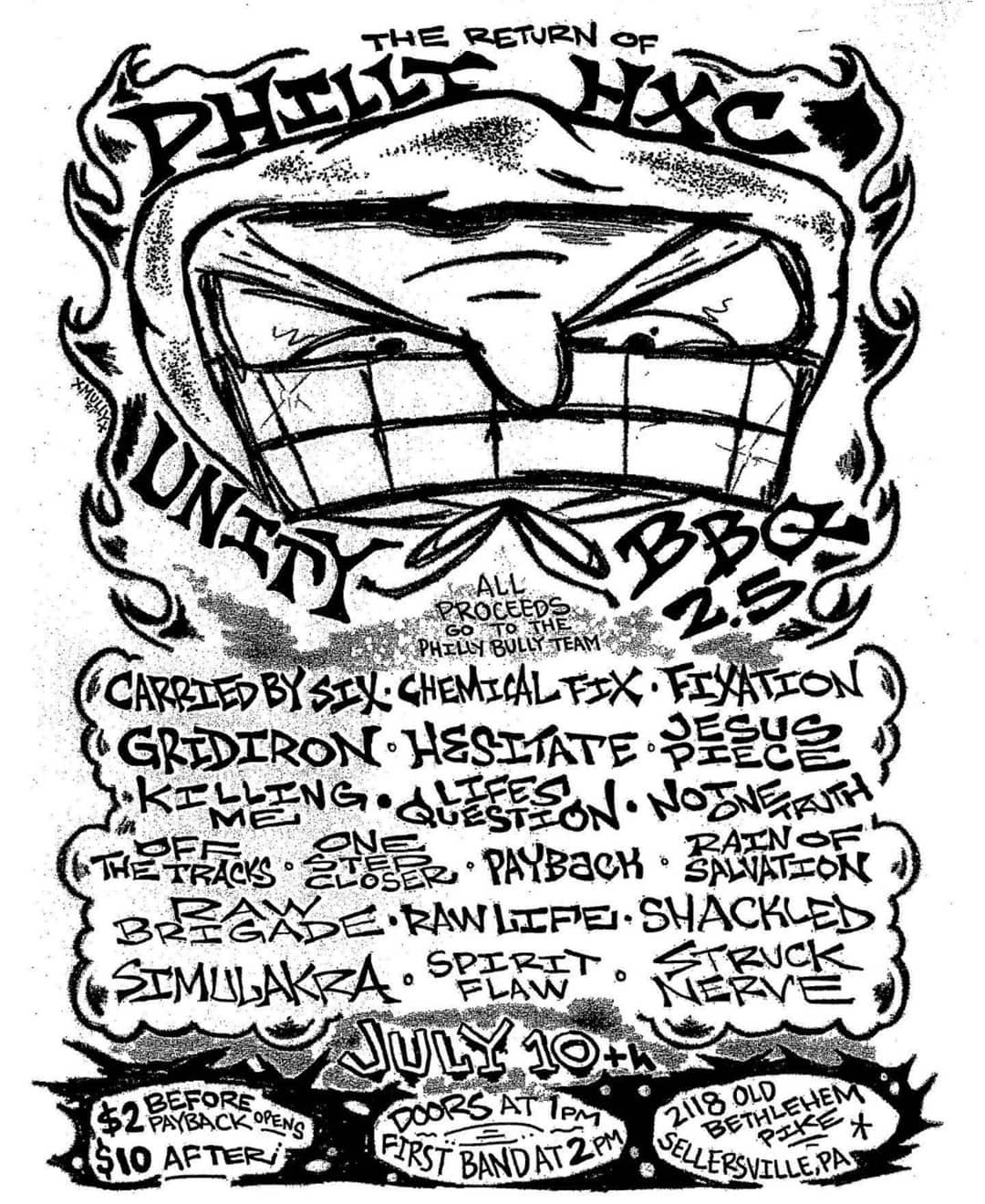 Tomorrow an amazing showcase of 19 bands will be taking place in Sellersville, PA known as the Philadelphia HxC Unity BBQ II. Founded and headed by Bob Wilson (Mother of Mercy, Let Down, Beware) in 2019 the Unity BBQ was instantly heralded as one of the best shows of the year.
Since than a lot has obviously happened and shows have been gone for far too long, which is why I reached out to Bob to dig for some info on the rekindling of Philly's hardcore scene.
I know you've talked about it before, but for those who don't know, how did the first Unity BBQ come about? What were your intentions with doing it, and what was the reception to that show like?
I had the idea for a few years because i've always been someone who went to all kinds of shows, punk shows in basements hardcore shows in big clubs and everything inbetween and I felt like there was a lack of crossover among the different "scenes" in Philly when I moved back from Florida in 2015. It was frustrating seeing how the scene should arguably be as big as it ever was but because of the tunnel vision and specific hardcore people choose to like it makes for a smaller turnout and some good bands get overlooked that way and everything suffers as a whole.
So I went into it with the idea of everyone setting aside ego/guarantees/longer set times for the greater good of the area and show kids how many good and different things there are going on around here. I also did it in the burbs because there's definitely kids like myself who couldn't get to the city for every show when you're 13-14 and if things can happen in the burbs it can grow and eventually integrate with the city and everything gets better overall.
I had no real expectations beyond just forcing people into the same room who otherwise would never be at the same show and if we could get some new faces out of it and people come away with some new favorite bands locally/be inspired to start their own shit then it was a win.
The reception was great, a ton of people said it was the best vibe they've ever experienced at a show and I feel like it was a lot of bands best sets they ever got to play which is awesome and made me realize the experiment worked.
Now originally there was a somewhat different lineup for the second unity barbeque, what made things change?
It had been over a year since the last lineup was announced so bands broke up/new ones started/normal hardcore things and instead of trying to run it back I wanted it to be fresh and represent what was going on in the area currently.
How did you figure out which bands you wanted to have playing the show?
My requirements are pretty simple-if you live in the area and support the shows, support hardcore, contribute in some way, then i'll try and make a spot for you. It's hard because I had to leave off a couple bands I wanted to hook up like Controller from the lehigh valley, I didn't want a ton of repeats so that's why some others aren't on.
If you talk shit on the shows here/sneak diss hardcore here/dont contribute anything meaningful than yeah I got no love for you and won't be on the show. It's cliche but Porter said "get the fuck out if you have nothing positive to give" and I agree with that.
I understand you have a new band premiering at the BBQ called Off the Tracks (I'm guessing named after your love for the band Freight Train), can you give any description of what people can expect?
Come to the show and find out, we're playing right after Payback. Shout out to Freight Train, one of the most underrated demos in hardcore ever.
Any sets that you're especially looking forward to?
Payback which in a perfect world would have been the first set back of any hardcore band, any band playing their first show, i'm honestly just siked to see all the sets as much of a copout as that answer is.
And last question, What's the point of hardcore unity/what does it mean to you?
I think the key part of that is hardcore unity. Roll with the real ones and fuck everything else, there's a lot of shit disguised as hardcore or caring about hardcore that gets mixed in with everything else and there's no room for that in my opinon. It's good to be open minded but also important to differentiate the real from the fake.
Also if you're willing to divulge, what order will the bands be playing in?
Payback opens Jesus Piece closes...show up to see the rest.
If this all wasn't enough to have you on board and itching for this show, below is a quick description of all the bands so you know what you can expect to see:
Carried By Six
Self described as "PA/NJ/NY hardcore with current and past members of Mushmouth, Lifeless, Trail of Lies, and Fury of Five." Carried By Six leans into some of the heavier, more metallic aspects, of the previously mentioned products while managing to keep the songs at a fast moving tempo providing an intense listening experience.
Those local to the area will recall that CB6 opened the legendary Incendiary show of 2019 at First Unitarian.
Chemical Fix
Chemical Fix is an erratic, snarling, and incredible band from Philadelphia. The band's first release, Leisure Fear, was released in 2018 and highlighted fast and ferocious playing influenced by the likes of American Nightmare.
Continuing to grow, a glimpse into Chemical Fix's upcoming release, Our Shade Casts Far, highlighted by the single Revolver, promises even more prominent darkness and speed from the hardcore punk band.
Fixation
Since first viewing Fixation in 2017, I've been a fan and that feeling only continues to grow. Having recently gone through lineup changes, Fixation is on the cusp of a new era for the band. They released a promo of the upcoming album in February of 2020 and already new aspects have come to light.
In a previous No Echo interview, guitarist Mikey Bifolco, a fixture of the Philly scene himself, described the band's new darker sound saying, "The new material is heavier and more dynamic without losing any of the energy from our previous releases."
Gridiron
Gridiron could be accurately described as a modern hardcore supergroup of sorts. The lineup features members of Year of the Knife, Never Ending Game, Payback, and more. With a tough and rappy vocal style leading the charge, vocalist Matt Karl is backed up by a litany of guest singers, as well as backuos from drummer Tyler Mullen and guitarist Big Will.
Musically, Gridiron sounds exactly how it should with these players; like a mix of old skool PA Beatdown (No Retreat, Krutch) with some hard Detroit groove thrown in. This will be Gridiron's first show and this band's set has come to be one that I'm most excited for.
Hesitate
Another band that has recently released materials and underwent a lineup change, Hesitate's All for the Best EP was a fan favorite of many last year. Since the EP's release, the group has new blood taking in Jack Zabinski, previously of No Option, on vocals, with Steve Hesitate, the original singer and primary songwriter, shifting to guitar.
Hesitate plays stompy, midtempo style hardcore that manages to be hard without being to heavy and is full of memorable moments both musically and lyrically. The band recently opened up for Madball and this set is sure to be just as memorable.
Jesus Piece
Jesus Piece likely needs no introduction to most No Echo readers. After three EPs and one full-length LP, the group has solidified themselves not just as the premier Philadelphia hardcore band but as one of the heaviest in the genre in general. Jesus Piece made a name for themselves thanks to their grooving metalcore sound, dangerous live shows, and lyrics that many find both deeply personal and relatable.
Headlining the original HxC BBQ, Jesus Piece played their set despite a number of technical difficulties to the wonderment of those watching. God only knows what this band has in store for this show and for the future.
Killing Me
Some great Delaware youngins on the From Within Records roster, Killing Me's 302 Demo features some straightforward hardcore that at some moments is fast and stompy, and at other times the band slows the pace for big mosh parts and gang vocals. This project is the first band for some members but it is rounded out by hardcore veteran Tyler Mullen (Year of the Knife, Gridiron, Agitator) on drums.
This will be Killing Me's first show and I can't wait to see what is in store and dance my ass off.
Life's Question
There are very few bands in hardcore who experiment musically in the way that Life's Question does. The group is seemingly always searching for a new way to highlight their more melodic features, but despite these ever growing melodies Life's Question doesn't cease to be a hard band influenced by New York hardcore greats like Crown of Thornz, Leeway, and maybe Cro-Mags?
The band is always a thrill live and if their most recent single, "Broke," is any indicator, Life's Question is only going to be growing their unique sound.
Not One Truth
Not One Truth could be classified as some Hatebreed worship and I definitely do not mean that as an insult. The band leans into the death metal riffing of their main influence but takes a seemingly darker approach both musically and lyrically. The folks in Not One Truth also note other such influences as Kickback, Earth Crisis, Buried Alive, and Day of Suffering, and the more I listen to their 3-song demo, the more I can hear that.
But Not One Truth channel their musical inspirations in such a powerful way that their demo is one of my favorites of the year. This will be the band's very first show and one I'm most excited for.
Off the Tracks
*See the quick interview above
Since this interview the demo has been released, definitely check it out! Think of a Death Threat inspired straight edge band! It's sick and is possibly one of my Top 3 Bob Wilson bands.
Payback XXX
One of my personal favorites, I've been a fan of Payback XXX since they released their Delco Is in Lockdown demo and I saw their first show. Since then, the band has only gotten better and better, with some new songs and the band honing in on its messages of straight edge and one scene unity.
It's already been announced that Payback XXX will be opening the BBQ, which is perfect as I believe they epitomize everything it stands for, and if the passionate fanbase has anything to say about it, I believe it will be one hell of an opening to this showcase.
Rain of Salvation
Rain of Salvation represents a passionate type of straight edge that many fans in the Philly area have come to be attracted to. The band combines straightforward metallic hardcore with epic lyricism to create a nonstop series of straight edge anthems.
The band's most recent release, In Times of Desperation, only grew on this formula creating some of the bands best songs yet.
Raw Brigade
Despite forming and being originally based out of Bogota, Colombia, Raw Brigade has quickly grown to be a linchpin in the realm of Philadelphia hardcore. Musically, they plays no-frills hardcore punk inspired by the greats of '80s NYHC like Agnostic Front, Warzone, and Sick of It All. Lyrically speaking, Raw Brigade write about everything from being straight edge, to Latino Pride, to critizing cool guys and bands lacking substance in hardcore.
The band recently released an 4-song EP entitled, Hardcore Latino, that I can not wait to hear live.
Raw Life
Fast rising stars within the current hardcore scene in Philadelphia this band encompasses members from both Pennsylvania and Jersey and works to incorporate the hard aspects from both those scenes into this. Featuring ex-members of bands like Lifeless, Dissent, and one of the current iterations of Shattered Realm, it should come as no surprise that Raw Life delivers some incredible moshparts and smart but tough lyrics.
The band recently released a split with Chicago's Sector and personally, I think it's 2 of Raw Life's best songs yet.
Shackled
This New Jersey band is sure to have an incredible set. With hard and stompy hardcore at its base, lead with a strong lead vocalist, Shackled has never failed to disappoint.
They've always been a big part of the PA scene playing both big events like the 2019 This Is Hardcore and the 2019 Keystone Jam, to tons and tons of smaller local shows.
Simulakra
This Delaware metalcore band is bound to be one of the heaviest bands of the day. Featuring members of Viscous Embrace, Foriegn Hands, and Wristmeetrazor, I'm sure it's of no surprise that Simulakra does heavy in a way that few can.
After an explosive early set during the 1st Unity BBQ, I'm sure it's not just me with high expectations for this Simulakra set.
Spirit Flaw
Cards on the table; I play bass in this band. That being said I think I'm more than qualified to give an apt sound description. Self-described "chorus pedal crossover," Spirit Flaw was originally modeled after current crossover heavy hitters Dead Heat, but since the band's inception, the thrash played by the band has become more groove laden and littered with gang vocals creating a fun mix of modern crossover and NYHC.
This will be Spirit Flaw's very first show.
Struck Nerve
Pulling its main influence from Mental, and created by Marty of Agitator fame, this "bad-boy Youth Crew" band from Philadelphia has been on the come up. The group released one of 2020's best LPs via Rattle the Cage, which featured a number of scene anthems and straight edge barn burners.
Along with Payback XXX, Struck Nerve represents what it means to be a part of the Philadelphia straight edge. This will be the band's first time playing since their LP release.
***
The Unity BBQ goes down tomorrow, July 10th, at 2118 Old Bethlehem Pike in Sellersville, PA.
***
Help Support What No Echo Does via Patreon:
***
Tagged: jesus piece