First things first, Hundreds of AU features musicians who No Echo readers might know from their work in such bands as You and I, Hell Mary, and Every Scar Has a Story.
Now that we've gotten that out of the way, let's focus on Hundreds of AU, a New Jersey/New York-based outfit that has been delivering screamo-kissed hardcore for the better part of 3 years now.
Working with Patient Zero Records (Lead Dream, Four Walls Falling), Hundreds of AU will soon be releasing Acting From Remote Satellites, their third full-length. The 10-track LP finds the band breaking new solid ground, but never losing the intensity found in their previous material.
If you haven't listened to Hundreds of AU before, here's your chance with "Blue Moths" and "Beg the Question," two tracks from their forthcoming album:
"Being a band in the time of COVID gave us an opportunity to learn some new skills," Hundreds of AU guitarist Tom told No Echo. "The idea of file sharing and remote recording was always something we discussed since we have members spread out through New Jersey and Upstate New York; COVID just forced us to move forward with it.
"To test our capabilities we recorded two songs ('Blue Months' and 'Beg the Question') for a flexi. We sent them to Steve Roche of Permanent Hearing Damage studios for mixing. Once these songs were done we granted ourselves the confidence to record the remaining 8 songs remotely via file sharing."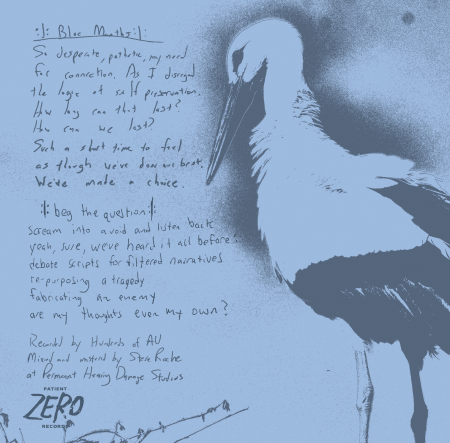 Hundreds of AU vocalist Paul had the following to say about the tracks: "One of my close friends once wrote the line, 'Are you writing your words, or are your words writing you?' This line creeps into my mind every once in a while. I'm confronting that notion with these lyrics and also considering if (and how) other influences could be shaping my thoughts, beliefs and feelings.
"I want them to be my own, but I wonder. I also think about how (and if) it affects others. I can't ignore its potential danger with phrases like 'keep America great,' being used to validate and spew racism.
"Perhaps that's not what those three words mean out of context, but meanings can change. Besides, 'keep America grating' seems more appropriate now...This isn't a political song th....oh wait, it kind of is.
"Anyway, I often get stuck in circular thinking. I often ask questions that I know the answers to that are hard for me to accept, so I go right back to chasing my tail. I'm gonna go do that now."
Acting From Remote Satellites will be out Spring 2021 via Patient Zero Records. Anyone who orders something from the Patient Zero Records online store will get a free copy of the flexi, while supplies last.
Hundreds of AU on social media: Facebook | Instagram | Bandcamp
***
Donate a few bucks to help with No Echo's operating costs:
***
Tagged: hundreds of au