There's a good chance if you're reading this that you know Out of Body vocalist Gjared Robinson, aka Balaram Shakti Das. Robinson has been a fixture of the hardcore scene for the last two decades, often popping up at shows in cities thousands of miles from his home in Austin, TX. Out of Body first burst onto the scene in 2015 with a self-released EP. That following year they embarked on their first tour of the US, playing shows with bands like Bane, Token Entry, Judge, and Burn.
In 2017, the band spent the early part of the year writing and recording what would become the Voiceless LP, released that summer on CoinTossRecords. Another tour of the States followed, culminating in a slot at This Is Hardcore Fest in Philadelphia. And then? Silence.
Fast forward to 2019 and the band is back with a new lineup and a new EP, Son Sun. Gjared took the time to answer a few questions about the newly invigorated band below.
Son Sun is the first new music from Out of Body since Voiceless was released in 2017. Could you bring us up to speed on what happened in the interim between records?
It's been an amazing path of rebuilding, self-discovery and inner connection since we released Voiceless. That was a period of intense growth for the band because I had just gotten back from spending a few months in India to be a yoga teacher then immediately went on a summer tour that ended with us playing This Is Hardcore. As the year went on we lost some members, had fill ins, played more cool shows but ultimately took a break because of drummer woes as we all went multiple directions until I reached out the summer of 2018 and met up with our guitarist Landon at a Quicksand and Glassjaw show in Austin.
As fate would have it, he had stopped playing guitar, had taught himself to play drums, and was killing it on the kit. We decided right then to pick right up where we left off, before you know it everyone was back writing more music, we added a new guitarist Connor and toured the West Coast that winter. Now I've put my guitar down and am focusing on being a vocalist as we have our homie Nico playing leads joining us making this a 5-piece force.
"Leaping Faith" from the EP made its premiere a few weeks ago. Tell us about the meaning of the lyrics for this song.
I got the idea from a daydream of jumping into the unknown over an edge unsure if there's a huge punishing drop to death awaiting or a cushioned layer of protection. It came from a place of deciding to take risks and not being held back by expectation, duty, obligation or readymade plans. The song is about trusting yourself, letting go of your own crippling fear and just going for it; whatever that "it" is simply put it in your grasp.
While "Leaping Faith" still sounds like Out of Body, it also introduces a new, heavier sound. Was this something you were conscious of when writing the new material?
We were in a different place mentally as a result of experience and this time around it's angrier, more riff heavy, vulnerable, and harmonious. It's like re-reading an old book, you always find something new you hadn't noticed before and for us as a band what we found was a deep aggression. The overall feeling was to make songs that pulse with power, push energy, and capture a groove.
I get this wild spiritual vibe when listening to the title track from Son Sun. What role does spirituality play in the music of Out of Body?
Spirit moves everything around us, it's the driving rhythm that causes thought and action; we brought a little bit of all our spirits into this track to make it really shine. Lyrically, it's the most revealing song I've ever written because it details my personal journey of identity, struggle, confrontation, worry of abandonment, and owning my own truth. As a band it was a matter of telling that story clearly through sound.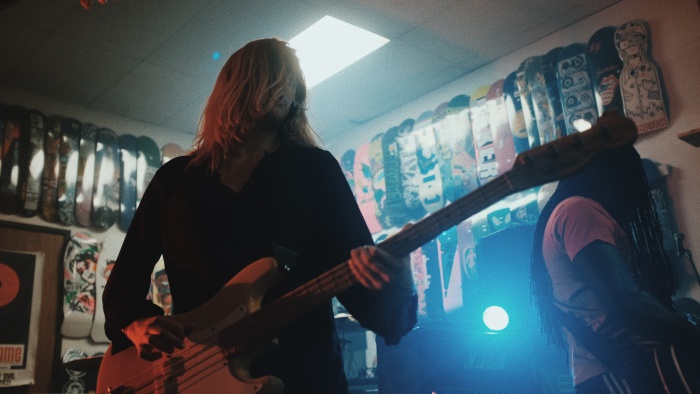 What's next for Out of Body?
We're booking a summer tour and currently writing for a new LP. No label yet for that one but we will see what the future holds. Just trust that it will make you bang your head and jump in the pit.
Son Sun will be out on March 15 on all streaming services and is also available on cassette at this link.
Out of Body live dates:
April 11 - San Antonio, TX @ Guillotine w/ Wristmeetrazor
April 14 - Austin, TX @ Mosaic Sound Collective w/ Stress Fractured
May 18 - San Antonio @ Guillotine on the Hope for Shelter Fest w/ Racetraitor and more
***
If you're shopping for vinyl, CD, and cassette hardcore titles, head to No Echo's partner store, Reverb LP, to see what they have available. Every purchase you make helps No Echo with site costs.
Tagged: out of body