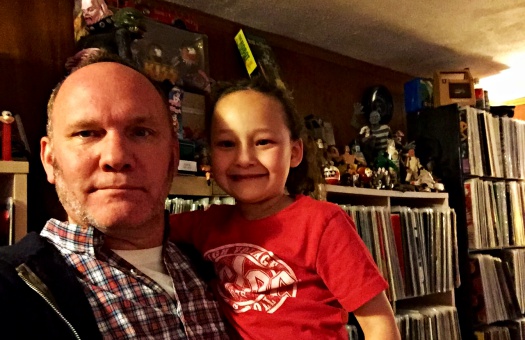 Nate Wilson has played in such bands as Devoid of Faith, Monster X, Green Dragon, Das Oath, By the Throat, and John Browns Army. He also released records by the likes of Toxic Holocaust and Vorhees through his Gloom Records label. Oh yeah, he also posts cool content on his blog, True Punk & Metal.
Anyone who is friends with Mr. Wilson already knows that the man is a vinyl addict, so it's with great honor that I welcome him to our site's Record Collector series.
How long have you been collecting records?
I've been buying records since the mid-70s. KISS and AC/DC records mainly back in those days. I was always bent on building up a stack of records, even back then. My parents had what at the time seemed like a large collection. I loved having a huge pile of records in front of a stereo that I could stare at (the artwork), and have a wide choice of what I wanted to listen to. I don't think I really started actively "collecting" records until maybe 1982-83 though. It started with NWOBHM stuff, then moved onto heavier metal stuff. I'd started making lists of stuff I either read about in zines, or that I'd heard from radio shows or pen pals who had sent me tapes from trading. I discovered punk/hardcore in around 1984 and started seeking out the more weird and obscure stuff. I ended up carting my small collection out to San Francisco when I moved out there in 1985, and then I carted it back when I moved back to Albany, NY in 1989. It had increased immensely in size by then. I really got knee deep into collecting in around 1988/89. I was trading U.S. hardcore straight edge records with people from over seas to get obscure European hardcore and metal that was pretty impossible to find in the states at the time.
The funny part about my collecting is that I have sold off parts of my collection in large purges at least three times in my life. Selling off records that I later ended up buying back for more money 10-20 years later.
Recently I bought a record on the Internet (a Youth Youth Youth LP), and when I got it in the mail, opened it up, and noticed that it had a price sticker written on the jacket by me. It was from a purge and I sold it out of my collection at a show for $8 or $10. I paid a lot more to put it back in my collection. How weird is that though? It turned out the guy I bought it from got it from the dude I had originally sold it to. From Albany to Texas, and back to me in NJ. Shit like that only seems to happen to me.
Where/how do you usually find your records?
I'm still an active collector so as a true collector scum I need to keep my tricks to myself! Seriously [laughs].
I do still hit multiple used record stores weekly though, and I still enjoy crate digging and getting dirty obtaining rare records. Record stores are only one of the ways that I still find collectable stuff. Finding records in the wild is still something that can happen even in 2017. A few years ago I found a copy of the Mental Abuse LP in super clean shape for $4.99 at a record store. I was super nervous walking it up to the counter. I was thinking the entire time I was walking it up there to pay for it that the folks behind the counter were gonna be like "oops, sorry this is a mistake, can't sell you this one." That was in like 2014. Sort of an insane find in a record store for that time period. It had been on my want list for decades.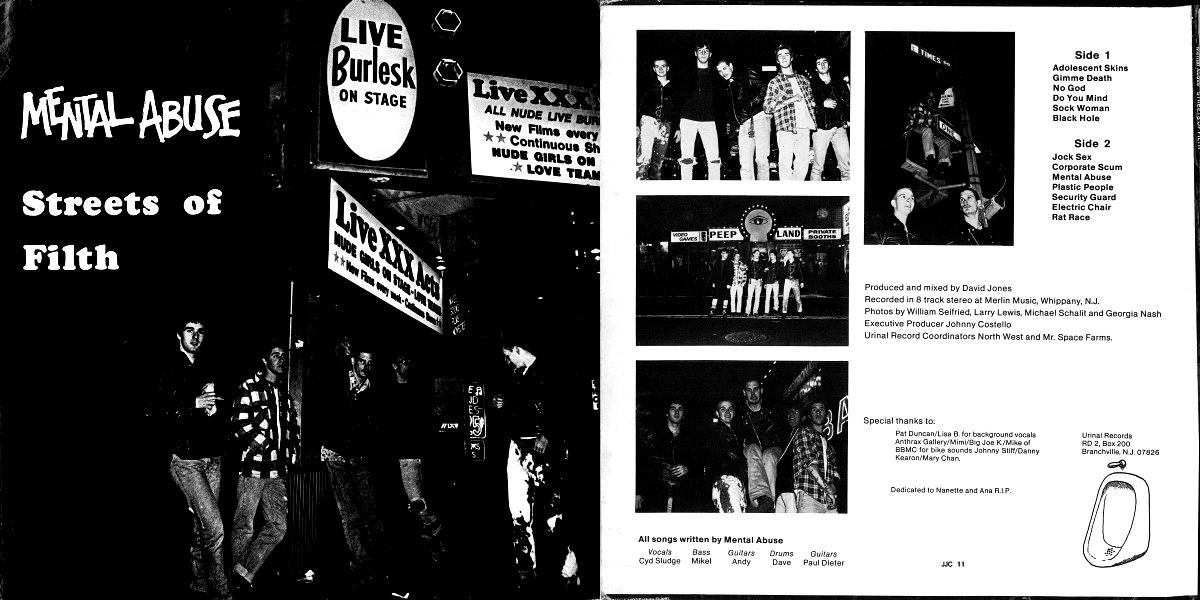 What is the most you paid for a single album, where/how did you obtain it, and what was it?
Well, I recently dropped a lot of money at a shop in NJ that was selling a bunch of early USA hardcore 7"s for very "cheap." Some of them were for friends. I mean how can you pass up an Abused 7" for $175 in 2017? I really don't recall what the most I've dropped on a single record is, but its def between $300-$400. In the mid-'90s I overpaid for an Antidote 7" from one of those Internet, pre- eBay auctions that people were doing. Greg Gartland was auctioning off [Born Against singer] Sam McPheeters' collection and I ended up winning the Antidote for something obscene like $300. I wanted it so badly and ended up paying for it. You win some, you lose some. I've paid a lot of money for records, and then I've paid very little for rare records that just dropped in my lap. It sorta evens out.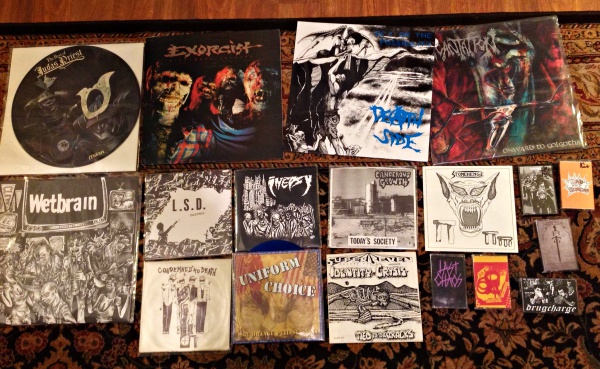 What is your most prized record and why?
Oh man that's such a tough one. There are so many. The Mental Abuse Streets of Filth LP sticks out though because of how I found it, and how long I had been looking for it. I recall seeing it listed in places like Goldmine magazine in the early '90s, calling the phone number and having the person selling it tell me that it had just sold for $80. Agnostic Front's Victim in Pain is another one, mainly because it was always selling for more than what I thought it was worth. I never grabbed at it until some European guy asked me to trade a Devoid of Faith purpose lost 10" for it. I was all over that trade as I'd played on the DOF, and gotten a handful from Pushead.
Charles Bronson Youth Attack metal version LP that was blown apart with a shotgun in Albany (for use in a video on the discography CD) is obviously totally worthless to anyone else because it can't be played, but to me, it brings back special memories from my time spent with [Charles Bronson singer] Mark [McCoy] and all my time spent in Albany. If I recall he destroyed the record due to kids at the time over paying for it and making it a collectible...I could go on and on about records that are special to me.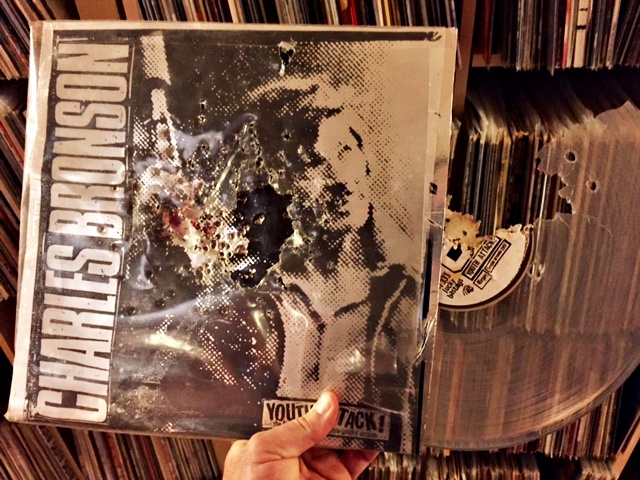 Is there anything that frustrates you about the whole record collecting scene?
Not really, I mean I guess nowadays there are just to many people doing it, and the Internet has both made it more difficult, but at the same time easier to figure things out. People collecting Record Store Day releases seems crazy, but nah, I'm not really frustrated about anything other then how abnormal record collectors are at record shows and stores. They are from a different planet, but the same could be said about comic book and toy collectors.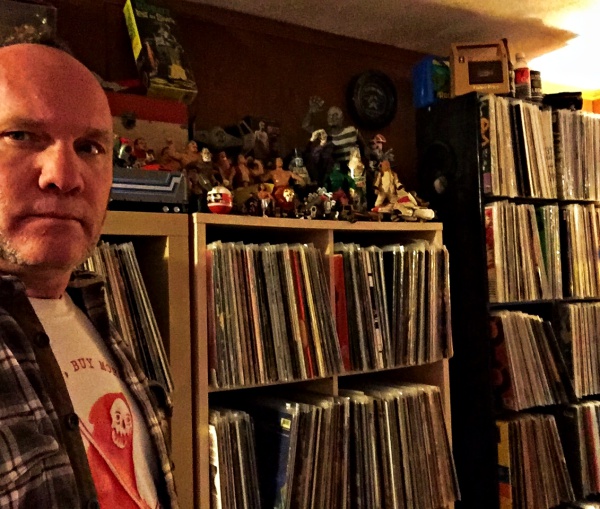 Which albums are still on your want list that you've had a tough time tracking down through the years?
That is a big list. Here is a small dose. It's mainly some '70s heavy pysch and NWOBHM stuff:
Poobah, Let Me In LP
Toad, Toad LP
Toad, Tomorrow Blue LP
Dave Feinstein, Midnight Lady 7"
Pentagram, Day of Reckoning LP
Jerusalem, Jerusalem LP
Buffalo, Dead Forever LP
M16, Locked and Loaded LP
Def Leppard, 1979 7" EP on Bludgeon Riffola
Sinner, Need Your Love 7"
Blitzkrieg, Buried Alive 7"
Arrow, The Heavy Metal Mania 12"
I still want/need the following hardcore records:
The Worst 7"
Urban Waste 7"
Middle Class, Out of Vogue 7"
Deep Wound 7"
Ydi, Black Dust LP
Subculture, I Heard a Scream LP
Zouo, The Final Agony 7"
The list could go on forever.
***
Head to Nate Wilson's True Punk & Metal blog for interviews and obscure music downloads.
Tagged: das oath, devoid of faith, green dragon, monster x, record collector