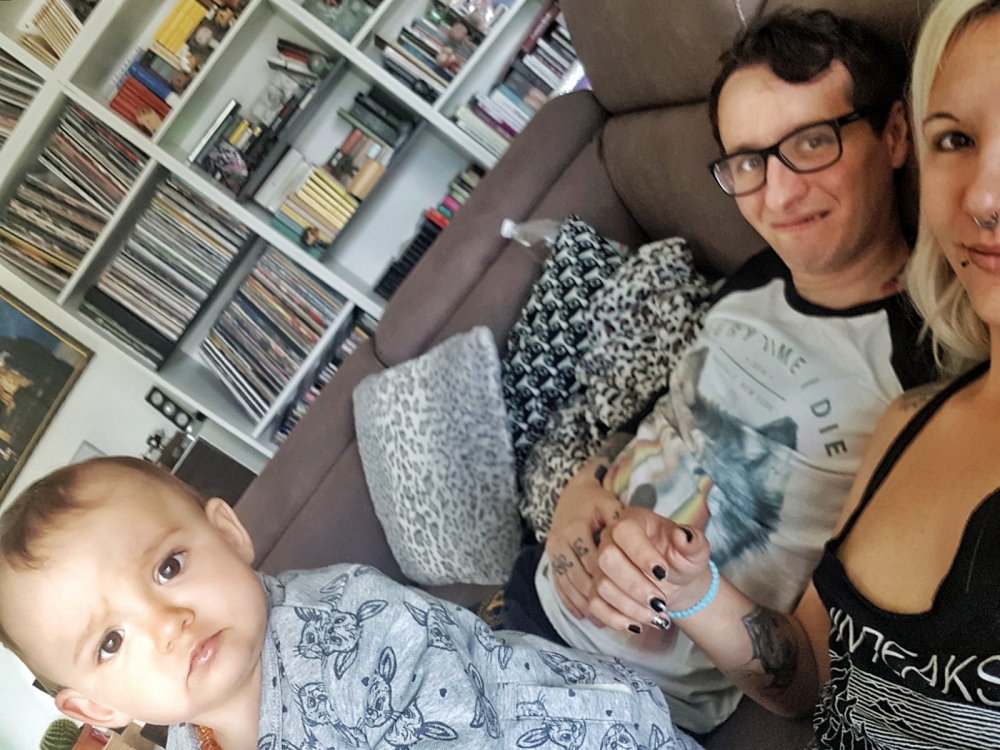 Michele Bianch lives in Switzerland with his wife, Jennifer, their beautiful little girl, Cassandra. He works as a chef and loves spinning records in his spare time. He loves horror and sci-fi moves, and that plays in perfectly with his passion for collecting vinyl. Please join me in welcoming Michele into the Record Collector club.

How long have you been collecting records?

I started collecting records around 2006, quite regularly until about 2009, then I had to slow things down due to other priorities such as the usual lack of money that afflicts us collectors from time to time and storage space. I ultimately came back into it around two years ago.
Where/how do you usually find your records these days?
When it comes to new releases, my main source is the Internet, more specifically, I try to directly support labels who releases them by purchasing from their stores against buying from Amazon or third parties in general. For used or out of print ricords, Discogs is my go-to place. Unfortunately, there aren't many proper record stores in my area, so whenever I have to chance I take a trip to Tondo Music. It's basically the only store where I dig my way through tons of crates filled mainly with classics and old obscure records. They really have an incredible amount of amazing stuff although they lack the newest releases, but there are so many gems to satisfy my thirst for a blind buy, or two, that I dont really feel the need of newer records while I'm there.
Last but not least, whenever I have the chance to see a band live, I always make sure to get a vinyl by their merch table.
What is the most you paid for a single record, where/how did you obtain it, and what was it?

The most expensive record I ever pre ordered was for The Armed — Only Love with the wood box that came at around $100, if I remember correctly. As far as regular albums without fancy box sets go, I'd say the Sunn o))) and Boris collaborative album (Altar) was sold at Tondo's for around 80 Swiss Francs (around $80) but that was a 3xLP set. Necrophagist's Epitaph — reissued by Relapse last year — is the most I've ever spent on a single vinyl album with a regular sleeve, which was around $60 on Discogs, kinda expensive all things considered, but I really wanted it and regretted a lot missing out when if was originally reissued

Although I try to avoid spending too much on a single record that happens from time to time I guess.
If you had to pick one record label you feel had/has the best track record of quality releases, who would that be and what are some key titles you love?
This is an hard one for a guy like me who always has an hard time picking just one, so I may be bending the rules a bit here, and I'll give you three records labels instead.

I'll start with Elusive Sound from Switzerland, that label sure takes the cake both for being Swiss Best Kept Secret but mainly cause you can literally feel all the love they put into their releases. I wouldnt have discovered some amazing bands without them (BLAK, TRNA, Show Me a Dinosaur, Silent Whale Becomes A° Dream... to name my favorites). Their releases also always sound great, as in crystal-clear, loud, and deep-sounding great. but their variants are also insane. It's all well-thought, gorgeous-looking, and with a deluxe touch that never hurts. Just looking at Silent Whale Becomes A° Dream's book hardcover variant of Requiem is awe-inducing, but all the names I mentioned before are well worth checking out as they're great albums!
A label I feel like is still outside too many people's radar is Translation Loss, so that's my second pick. They recently reissued Rosetta's massive debut, Galilean Satellites, in the best way possible: a deluxe box set that's seriously nuts, both in sound quality and looks. Besides being one of the most visionary post-metal albums to date, they actually made sure this was the best press possibile for every fan to own and listen to it! Kenoma's The Tides WIll Prevail is another one of their albums that I really love, melodic yet heavy instrumental post metal with some doom thrown in it, a great unknown gem that way too few people are aware of it seems! A personal favorite recent release is the new Svalbard album that may just be the best hardcore album of 2018!
Last but not least, going outside "music made by bands" territory, Waxwork Records sure deserves a place as my third pick. They specialize in movie scores and their focus is on horror and sci-fi films, both old and modern classics. If I was to pick a few favorite titles from Waxwork, I would surely mention The Thing, released on a deluxe limited ice-breaker box set, as if the score alone wasnt great enough, the package takes it to a completely breathtaking dimension. Logan's Run is one of their latest releases, and being a big sci-fi nerd, the announcement of its score being released on vinyl was one of the best news ever! It, Tenebrae, Rosemary's Baby, Don't Look Now... I could go on and on for hour. Long story short: Waxwork Records is where horror/sci-fi nerds and vinyl collectors' wet dreams meet!
There are tons of other great labels that puts out an endless flow of amazing records like Relapse, Profound Lore, Dunk! Records, and Pelagic Records, and I could go on for days, but these three are the ones that make me excited the most.
Of everything in your current collection, what is your most prized record and why?
There are two of them I really enjoy owning and spinning for similar reasons, the Jurassic Park Original Motion Picture repress by Mondo, and Pennywise's Full Circle. As many other people, I used to be obsessed with dinosaurs when I was a kid, and when Jurassic Park came out, I couldnt get enough of it. Finally owning its score as an adult feels so satisfying! Pennywise was the band that set me on the punk rock path. I wouldnt know where I would be if I hadnt heard Full Circle being blasted by my school mates one day on the way home on a dusty school bus, but I'm glad I did, and years after I grabbed it, it was a long overdue addition to my collection for sure!
Besides those two, to which I'm emotionally linked, I have to mention Sumac's The Deal, What One Becomes, and the Keiji Haino collab, all three albums literally give me a Stendhal syndrome attack everytime I just hold them in my hands.
Is there anything that frustrates you about the current record collecting scene?

Besides flippers? Way too often on message boards and Facebook pages, I read too many people whining about delays and noisy records. I hate muddy-sounding vinyl as much as the next guy, but I feel like sometime people expect .wav-like quality from physical media like vinyl and that's quite utopic I think. There will always be a slight background noise on quieter vinyl, whether people like it or not. If someone feels bothered by it, then maybe vinyl is not the way they actually want to listen to music. It's the same thing with delays since it seems like people take for granted a speedy vinyl production while in fact there's so much work behind the scenes and so many issues that could surface in that process that it would be nice if people could give labels a little room to breathe if a record is delayed due to manifacturing issues. They're just as stressed about it as we are, as a matter of fact, they're probably even more stressed, having to deal with it first hand. Ss long as I eventually get the goodies, I'd rather wait and get the best product possibile than getting a mediocre product delivered in time.
Which records are still on your want list that you've had a tough time tracking down through the years?

Quite a few actually, mainly due to their price that more often than not is above what I'd really love to spend or more than I actually can afford to spend. These are the first that come to mind:

American Nightmare — Background Music (Black with Brown cross variant)
God Is An Astronaut — A Moment of Stillness (Blue with black splatter)
Star Trek II: The Wrath of Khan Score (Mutara Nebula variant)
Fu Manchu — The Action Is Go (Clear with red and blue splatter)
Dashboard Confessional — Swiss Army Romance (being Swiss I need the 7" box set with alternate cover)
The Chariot — Long Live
The Chariot — One Wing
Converge — When Forever Comes Crashing (White vinyl)

If anyone looks to give their copy a new caring loveful home hit me up!
***
Follow Michele on Instagram.
Tagged: record collector