The expression of grief and pain can be as intoxicating as it is poisonous. One of the things that punk rock bands are often lauded for is synthesizing their grievances with the world and personal failures into fun, digestible pieces of pop art for a selective audience of weirdos who have failed at life in similar ways. Candy-coated caterwauls of catharsis. That's the name of the game!
There are other genres, like heavy metal, that attempt to lay claim to life's betrayals and indignities by exhibiting them in a stark, cold, light for all to witness. But even heavy metal has to concede to its audience needs, and as a result, often hammer out anthems of empowerment and oases of relief from the anguish of life.
There are few bands that offer its audience none of these ways to deal with their pain, and still manage to be palatable. Cloud Rat is one, Lord Mantis is another, but the crown at this moment must go to Couch Slut.
Their new album, Take a Chance on Rock 'n' Roll, manages this aesthetic and aural coup without sapping any of the bitterness out of the fruits of knowledge they have on offer.
Take a Chance on Rock 'n' Roll is a more focused album than Couch Slut's previous effort, 2017's Contempt, and features a thinner mix overall than any of their previous releases, especially the bricked-out, calamity of their 2014 debut full-length, My Life As a Women. This is noteworthy for the way in which the production adds to the already cutting nature of their sound, a spiritually depraved amalgamation jazz-rock, Amphetamine Reptile-esque noise, melodic death, and aluminum tipped black metal.
Fronted by Megan Osztrosits and her strained, arduous howl, they're an inclement weather event comprised of bad vibes and even worse memories, with lyrics that betray reviled subject matters, relaying true stories of trauma and depraved hearts encounter on late-night rendezvous and bathroom mirrors.
Take a Chance on Rock 'n' Roll lacks some of the rangier compositions of Contempt, but this lack of superfluities means that there is even less between your ears and the savaging of a lifetime.
"The Mouthwash Years" and "Carousel of Progress" begins with the bilge tossing sway and stress-positon like grooves that the guitarist Kevin Wunderlich and bassist Kevin Hall perfected on Contempt with tracks like "Company Picnic with Dust Off" and "Penalty Scar," and quickly transgress into the Big Black-swallowing-Jesus Lizard, serpentine shake-up of "All the Way Down."
Elements of blackened sludge reminiscent of Lord Mantis bubble to the surface on the fatalistic, terror prism "The Stupid Man," while "Topless and Bottomless" is as close a Couch Slut gets to the meat-and-potatoes, rock 'n' roll alluded to in the album's title, if only momentarily, introducing bluesy swagger and pushy grooves that quickly unravel into a free-falling rush towards an uncertain but final end.
Take a Chance on Rock 'n' Roll concludes with a spoken word performance under a bleak psychedelia score that is "Someplace Cheap," which recalls a verifiably true story of an instance several years ago where Megan and some friends were drugged and assaulted while partying with some bikers. It's a terrifying and challenging listen with a surprisingly amusing conclusion that makes the events leading up to it all the more strange and disconcerting.
A lot of punk and metal bands seem to immerse themselves in fantasies of violence as a way of insolating themselves from the ongoing pain and heartache of the world. I can't say that it is refreshing to have a band that does the opposite, who takes the banal degradations that people experience on the margins and in prisons of circumstance, and privileges these depictions of actual violence in their songs over dark fantasies of battles or eldritch horror, but it is important to have bands who are willing to take a headfirst dive into human suffering and recognize the real shapes and consequences of violence, specifically generated violence, that exist in society.
Couch Slut is the hardcore punk equivalent of someone you may pass on the road one night, tears and blood running down their face as she screams for help. Maybe she has a few fresh wounds in her mouth where some teeth used to be. You can't really tell for sure in the dark and you frankly try not to notice as you pass her because the sudden eruption of violence that placed her there, in that moment, and the suffering she represents as you drive by, is so alien to your own experience of relative comfort that you can't even fathom how you could make an impact on her life. So you decide not to get involved.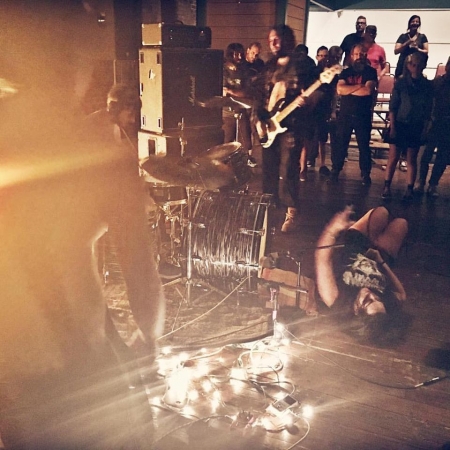 "There is probably someone better qualified to help them," you think to yourself as you attempt to disappear into the anonymity of the night. Maybe you tell your partner when you get home, or your co-workers the next day, bringing it up in a "boy, isn't that weird" kind of way.
Or maybe you just stuff those thoughts and those images of a hapless person down into an empty pocket of your being and hope you never have to think of them again. You might be able to hide your guilt from the world, but you will never be able to hide it from yourself.
Couch Slut sees through you, and their songs are the sound that the weights around your soul make when they clang together.
Get It
Tagged: couch slut