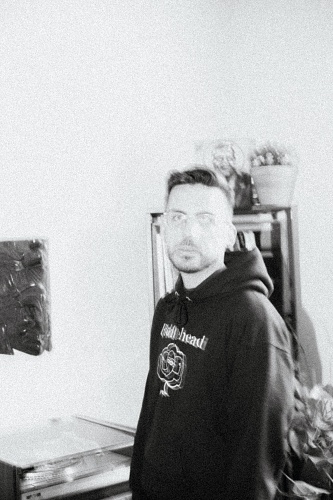 The Way's brand new debut demo has the kind of cover artwork (done by Shua Hundley) that within a second of glancing at it, you already have a feeling that the music it's representing is going to be something sinister. Your instinct would be correct in this case.
The solo project of musician Nathan Arthur, the Way gives the Ohioan a chance to explore some of the influences he "In my formative years I was heavily into bands like the Clash, Misfits, and Dead Kennedys," Nathan tells No Echo, "but I've more recently been writing and playing in a hardcore band and a death metal band."
"I felt like it was time to do something that was a little more punk-leaning and true to my original set of influences. When I started writing for this I knew that I wanted it to be fast, yelly, and have interesting guitar leads that I wouldn't typically work into a hardcore song.
"As far as newer bands go, some of my influences for this were Armor, Spy, the Chisel, and Chain Whip."
Nathan explains the meaning behind his solo moniker: "I love when bands call the first song of their first release the same thing as their band name, so that's what I did here. The Way is basically developed from this loose thought I have for arguing against consumerism, social media, and television.
"Though I still heavily participate in these things, I think we get carried away and develop a crutch that distract us from things we care about. Unchecked, they can end up taking us farther away from living an intentional life. I want to know who I am without outside influences and constant stimuli."
Somewhat related; the spread of disinformation and rise of anti-intellectualism I see is super alarming. People are almost proud to be ignorant as hell and it pisses me off. That's mostly what the song 'Denier' is about."
The Way demo is available now on Bandcamp, and if you're on the streaming sites, they got you covered as well. Follow Nathan on Instagram for more updates.
***
No Echo has launched a Patreon with 3 tiers offering all kinds of hardcore-related goodies to help support the site:
***
Tagged: the way