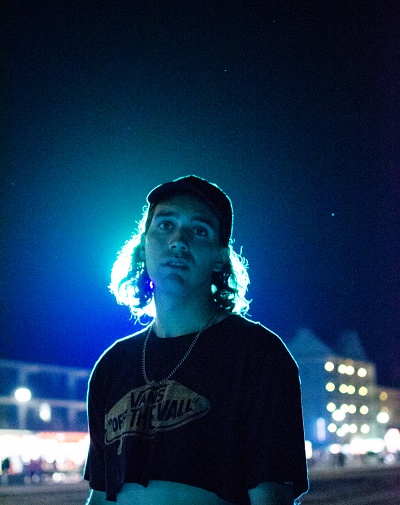 Pat Gaffney is a photographer whose work I've used on the site before. While he certainly covers the hardcore scene, Pat's musicial interests spread way beyond that and his Instagram page is proof of that. Get to know him in this new Photographer Spotlight.
Where were you born and raised, and were your parents into the arts?
I was born and raised in Northern Virginia. My mom would draw and paint every once in a while and my dad started playing guitar when I was a kid.
What was your first musical love?
My first musical love was probably Sum 41, my cousin put them on one day while skateboarding when I was around 8 or 9 and I made him go burn me the CD immediately.
What is your camera and post set up?
My digital setup is a Nikon D850 but I usually bring various point and shoot 35mm cameras I've found thrifting and sometimes disposable cameras when I shoot shows because I can keep them in my pocket if I want to mosh. I also recently got a medium format camera but I'm probably not going to shoot shows with it because it's big and weighs almost 11 pounds.
Who are some of your favorite bands to shoot?
I'm always more excited to shoot bands I haven't seen yet or bands with a charismatic front person. I also love to shoot bands with any sort of visual gimmick, like if someone's got on a weird outfit or they bring props, that's always fun. I saw Truth Cult recently and they were really fun to shoot they've all got some sick moves!
If you could go back in time, who are some bands that you would have loved to shoot?
The first band that comes to mind would be Bad Brains for sure, especially when HR used to do backflips on stage. It would be cool to shoot No Justice, too. Videos of their shows always looked like they were crazy.
Is it getting tougher to carve a space out at venues since there are so many people shooting these days? How do you feel about that?
I've been lucky in that I'm usually one of the only photographers at the shows I go shoot at beside maybe one or two others, but I've definitely noticed there can be an excessive amount of photographers at fests and big venue shows. In general, if I'm shooting with a point and shoot, I only take one or two photos per band, so I don't really worry about trying to find and hold a good spot for the entirety of a show. I just get up front take a photo and get out of the way, which I think is a good method because I don't feel like I'm getting in the way of anything by occupying a space for to long.
Tell me about some newer bands that we should all be on the lookout for.
Ultimate, Corvo, Rashomon, Plastic Taste, Asesinato, Needle, Pisha Haja, Pummel, Luxe, Deviant, Diztort, Machine Gun, Result of Choice, and there are a ton more I'm probably forgetting, but these are all really sick newer bands!
Who are some modern-day photographers that you admire?
I really like Jerry Hsu's photography. It seems like every image he puts out is like a once in a lifetime moment and he somehow was able to capture it at the perfect time. There is one of photo he took of someone throwing a bouquet of flowers in a trashcan and every time I see it I will just stare at it and analyze every detail because it's such a powerful image.
If you had to pick one of your photos that best encapsulates why you love shooting bands/artists, which one would it be and why?
Probably this photo I shot of Impalers in DC. I don't think its a very good photo but it reminds me of how fun their set was, it seemed like people were just moving around the entire time and it was so hard to try and take the picture without getting bumped into. The fact that its so easy to completely miss a shot at a hardcore show makes it that much more fun because its so more rewarding to get a good shot in such a chaotic setting.
***
Follow Pat on Instagram.
Tagged: photographer spotlight