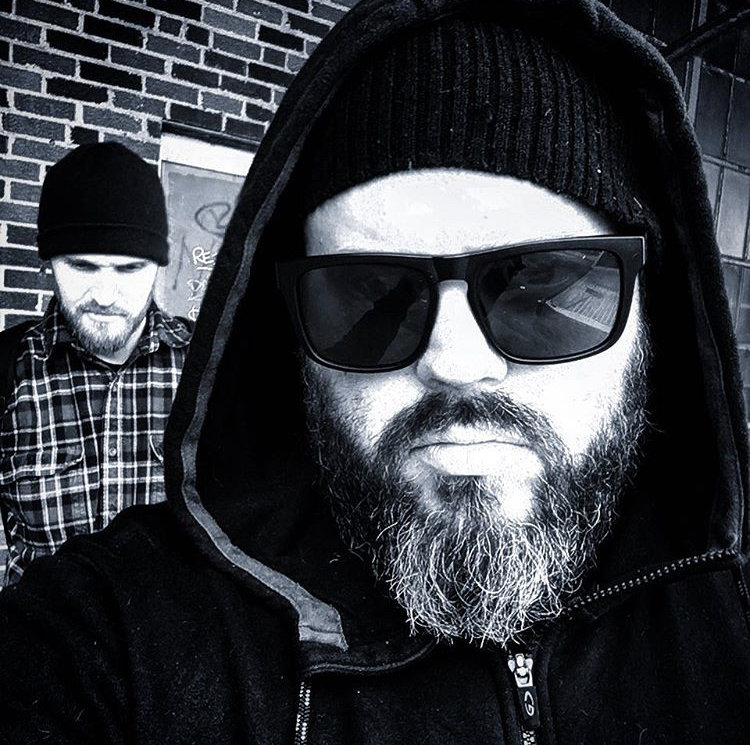 Weird Flex is a new hardcore punk project currently comprised of current and former members of such bands as Loose Nukes (Texas), Landfill, Thug Boots, and Liberty & Justice.
Citing Black Flag, Strike Anywhere, and The Catheters a few of their prime influences, the duo of David Klotz and Derek Harvey bust out material that runs a wide range of stylistic flavors, all seen through a punk lens.
"In its initial conception, the idea of calling the band Weird Flex came from needing a name that kind of winks at the fact that each release could have drastically different or subtly different tones and styles in the music—with the common thread being lyrical themes and vocal delivery," says Klotz.
Today, No Echo is helping premiere Weird Flex's debut release, a 9-track affair called Human Crime:
Here are Klotz's thoughts about each of the tracks on Human Crime:
"92FM"
"This song is an intro to the album to kind of set the stage of ominous, frustrated, and rebellious attitudes against the existing societal nonsense that is pervasive in today's world. The audio sample was taken from the movie 'Pump Up the Volume.'"
"Black Paint"
"Black Paint is a narrative song about taking stock of how things are quickly changing and declining before our eyes. The world is very different than it was a few years ago, but we have to keep going in order to survive."
"Lightbringer"
"A loosely metaphorical song about the idea of the antichrist walking among us on earth and the things that come with their presence. It's prophesied that it's nothing but bad when they arrive."
"Let the New Dawn Fade"
"A reimagining of two of my favorite songs: Let the Day Begin by Samhain, and New Dawn Fades by Joy Division. It was fun to figure out how to do a unique take on some old nostalgia."
"Sundowner"
"In 2004, I wrote a song called "Elephant Man," and it always felt like it needed to be rewritten and fleshed out a bit. This song is the finished, arranged and better version of that song from way back when. It's a song about low self-esteem, resentment, and fantasizing about exacting vengeance on predatory people."
"Violent Power"
"A song doesn't have to be deep, have meaning, or even necessarily be good. The Germs taught us that. This song is an homage to the Houston scene and the roots in grind and some early power-violence stuff. The title is about as on the nose as you can get for this boneheaded trek into well-worn territory by our peers."
"Waxing Crescent"
"This song is heavy on metaphors aimed at reminding us that in the end, we may all have our own version of the story, and somewhere in the middle is the truth. The realization that this means that when we dig in, we can't grow anymore…we stagnate and devolve."
"Drain Down"
"Drain Down is the desperate wail of depressed emotions boiling over into frantic cries for relief. It's emotional suicide."
Human Crime will arrive across all digital outlets this Friday (February 18th) and will be available for purchase on Bandcamp.
The cassette version of the record will be available soon via Breakup Sandwich Records.
***
Help Support What No Echo Does via Patreon:
***
Tagged: human crime