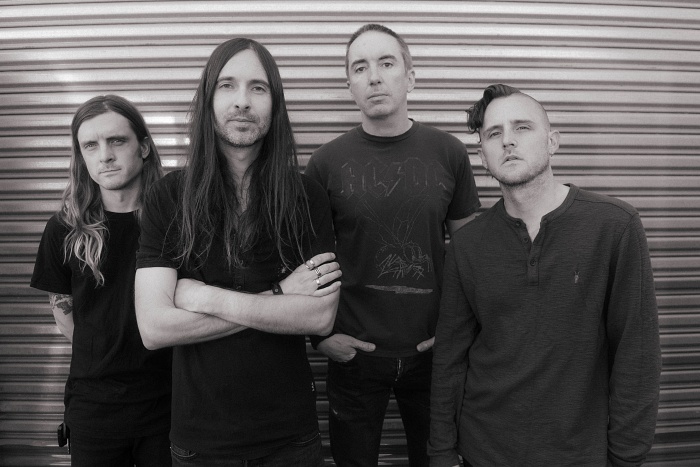 ÆGES is a Los Angeles-based band that has been penning hook-driven post-hardcore anthems for close to a decade now. Originally started by musicians from such groups as The Rise, Shift, and Pelican, the combo has dropped records on The Mylene Sheath, Another Century, and Hawthorne Street Records.
Seen/heard below, ÆGES' latest release is a "Colors," a single packed with twin-guitar and vocal harmony lines, pulsating rhymthic turns, and a big chorus:
Since we knew ÆGES vocalist/guitarist Kemble Walters is a fellow Quicksand fan, we asked him for a list of the NYC post-hardcore legends' 5 most underrated tracks from their discography. Dig in below!
***
"Too Official" from Slip (1993)
This song has such a heavy groove from start to finish. It's as if the song was giving us a taste of what Handsome was going to sound like in the future. There's also bass chords throughout most of the song, who does that!? So ripping.
"Blister" from Manic Compression (1995)
This song hits me like a song off the Snapcase record, Progression Through Unlearning. It's tough, melodic and fast which you don't get that combo a lot from Quicksand. I can see these dudes writing this song as teenagers and it being just as rad and rowdy then as it was when they tracked it.
I'm just gonna add that I think this whole album was underrated due to its mix (my opinion obviously). I hope one day they re-release an "alt mix" version of this record that pummels. I'd be stoked.
"Fire This Time" from Interiors (2017)
The intro riff is sooooo deep and thick and filled with groove, I love it. This is one of those jams that takes you on a journey without throwing anything jarring in its path. The guitar leads weave in and out of the vocal melody and the combo lifts the listener up into a heavy yet meditative state. Killer jam, incredible production.
"Spoken Through Clouds" from Triptych Continuum (2018)
The chill vibe of this tune is something these guys don't do often, much less at all and this short EP was a heavy sleeper and seemed to fall under the radar pretty hard. The verse vocal is so simple, yet soothing and powerful - something Walter nails every time. It's always rad and unexpected to hear a band known for being heavy deliver a beautiful, vibey and chill tune that keeps your attention and still takes you on the journey. Again, great production on this one.
"Unfulfilled" from Quicksand (1990)
The OG version off of their first release. It's so rad to hear what the original versions are before a producer, label, and band growth/knowledge comes into play. This song didn't change too much as far as structure and melody but it's just so much more "metal" on this album and I love it.
You can hear the angst and you can feel the excitement, power and youthfulness of the band. Walters' voice is barely holding on from start to finish, the guitars are noisy and the production is mega raw. Jam this one then jam the version of Slip back to back, it's a fun ride.
***
ÆGES on social media: Facebook | Instagram | Twitter | Bandcamp
***
Help Support What No Echo Does via Patreon:
***