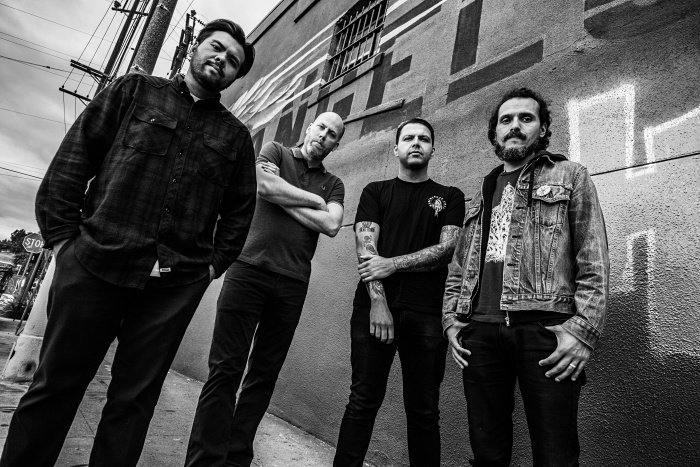 With a history that dates back to releases by the likes of Turning Point, Outspoken, and Mouthpiece, New Age Records is one of the longest running labels in the hardcore community. Founder Mike Hartsfield has been on a roll in the last few years, dropping records by such bands as Safe and Sound, Drug Control, and Redbait.
The New Age family is growing today with the addition of Mike's latest find: Cross Control.
Based in Los Angeles, Cross Control is comprised of drummer Martin Alcedo (No Bragging Rights, Slow Trip), guitarist Mike Avila, bassist Carlos Torres, and vocalist Vince Averill. Formed in January of this year, the quartet wasted no time, working on material and recorded their debut EP with Alpha & Omega's Aaron Jamili at Wormhole Studios. To help introduce Cross Control to No Echo readers, how about we sink our teeth into "Outrage Culture," a searing track from the group's forthcoming EP:
"The song is about where we're at as a society," Vince tells me about "Outrage Culture" and its lyrics. "It feels like people wake up in the morning and login to find out what they're supposed to be angry about. This love people have for piling on from behind their screens even when topic has nothing to do with them or their actual beliefs."
If Vince looks a bit familiar in the band photo above, that's because I interviewed on the site last year. You see, before fronting Cross Control, Vince was part of the Michigan hardcore scene in the '90s, releasing the beloved Ottawa/Jihad split LP through his then-label, Abiology Records. In addition to the work he's putting into Cross Control these days, he's also a comedian and co-host of the We Watch Wrestling Podcast.
Stay tuned to Cross Control's upcoming shows and release plans on their Instagram page.
Tagged: cross control