There are plenty of compelling and topical podcast out there that cover punk and hardcore. Many come and go, while some have great staying power. As such, it often takes an irreverent twist on music itself to give a podcast better footing. End on End, a podcast created by Brian Gathy, has done just that.
The podcast has a very particular focus within punk and hardcore: the Dischord Records catalog. Gathy's End on End devotes each episode to a Dischord release, and some other Dischord adjacent releases like the Salad Days documentary. He starts at the absolute beginning with the Teen Idles 7 inch EP.
So far, the podcast is up to Minor Threat's Out of Step, and is gaining some great steam with conversations that Gathy develops with his guests. Having recently added Jeff Kaplan (Two Man Advantage, Judas Iscariot, Too Many Voices) as his co-host Brian is constantly refining the podcast and its content as they relate to Dischord releases.
So why Dischord as the focus? "I think the honest answer to that would be that (1) it had great and deep significance to me, my worldview and what I discovered was possible within the crucible of the punk scene, and (2) I believe absolutely to my bones that what was created in this small geographic area (and especially within the family of bands on the Dischord label) was insanely special, unparalleled in quality and creatively grew organically in an unexpectedly inspiring way," says Gathy.
Sure, we could've guessed at Dischord's still pervasive influence on punk and hardcore, but it's also about Gathy's reflections on the label's personal and social influences.
The podcast's Iron Cross episode weaves that in well. Jeff and Brian open with a discussion about the protests currently unfolding across American, then move to their thoughts on the Iron Cross release, and then talk with Sab Grey, founding member and singer for Iron Cross. They dive into Grey's early life moving around the states after coming from England, his parents being a teacher and a nurse, and certainly his influences.
Now, of course, they get to Sab's experience in Iron Cross, but they also pull out much more personal reflections by Sab. He talks about his social anxiety, feeling at war with the world around him, and most interestingly, not having the language to express that frustration. The conversation gives great dimension to the man behind one of Dischord's most controversial releases. And Brian and Jeff weave it into and around their own cultural and societal experiences.
As No Echo readers already know, Dischord itself became a most-trusted label for churning out absolutely amazing and eclectic releases. Brian reflects, "For so many years in a row, this label put out consistently high quality innovative, high energy music. I can't count the number of people I've known (in and out of DC) that would buy a record simply because it was on Dischord, sight unseen."
Now I'm not sure that anyone bought Minor Threat's Out of Step simply because it was on Dischord. After all, it is arguably the single greatest hardcore punk record ever released. But, Gathy and Kaplan consider all the contexts that make Dischord releases so remarkable, from Ian's seeming idealism to the retrospective thought that listening to Out of Step is analogous to watching an elite athlete play their sport.
Gathy's deep-dive conversation into Out of Step with Minor Threat bassist Steve Hansgen opens up some great anecdotes too. From Hangsen's run-in with Glenn Danzig to Ian getting hit by car while hanging out with SSD, what Brian does is get to the more personal and storybook atmosphere when interviewing his guests. We all know the greatness of Minor Threat and their seminal LP, but maybe not all of us knew about those other stories. And that's part of End on End's greatness as a podcast.
That End on End has a guest musician from each release on their episodes is a huge component of the podcast. This isn't just Brian and Jeff nerding out over Dischord, although that too is a huge part of each episode. Brian wants the musicians to tell their stories as well.
For Brian, Pete Stahl from Scream and the aforementioned Steve Hansgen are his favorite guests to date. Brian says, "Pete because he was someone I really respected and I loved his band's music, his lyrics, stage presence and take on life during my formative years. And all those factors still apply today. Not many folks you can say that about. That guy had vision and is very articulate and down to earth.
Steve is a natural storyteller and was so engaging and kind. He is another lifer and has been through a lot in his life, but has come through the other side with a sharp wit and world-worn humbleness. It's been really inspiring getting to talk to these folks and even make lasting friendships with a couple." The podcast makes sure that each release is given its due from the people who created those records. The people who were there.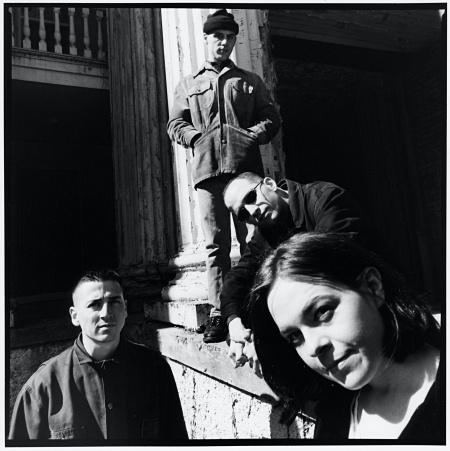 That's another hook for End on End. Of course, if that's the case then there must be an Ian MacKaye episode in the works, right? The answer isn't so clear. Brian's reached out and says, "we've had some correspondence with Ian, but he's said, though he gives his blessing to the mission and delivery of the podcast, he'd rather let the other players tell the majority of the story and come on much later to fill in any gaps and give a broader overview.
Though I'd love to have him on tomorrow, I respect his take and it does make sense. I interviewed Ian when I was 14 and it was so meaningful to me. I can wait for a few more years. After all, I am a patient boy…" That's something we'll all have to wait on for now.
As End on End continues its conversations about the Dischord catalog, one does have to wonder where to create the cut-off point. After all, the label is still active and just released Dischord 190 with Coriky's self-titled LP. Lucky for us, Brian isn't all that focused on an endgame. His focus is more on expanding End on End's content, and even drawing on other influential releases that didn't come out on Dischord.
With an ocean of podcasts out there, End on End brings a great twist to music-based content. There's no denying Dischord's influence, and the stories he and Jeff and their guests tell make for great listening.
Now that the show is gaining steam and listeners, Brian is as energized as ever to keep End on End going. "Here's hoping Dischord keeps finding interesting things to release! I'd love to keep unpeeling this onion for the next 10 years." Let's hope so.
The End on End podcast on social media: Facebook | Instagram
***
Donate a few bucks to help with No Echo's operating costs:
***
Tagged: fugazi, jawbox, minor threat, podcast