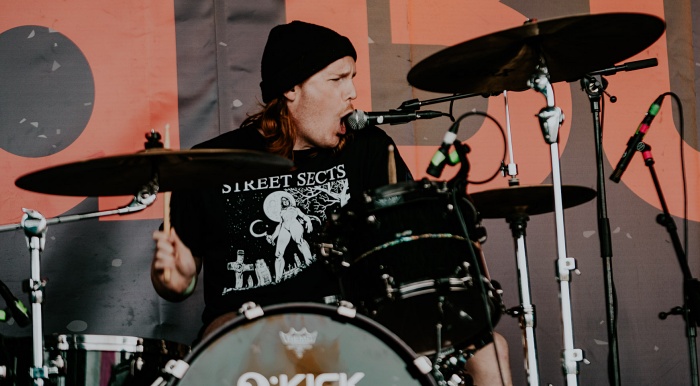 Brandon Gallagher is probably busy right now. While I don't know that for sure, it's an educated guess considering the dude's growing resume. The former drummer for New Jersey outfit Old Wounds, Brandon just dropped a new EP from Coarse, the bi-coastal project he and guitarist/vocalist Ryan Knowles started last year. Cut and Preserved features a brand-new track ("The People of the State of New York vs. Coarse") and three remixes featuring members such bands as Street Sects and The Armed.
In addition to Coarse, Brandon is an accomplished graphic designer, collaborating with artists and labels via The Chain, the boutique publicity and consulting firm he co-founded alongside Justin Pearson (Three One G Records, The Locust) and Curran Reynolds (Body Stuff, Today Is the Day) in 2017.
Despite his crammed schedule, Brandon spoke with me about his music, design influences, and the work he's doing at his (cool) day job.
This marks the first time Coarse is working with 6131 Records, a label that has had a very diverse roster of artists throughout the years, but started out in the hardcore scene. How did you and the label connect?
Sean [Rhorer] reached out to us and said he dug the EP we had self-released last summer, and we just started talking about what we wanted to do with the band. Both Ryan and I agreed that we weren't going to jump into anything with Coarse because at the end of the day it's an art project for the both of us. After a couple discussions, I realized he understood our vision and I was also intrigued by the diversity that 6131 has and how Coarse would fit on a label like that. Fast forward a couple months and we're stoked on how it's been going and what they've brought to the table for us thus far.
Kerrang! recently described the new Coarse material as a mix of Coalesce and Author & Punisher, which I think is a really good call on their part. That addresses the industrial influence that comes through clearly on Cut and Preserved. It reminds me when Godflesh would release those singles back in the '90s with the remixes where you didn't know what to expect. Is that the kind of open-ended spirit you wanted to follow for the new release, and can we expect more of that in the future from Coarse?
Kerrang! has a lot of great writers and editors working for them and they know their shit, so yeah I was really stoked on that comparison coming from them. Cut and Preserved was a total experiment. When we wrote the "I" EP, I knew I wanted to incorporate elements of industrial and electronic music, but at the time it was still pretty fresh. Plus, Ryan and I wrote those songs straight through in 4 days time, and I was stoked on how they came out so we decided to keep it moving and release it.
As we began working on new material and had the Japan and Euro dates coming up, a lot of work went into that side of things mainly because how we perform live as a two-piece. I had some of these songs put together and written already so we played them live in Japan. People thought it was cool and ultimately we decided to keep diving into it and that's how Cut and Preserved really took shape.
How did you go about deciding which outside collaborators you wanted to send the tracks to for the remixes? Also, did you give them any kind of context before you sent them the track, or did you just email the files with no explanations?
I had never been in touch with Leo (Street Sects) personally, but we have a lot of mutuals and I'm a big fan of the band. I just shot him an email with a little background about Coarse, a super rough track, and asked if he was into it and wanted to collab. Fast forward a couple months later and he had sent me a bunch of stems and I had mixed it into the track. The same with The Armed. I've been into the band for a while, and know a few of them because of their killer video/production (If you haven't seen any of their music videos, or their album artwork, or just fucking anything they do go check it out).
Carlos of Precious Death has been a friend of mine for a long time. I met him years ago on tour in Texas, and just always dug his energy and he's an awesome visual artist. He showed me Precious Death a few years back and I was always super into it, so when I told him about the remix EP he was like "Let me give it a shot, and I'll get Hash to rap
on it."
All of these collaborators are super important to me because we cover such a wide spectrum with Street Sects being dark and industrial, The Armed being innovators in everything from their visuals to their music, and Hash and Carlos representing a new wave of artists crossing over punk and rap, but I never feel like it's all over the place, and that is something I'm proud of accomplishing on a heavy music release.
Last year, No Echo featured Muscle Before Paradise, a band you play drums in that is very different from what you do in Coarse. What's new in that camp?
MBP is laying low right now, but we do have a new EP somewhere in the pipeline. Mason has been working on music videos, Matt is a full-time graphic designer, and Erek has been working on a podcast. The band has always been super unpredictable with everyone's schedules.
You're a graphic designer, which I'm sure has come in very handy with all of your musical pursuits throughout the years. How did you get your start in that? Were you schooled or self-taught? Who are some of your influences on that side of the artistic spectrum?
I've been interested in art ever since I was young. One of my older sisters worked in a print shop that had oversize printers, scanners, Macs before they were super common, and any kind of paper you could think of. At the time I was like 11-12, going to some of my first shows, and was interested in making flyers, CD layouts, etc. because I had access to a place to print them. Even to this day, I'm still influenced by that immensely. For the last EP, we did a wheat pasting campaign in NYC, because I love the look of natural urban textures of glued posters on the street. My all-time favorite artists are Mark McCoy, Jacob Bannon, and Josh Graham.
Mark McCoy has been killing it lately with the work he's done, specifically for Hesitation Wounds and Regional Justice Center. Jacob Bannon is an OG for me, especially getting into Converge at a young age, and just looking through the massive CD booklets for Jane Doe, You Fail Me, and No Heroes. I got into Josh Graham when I found out about Neurosis and some of their later records, mainly Given to the Rising where the artwork was really insane photo manipulation work. I definitely think I take a lot aesthetically from all of these designers in my work, especially what I've been creating for Coarse.
You're 1/3rd owner of The Chain, a boutique publicity firm that has repped such artists as Cloud Rat, The Number 12 Looks Like You, and Kool Keith. Since the company's roster has been so eclectic, I wanted to see if that has been by design. Is that tough to do since most other PR companies in the punk/metal underground usually focus on specific musical sweet spot? Also, how do you guys decide how to divide the work up?
I think just with even the bands you mentioned regarding Curran, JP, and myself show that all of us come from worlds that are eclectic and different from most traditional scenes. Before The Chain was a thing, I was still in Old Wounds, which was in an entirely different scene than what they were in. At the end of the day I don't think it mattered what the band or project was, as long as it was something that we were genuinely stoked on, and we've kept that pretty true still 3+ years into The Chain's existence.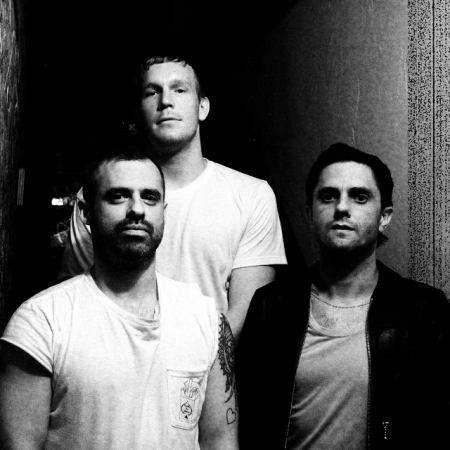 We pride ourselves on having strong connections with the writers and editors we pitch to, knowing that we're just not hitting them with everything and anything. We all personally have our clients that we work with, and then I handle the graphic design and art direction which is something we felt like a lot of PR companies don't care enough about.
***
Coarse's Cut and Preserved EP is out now via 6131 Records. Learn more about The Chain at this link.
Tagged: coarse, muscle before paradise, old wounds