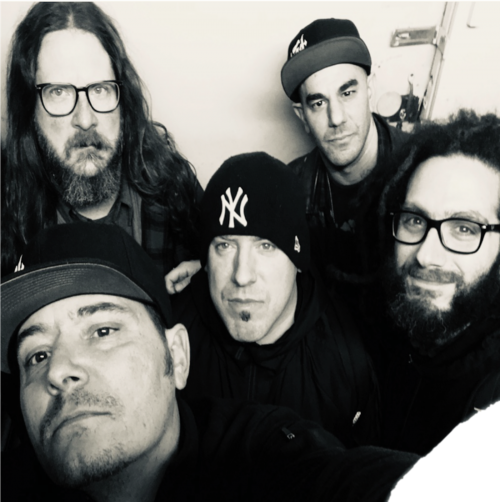 Comprised of guitarists Dan Nastasi (Mucky Pup, Dog Eat Dog) and Lawrence Nieroda (Subzero, Murphy's Law) alongside bassist Jay Kalfin (Subzero, Son of Skam), vocalist Dylan Gadino (Robots & Monsters), and newest member, drummer Steve Gallo (Agnostic Front, Inhuman), Kings Never Die is a band fusing elements of classic hardcore and crossover metal.
Formed at the tail end of 2018, Kings Never Die first appeared on No Echo last year courtesy of their debut single, "Before My Time." Kicking of 2020 in style, the group is about to drop a record called "Raise a Glass," and its title track features a bonafide NYHC icon. None other than Vinnie fucking Stigma appears on both the track itself, and in this No Echo premiere, the music video for the song, which you can see below.
If the other guy in the video also looks familiar, that's Vinnie's Agnostic Front bandmate, bassist Mike Gallo, mugging for the camera:
"When you spend 35 years of your life loving and listening to Agnostic Front, a band who has stood the test of time, loves each other and their friends and fans....and that we (KND) actually had the honor to finish and create something together with them is incredible," Dan from Kings Never Die told No Echo about the collaboration. "The second I put together the original idea and chorus, I heard Stigma's voice singing it. Just the fact that Gallo and Vinnie took the time and wanted to do it was something we will be forever grateful for.
"Vocally, Mike immediately started changing lyrics around, writing new lines etc. and both Mike and Vinnie made the song their own, which is what it's all about. We love what we created. That other people now get to hear it is just a bonus. I hope people dig it as much as we enjoyed making it".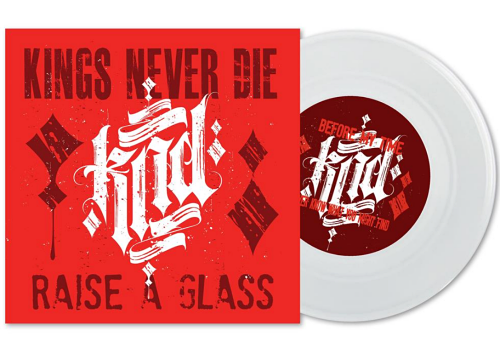 The vinyl for "Raise a Glass" will be shipping in a few days, so make sure you pre-order a copy at this link from our friends at Upstate Records.
Upcoming Kings Never Die live dates:
w/ Leeway
Jan 31 - Preserving Underground (New Kensington, PA)
Feb 1 - Club Garibaldi's (Milwaukee, WI)
Feb 2 - Sanctuary (Detroit, MI)
w/ Pro-Pain
Mar 17 - Chrome (Albany, NY)
Tagged: agnostic front, kings never die