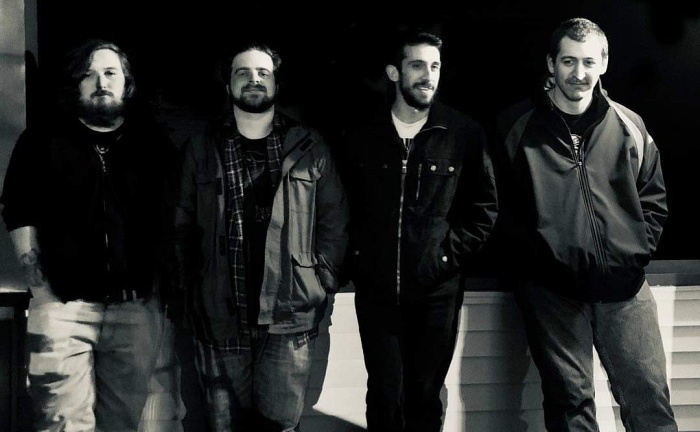 During my many outings, I often come across bands I've not seen. Sometimes the band bangs, sometimes real hard. When Boston's Blue Manic hit the stage, singer in sandals, I had no way of knowing what to expect. I learned shortly that I was lucky to be in this time, in this space, watching Blue Manic play.
Blue Manic is Mike Tate (vocals/guitar), Max Grebe (vocals/guitar), Jared Greiff (vocals/bass), and Corey Downs (drums). Shout out to Corey who, I'm told, is a big source of the band's heaviness. His influence pulling them away from a Black Keys-esque sound and adding more metal influences. This more lighthearted, bluesy-sound had been the initial intention when the band formed.
The band first came together in 2014 after Mike and Max met on Craigslist. The rest of the lineup fell into place overtime with a few starter-members cycling through. The combo played their first gig as their current lineup in the summer of the following year.
Since then, the gang has had some wild times including a last-minute gig-change in Manhattan due to a liquor licensing issue. That night they played the same stage as a 30-person acapella group. To follow weird with weirder the rest of the band then watched, in horror, as Jared copped some squid jerky from a spot in Chinatown.
When asked, they self-described as stoner rock with plenty of progressive metal, blues, and psychedelic influences. This description mirrors my notes from the show which I manically typed as they played. I was delighted by the variety of it, noting it repeatedly.
In listening, I'm reminded of Dillinger Escape Plan's impossible-to-follow riffs and of Kyuss, the kings of desert rock. I could also hear the Bostonian in it, an attribute I adore.
The band tells me they've been busy the last couple of months in-studio tracking what will be a series of 3 EPs. These are set for release in the late fall/early winter of this year.
On the recordings, they worked with Jake Gardam of Sawmill Recordings who will be mixing the project as well. Of the impending release, Blue Manic tells me "it's a fairly larger and more ambitious project stylistically than what we've done in the past with plenty of guests on it." The release is about "95% done" with mixing and artwork in progress.
Blue Manic have an upcoming show at Jamaica Plain's Midway Café where their first show was held in 2015. Make it out if you can to support awesome local venues and awesome local bands.
Blue Manic on social media: Facebook | Instagram | Bandcamp
***
Help Support What No Echo Does via Patreon:
***
Tagged: blue manic