Just the other day, I was scanning through music on Bandcamp and came across YDMS. The Swedish band got my attention through its vicious approach and (somehow) catchy songwriting style. "We all knew each other from some years back and most of us have played with one another in different bands before," vocalist Alfred Sjödin told me via email after I reached out to the Swedes.
"We knew that we wanted to play some type of hardcore, so we just wrote riffs until we found a type of red line to follow that we all liked. We started rehearsing and writing our music in a small village in northern Sweden called Burträsk. Now, we have moved our rehearsals to an even smaller village to get away from everything. I played drums in the band at the beginning."
The recording that landed YDMS on No Echo is called Dream About Dying, a 6-song EP that the band recently released on their own:
"We would describe or sound as a mix between hardcore and metalcore with a touch of old school Swedish HM-2-style death metal," said Alfred.
"We all have our different taste and inspiration when it comes to music, which results in a varied mix of influences, but we have gotten most of our influence from bands such as Terror, 25 ta Life, Architects, August Burns Red, Deez Nutz, Refused, and 36 Crazyfists, just to name a few."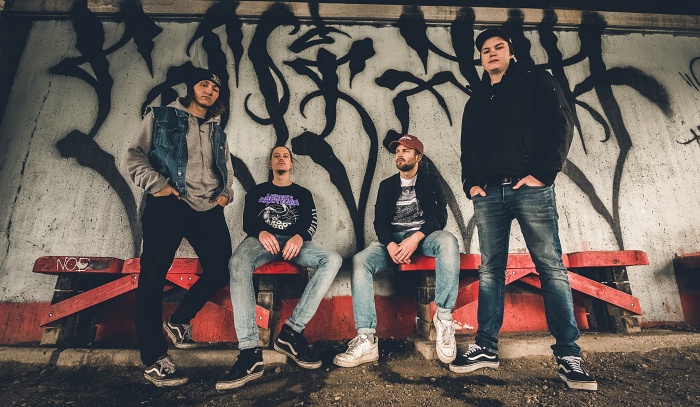 I asked Alfred about YDMS' place in the Swedish hardcore community. "At first, when we wanted to start to play live shows, we had kind of a struggle to find gigs. Mainly because we are from a pretty rural part of northern Sweden. In the beginning we had to arrange our own gigs and we had to invite other local bands to come and play as well. It worked out pretty well with quite a good reception.
"After we had arranged a few of those gigs, we started to get a good response from the local scene and the scene down in Umeå. Then COVID-19 struck, so we hope that when the pandemic is over we'll be back on track and gigging again."
YDMS on social media: Facebook | Instagram
***
Donate a few bucks to help with No Echo's operating costs:
***
Tagged: ydms