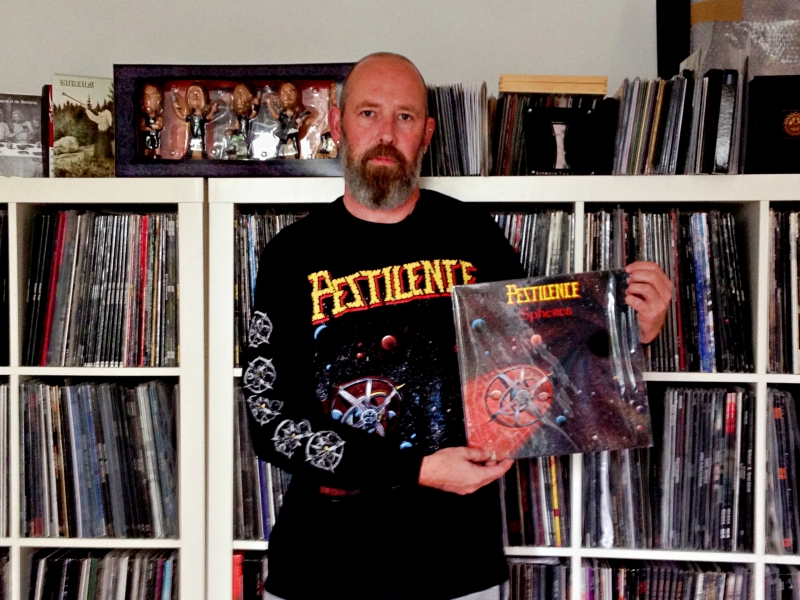 Christopher Heinke knows a lot about hard rock and metal music. That's why you can't give the guy shit for calling himself "heavy_metal_museum" on Instagram. Born in 1968, this German music lifer is the exact kind of person that makes doing this Record Collector series so much fun for me.
How long have you been collecting records?

I started listening to hard rock (Nazareth, AC/DC) and heavy metal (Judas Priest, Motörhead) around 1978. My first own hard rock record was AC/DC Highway to Hell, think I got it on Christmas Eve, 1979. Thousands of records followed. From heavy metal to thrash metal to death metal and to black metal.
Where/how do you usually find your records these days?

Nowadays, I buy my records at small distros/labels and on eBay. But I usually try to trade records with other collectors, especially when it comes to really rare, and expensive items. And there are a lot...
What is the most you paid for a single record, where/how did you obtain it, and what was it?

To be honest, I have no idea. I think I spent the most on a Metallica bootleg set, which I just bought to trade it to something I wanted more. That bootleg set was 500€ cash.
Of everything in your current collection, what is your most prized record and why?
Well, there are a lot of records I really really love. For example, that are:
Mayhem, Deathcrush MLP (original, fully signed with personal letter of Euronymous)
Metallica, Frankfurt 84 LP (red vinyl, signed by all, incl. Cliff Burton)
Savatage, Sirens LP (blue-vinyl misspress, signed and dedicated from Jon Oliva)
Morbid, December Moon LP (red-black vinyl misspress, one of a kind)
Slayer, Fuck the Slayer LP (fully signed in 1985)
Psychotic Waltz, A Social Grace LP (different test pressings)
...the list is endless, as I love all my records!
Is there anything that frustrates you about the current record collecting scene?

Well, too many too limited editions that are just made to make fast profit. It's not about the music itself anymore. It's just about who is the first to buy and re-sell it. Records are sold out before the release date and are on Discogs or eBay the same day for insane prices...that´s no fun, it just pisses me off! Record Store Day is another thing that really turns me off, and the mania to re-release stuff over and over again. The vinyl hype nowadays turns out to be a kind of a money factory.
Which records are still on your want list that you've had a tough time tracking down through the years?

I am looking for Avatar City Beneath the Surface 7" on yellow vinyl for about 30 years now. I know I will never get it, as it never pops up, and when it does, the prices are insane.
Other stuff I'm looking for:
Iron Maiden: South American records on colored vinyl (Colombia, Peru)
Sabbat, Sabbat 7" (Evil Records)
Venom, Black Metal LP (NEAT, different colors)
Flames of Hell, Fire And Steel LP (original)
. . . everybody can contact me for my want and trade list!
***
Follow Chris on Instragram.
Tagged: record collector