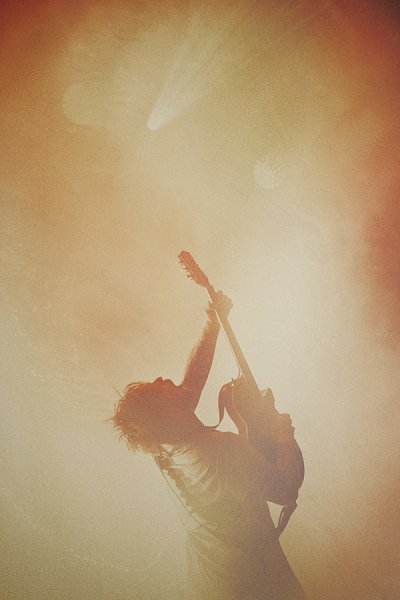 For close to two decades now, Cult of Luna has been one of the most consistently groundbreaking heavy acts on the planet. Earlier this year, the Swedish outfit issued Years In a Day, a live concert film and album captured at Paris' La Gaîté Lyrique in 2016, and it helped remind me how much I loved the band through the years.
Cult of Luna will be heading out with boundary-smashing American vocalist Julie Christmas (Made Out of Babies, Battle of Mice) to bring their Swedish Grammy-nominated collaboration Mariner to North American shores for a very limited live run in August. Head here for those tour dates.
In celebration of the trek, Cult of Luna's guitarist/vocalist, Johannes Persson, spoke with No Echo about his love for vinyl in this new installment of our Record Collector series.

How long have you been collecting records?
I'm not sure that I view at myself as a proper collector. I don't care much for different presses or buying for having's sake. But four years ago I decided that I wanted to own every record that has meant something special for me. Since then I've collected pretty much everything I wanted but I have of course widen my perspective of what I want to have in my collection. The most important thing for me is the music and since I started collecting I've tried to keep myself from listening the records I own on digital platforms. It forces me to make a small ceremony out of listening to them which adds to the experience.
Where/how do you usually find your records these days?
Most of the records I buy I find second hand on different websites online. I have a friend that has a small distro which always surprises me with some nice gems every now and then. I also try to support bands I see live by buying their stuff.
What is the most you paid for a single record, where/how did you obtain it, and what was it?
I am not actually sure but I paid €130 for the original press of the Breach It's Me God record. It might not be the most I've paid but since I already owned the repress it was the most unnecessary purchase since I already had the repress. I know I sound like a hypocrite since I said I don't care about pressings. Which is true… but not for this particular record.
Of everything in your current collection, what is your most prized record and why?
I would say it's the probably the Unbroken Life. Love. Regret. album since it's the one album that meant most for me. I'm also very proud of owning the Grotesque Incantation EP which I got at a flea market for €1 or €2. Not only is it an important record for the Swedish metal scene but it is probably worth €100-150 now.
Is there anything that frustrates you about the current record collecting scene?
What bothers me is the the arbitrary prices that sometimes are set for some records. If a record is set to a high price that everyone that owns it think it's worth but noone is buying it for that price it's not worth that amount.
Which records are still on your want list that you've had a tough time tracking down through the years?
There is said to be one pressing of the Swedish jazz pianist Jan Johansson's record Jazz på Svenska without any scratches or noise. Every pressing I've heard and the one I own sounds horrible. Would love to get my hand on that pressing because the album is amazing.
***
Cult of Luna's Years In a Day live concert film/album is available in several formats. Follow the band on Facebook.
Tagged: record collector