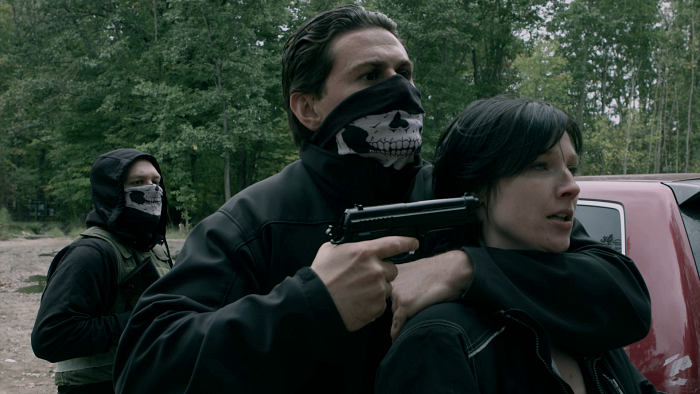 Running No Echo and working in the TV/film business, I've met many fellow fans of hardcore and metal. Nick Holland is the latest example of that. "I've been in bands since I was 15 and have specifically been in hardcore and grind bands in the Detroit scene for over 10 years now," the director/writer tells me. "One of my best friends and I ran a DIY house venue in city before he opened up his baby which is a venue called The Sanctuary."
Nick is behind Wronged, a new thriller that will be available this month via DVD and OnDemand. I ask him about his path to becoming a director. "I had done a few smaller films and shorts after spending most of my life making shorts with my little brothers and neighborhood kids. When I penned out the script for Wronged, I went through the trials and errors of what I would learn to be known as pre-production hell getting ready to make this film."
Even in today's indie film market, it's still a monumental feat to get a movie made with little to no financing, but being a member of the hardcore community has taught our man well. "Just like with booking shows, or writing and playing music...you learn you have to rely on your friends being there and calling in a lot of favors or cashing checks for funds that may not be in the bank at the time. It reminded me of when I started booking shows as a kid, getting halfway through a show before realizing 'fuck, I really didn't know what I was getting myself into when I decided to do this.'"
"A ton of friends from the scene or in other bands are either extras in the film, stand ins, or worked crew on certain days after being shown the ropes because we just needed bodies on set. We threw fundraiser shows for the film at the Sanctuary, and a ton of friends bands offered music for the film or to compose stuff from scratch. So, when we did the first test screenings, it was literally theaters full of the Detroit hardcore scene sitting down and watching a movie together."
Wronged is a tension-filled plot that brings to mind both Deliverance and The Collector in its sinister spirit. So, was the film's storyline inspired by a true-life event? "The literal story is not, but metaphorically, the film is a reflection of a lot of inner turmoil I was experiencing at the time.
"I was very angry at the world at the time I wrote it after our house had been robbed in the city, my car had been stolen, and I was living on food stamps. It was my own fault for trying to stick it out in Detroit and living that way, and that made me angrier. Because of all that, I wrote what is ultimately a pretty angry and nihilistic script."
If making an indie film isn't already hard enough to pull off, getting distribution for it is another beast to deal with. In the case of Wronged, Nick found a buyer in Indican Pictures, which he admits happened with a bit of serendipity. "Honestly, a lot of it was right place at the right time and sheer luck. We pitched it to them on a whim and they watched and enjoyed it and we began putting the plans together, which took damn near a year."
Now that Wronged is being released, I ask Nick is already working on his next project. "We are actually about to begin pre-production on a thriller that we are aiming to begin shooting December of 2019 and beginning the whole stressful process over again," laughs the hardcore head and film buff.
Wronged will be available on DVD and OnDemand on Feb. 26 via Lionsgate and Indican Pictures.
***
If you're shopping for vinyl, CD, and cassette hardcore titles, head to No Echo's partner store, Reverb LP, to see what they have available. Every purchase you make helps No Echo with site costs.