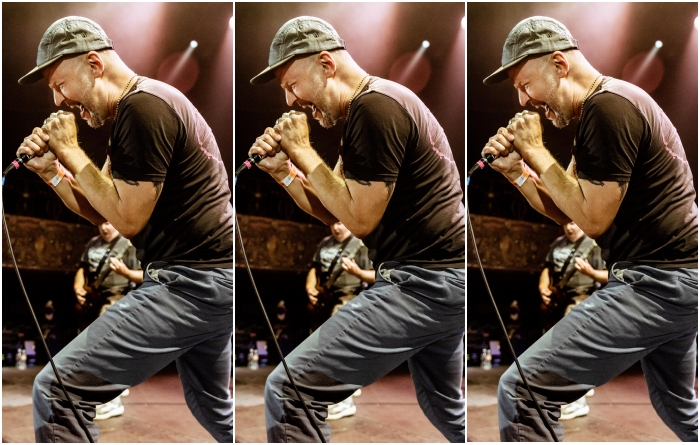 In 1995, Tim Singer wrote the hardcore blueprint for the post-college, enter the workforce existential crisis that many would encounter upon joining the 9–5 grind, from Deadguy's first and only LP.
"This job runs you
This day kills you
This suit owns you
This man tells you
What to do"
Almost 30 years later, there's no easy answer to the daily predicament of getting up and going to work without asking "Why?" Only more people asking "why?" (In March of 2022, 4.5 million people asked "Why?" before quitting their jobs.)
Tim Singer may have been on to something.
Originally part of the Boiling Point Zine editorial staff from NYC in the mid to late '80s, Singer fronted hardcore band No Escape in South Jersey before moving to New Brunswick, New Jersey and founding Deadguy, an early metalcore outfit that lived on Somerset Street and hosted basement shows. Deadguy was brutal, and the band imploded quickly, leaving behind one LP on Victory Records (Fixation on a Co-Worker) and a sense of "what the hell just happened?" once the album got into eager hands. New fans flocked to the record, and local legend grew.
Singer, along with guitar player Keith Huckins objected to the band's direction, then moved to Seattle to form a new band called Kiss It Goodbye. The rest of Deadguy stayed in New Brunswick to salvage the band, but it just wasn't the same.
Meanwhile, Kiss It Goodbye became really, really heavy, releasing an LP (She Loves Me, She Loves Me Not) on Revelation Records that was perhaps misunderstood at the time. Dropping an all-out hardcore metal approach for the dissonance and chaos of Am Rep influences such as Unsane and Today Is the Day, Singer's delivery became a unique sort of directed, guttural rant.
Near the end of the band, he dropped the pre-written lyric sheet. He added, then subtracted where needed, but retained the dissonant anger and intensity. After getting kicked off an Obituary tour, the band finished its run in 1998, but left a mark on bands that included Botch, Daughters, and Young Widows.
"Even though the Kiss It Goodbye thing, I was ambivalent about, my wife said I was much more complete version of myself when I was doing music," Singer told the First Ever Podcast in 2021.
Still, Tim Singer seemingly stepped away from music, for what seemed like a decade or so. In 2012, Kiss It Goodbye played Revelation 25 in Pomona, California. In 2015, he returned with an EP on Deathwish from a band called Process Black, then sang back-ups for Every Time I Die in 2016. And it continued to snowball from there.
Soon, No Escape dropped new material. Then Deadguy decided to reunite for a few shows.
And now, Singer is back with his latest project, Bitter Branches. "I liked where they were going musically before I even got there," said Singer. "This is different, and it lands in the place where I've always wanted to be in. Laughing Hyenas, Shellac, Fugazi: what does that sound like with someone as manic as myself?"
Musically caught somewhere between DC urgency and Chicago angularity, Bitter Branches is not the sum of its influences. Rather, it puts the low end way up front, and allows Singer's introspective anger to brim up, seethe and willfully object to the rules and norms of society.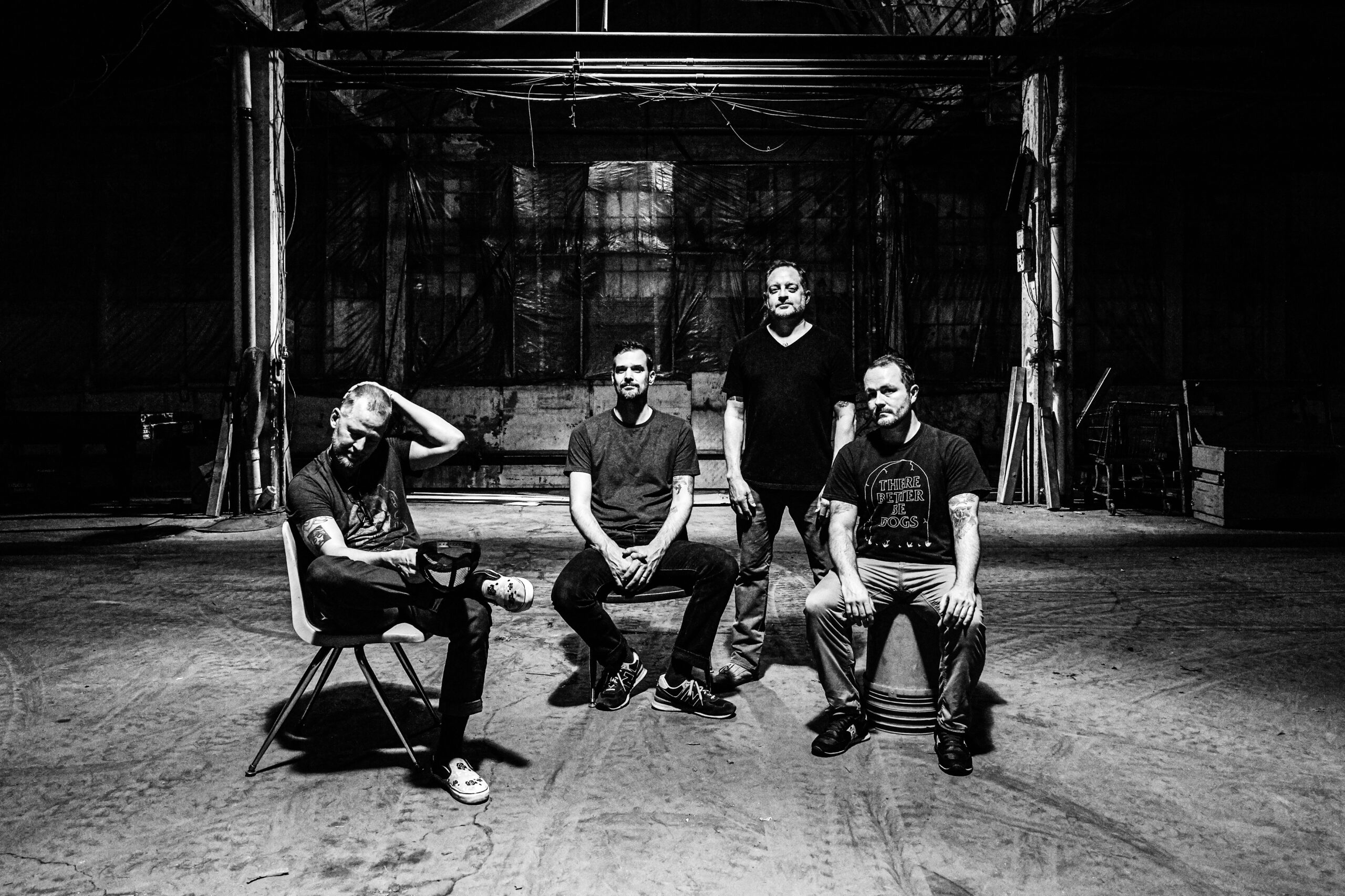 Bitter Branches released an EP in 2020, followed by a full length, Your Neighbors Are Failures, in 2022 on Equal Vision Records. Joined by Matt Ryan and Kevin Sommerville (guitar), Dan Yemin (bass) and Jeff Tirabassi (drums), Bitter Branches, is, like the rest of Singer's projects, probably a few years ahead of its time, but a perfect outlet for his brand of timeless rage. And though he questioned the 9–5 grind many years ago, Bitter Branches is evidence that Tim Singer still has meaningful work to do.
I started 2023 off by having a brief chat with Singer for No Echo:
I know you don't necessarily adhere to pre-written lyrics once the song is composed? How do your lyrics evolve through the life of the song?
I start with a phrase or two at practice and I lock in on what the song is actually about (could be a person or a feeling or some event, etc). Then I sort of just riff during practice and I scramble to write something down if something cool just spills out. It's rarely locked in completely until I record several takes in the studio and we piece together what we think works best (I think that may be called "comping").
For me, that captures some spontaneity and I sort of surprise myself in terms of what comes out. I also make a point of knowing the music inside out so I never really get lost during the song. Then I'll listen to the recorded song a ton to lock in a bit tighter for shows, but I always allow room to go off on tangents within a song.
A lot of your lyrical themes are timeless. For example, "I have enough friends" from Kiss It Goodbye seems more relevant now in terms of social media than it did in 1997. Is the timeless aspect by design?
Definitely by design. I look for universal and relatable themes that I think we can all relate to. That feels more lasting and significant to me than singing about the scene or unity or narrow terms like straight edge or whatever. Any given song can be about those things, but I look for the core element that is relatable and feels authentic.
That song you referenced ["Helvetica"] has proven surprisingly relevant. The lyrics really do feel like they were written about the failures and dangers of social media. It's interesting how the meaning of the term "friends" has evolved been cheapened.
Can you explain the meaning of the album title Your Neighbors Are Failures?
It's a lyric from "Her Disease" on the first EP, This Might Hurt a Bit. It's my feeling that people (i.e., your neighbors) don't give a shit about what truly matters—or they give a shit about the wrong things, like their perfect lawn or their fancy car or job title. All those markers of "success" are actually the opposite and are ultimately meaningless and often harmful.
Our priorities are out of whack and we act like those who point it out have some kind of "disease." Someone close to me once called my vegan diet my "condition."
Is "Have You Tried Jogging?" based on a real experience you've had?
For sure. I think we've all had people try to "fix" us at one point or another or offer cheap advice. The worst is when it's unsolicited advice from some stranger or self-appointed expert. That song is my response to "turn that frown upside down."
What's next for Bitter Branches?
More shows, more writing and more recording. I feel like we're just getting started.
***
Bitter Branches on social media: Instagram | Bandcamp
***
Help Support What No Echo Does via Patreon:
***
Tagged: bitter branches, deadguy, kiss it goodbye, no escape