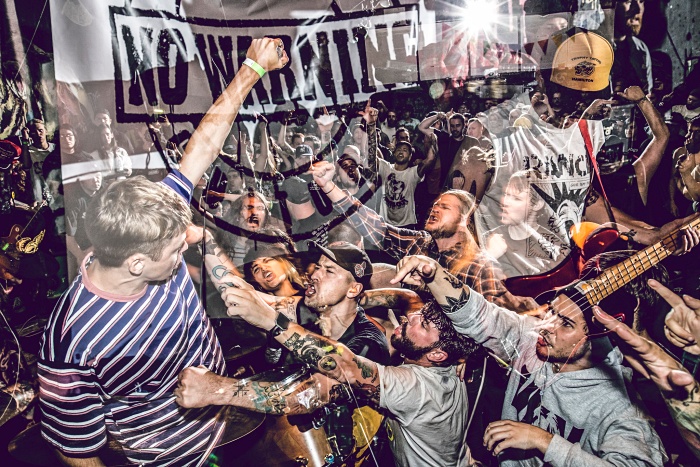 "It's honestly crazy to think about how large of a role Syracuse has played in the grand scheme of things," Lukas Reed, show promoter behind the upcoming Syracuse New Year's Day Matinee, as No Echo chats with him about the city's punk pedigree. "Local bands like Earth Crisis helped shape the direction of hardcore for years to come; festivals like Hellfest basically laid the groundwork for all modern hardcore festivals proceeding it; labels like Reaper Records released some of the most monumental albums of this generation; for one of the most poverty-stricken cities in America, our passion for angry music sure is unparalleled."
On January, 1, 2020, the Syracuse New Year's Day Matinee will return after a 6-year absence. This time out, the bill will feature such bands as No Warning, Mindforce, Trail of Lies, Regulate, and One Step Closer.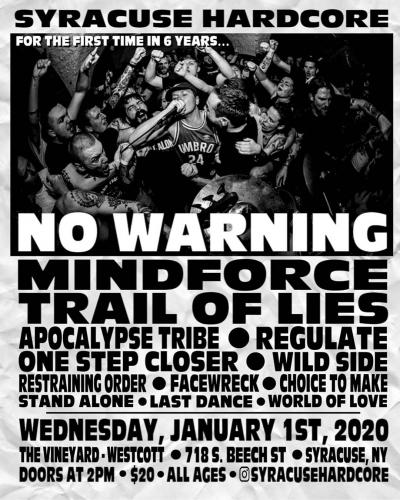 Lukas gives some background on the fest's history: "The New Year's Day Matinee started back in 1994. The first year was Bone Jack, Soulstice, Bloodlet, and Shelter at the Lost Horizon. The details are a little iffy on who put it together, but at the time it was mostly DJ Rose (The Path of Resistance) and this dude John McKaig booking the shows in Syracuse."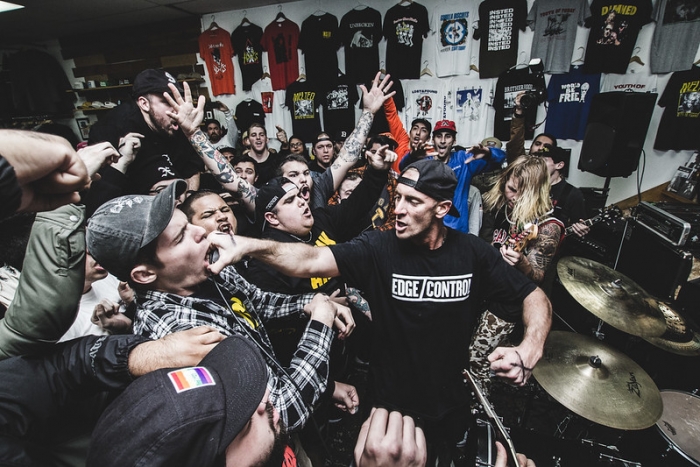 Lukas has a clear passion for the bands and culture they've helped nurture around the underground music scene in Syracuse. "Like most cities with prominent hardcore and punk scenes, there's always been ebbs and flows, but what is so amazing to me is the sheer resilience of it all. Even in the worst of dryspells, there's always at least one band keeping the passion alive, and that resilience is why I love this place as much as I do.
"Growing up with significantly older siblings, hardcore and punk music was always around me, but the first time I went to a show was December of 2012 when my sister Mary brought me to see Hunted Down, Violent Side, and Trail of Lies at the Westcott Community Center. I was just a fly on the wall, but I remember being so captivated by the energy in the room.
"Unfortunately for me, being a 12-year-old kid and trying to convince your parents to drop you off at hardcore gigs didn't work in my favor, and it wasn't until I started sneaking my way with friends to the Warehouse (RIP) around 2016 that I started going to shows again. But from that point on, I was going to everything."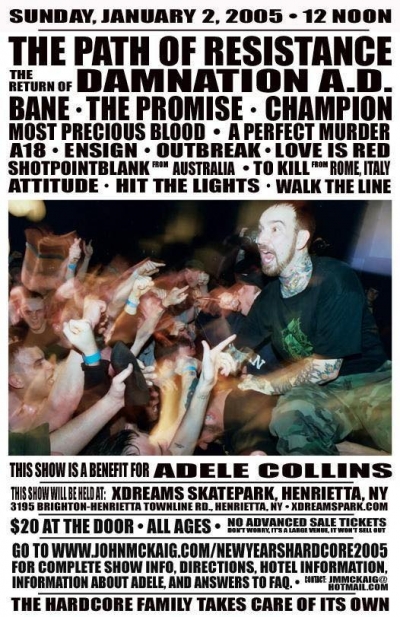 So, why did the Syracuse New Year's Day Matinee stop happening after its 2014 event? "I don't believe there was one thing specifically that can be blamed for ending the New Year's Day show, but I know a lot of people like to say that the 2014 gig really killed it for them. The lineup for that year was a significant downgrade compared to 2013 with Trapped Under Ice, Foundation, Turnstile, etc. Plus, the venue that it was held just wasn't the same, fun vibe as years prior. The Lost Horizon is a completely different place now than it was in the past.
"But all of that aside, it's also my understanding that the powers that be in Syracuse hardcore at the time just didn't feel like organizing another New Year's Day show after 2014. My friends and I would ask the older heads about NYD and time-and-time again, they'd tell us it's not worth doing. Looking back, I think that doubt is what made us wanna do it even more, almost like when your parents use reverse psychology to get you to push yourself," Lukas laughs.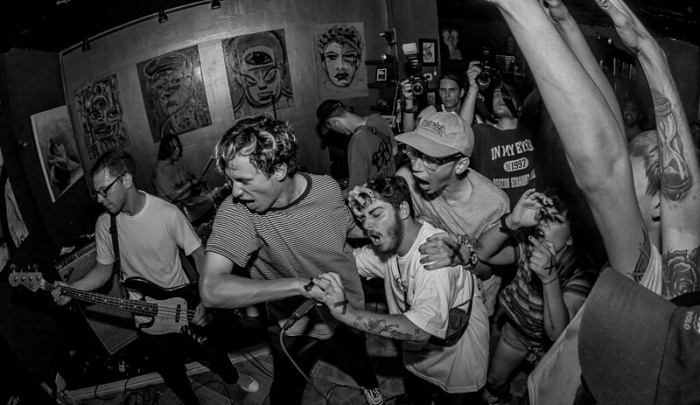 No Echo asks Lukas why it was the right time to bring the New Year's matinee back in 2020. "2019 saw a lot of growth on the homefront. Of course, bands like Trail of Lies are going out and representing Syracuse far past the city limits, but for the first time in a good while, it felt like Syracuse had a thriving hardcore and punk scene. New bands started springing up, there were new faces at every show, more and more touring bands started reaching out to us wanting to come through Syracuse; we've definitely been on an upswing. And when I noticed that positive momentum, that's when I really wanted to get the ball rolling on bringing back the New Year's Day Matinee.
"This whole show is one big collaborative effort, and I couldn't be more fortunate to have the team of people that I do to help put it together. From Tom Dom and Ron helping secure bands, to Justyn helping secure a venue, to Colin from Binghamton Style giving such great insight and such great advice, to Trent, Spatty, Dyl, Pat, Marte, and everyone that just offers to lend a hand; this wouldn't be possible without all of them."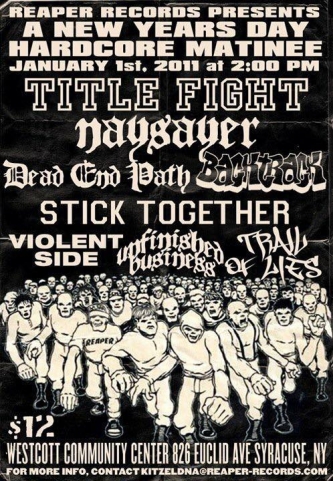 Lukas also reveals yet another important reason why the Syracuse event is important to him: "A big reason as to why I really wanted to bring back NYD was to offer a rather inexpensive alternative to a lot of the bigger fests. Weekend passes for hardcore festivals typically hover around the $100 range, and with the cost of a big-name hardcore show increasing more and more as years go on, it makes me really happy that we're able to do a huge show with so many awesome bands for only $20."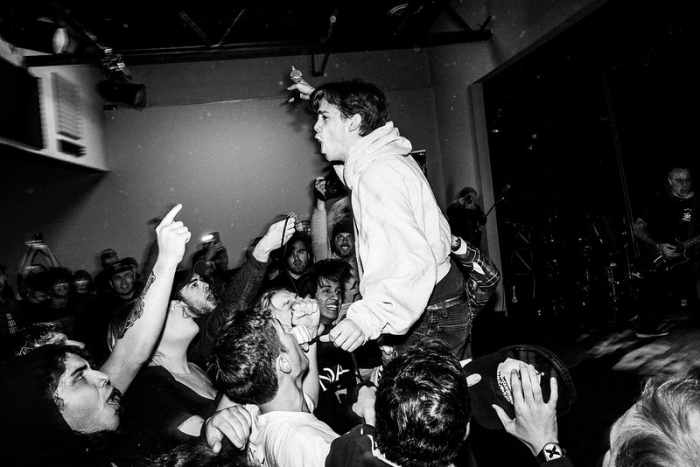 With the event just around the corner, No Echo presses Lukas for some secret details, but our man knows how to play the game: "Well, people have told me of talks that were being made, but I can't say for certain there'll be any secret sets. I mean, if I knew, then it wouldn't be a secret [laughs].
"However, what I can say for certain is that this is the biggest show that's happened in upstate New York in years, and for anyone out there who remembers going to New Year's Day shows in the past, or kids out there on the fringe that wanna see what hardcore is about, this show is going to be well-worth coming out."
***
The Syracuse New Year's Day Matine will go down on Wednesday, January 1, 2020. Get tickets for the event at this link.
Tagged: no warning, trail of lies