In this era of hardcore where a new group can upload a few tracks on Bandcamp, get some buzz going, and then break up a few months later, Wake of Humanity's story is a refreshing one. Formed in 2015, the Seattle metallic hardcore outfit have been building their reputation out on the road and by dropping two EPs of powerful material, reaching listeners in truly organic way.
Now aligned with Bitter Melody Records in the States and Ugly and Proud Records in Europe, Wake of Humanity is prepping for the early November release of their debut album, Fight/Resist. I'm beyond excited to present the premiere of "Bled Dry," a tremendous track from the forthcoming LP.
Wake of Humanity vocalist Chris LaPointe shared the following about his lyrics to the track:
"'Bled Dry' picks up where 'At Capacity' left off with another scathing critique of first world homo sapiens inability to see past their noses as they continue to deplete the Earth of the natural resources on which they rely. It addresses not only the thoughtless consumption of land, water and forest products but the unnecessary killing of non-human animal species that takes place in the process of 'living the good life.' Right now, in the Pacific Northwest, we are facing a crisis with two of our beloved, iconic species; the endangered Orca whale and the threatened Coho salmon.
"Orca whales depend upon salmon to survive but due to a rapidly growing population, deforestation, urbanization, pollution, overfishing, and altering waterways most salmon no longer can make their way to the open ocean where they mature before they return to spawn in the rivers in which they were born. While in the open ocean some salmon provide a valuable food source for Orca whales.
"The Orcas are not eating, and they are dying slow and painful deaths as they starve. With only 74 resident Orca whales left in the Pacific Northwest waters people are finally taking notice that this magnificent creature is skirting the edges of extinction right before their eyes. A dramatic change must take place in lifestyle, behavior, eating and living habits if humans truly want to save this species. Now more than ever it seems people are willing to see past this potential atrocity just to satisfy their narcissistic needs."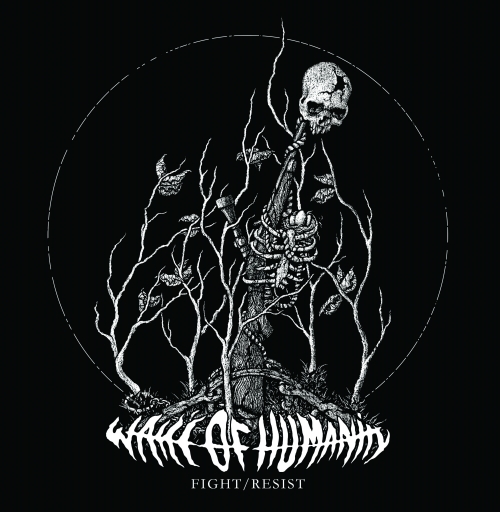 Fight/Resist will be released by Bitter Melody Records (US) and Ugly and Proud Records (Europe) on Nov. 2. The first pressing of the record will be released on limited grey vinyl, clear vinyl, and available on all digital platforms. Pre-orders will be announced soon. Please follow Bitter Melody (Facebook, Instagram) and Ugly and Proud (Facebook, Instagram) to stay in the loop.
Upcoming Wake of Humanity shows:
1/4/2019 — Vancouver, BC @ 33 w/ Racetraitor
1/5/2019 —Seattle, WA @ Vera Project w/ Xibalba and Racetraitor
1/6/2019 — Portland, OR @ Paris Theater w/ Xibalba and Racetraitor
Tagged: wake of humanity