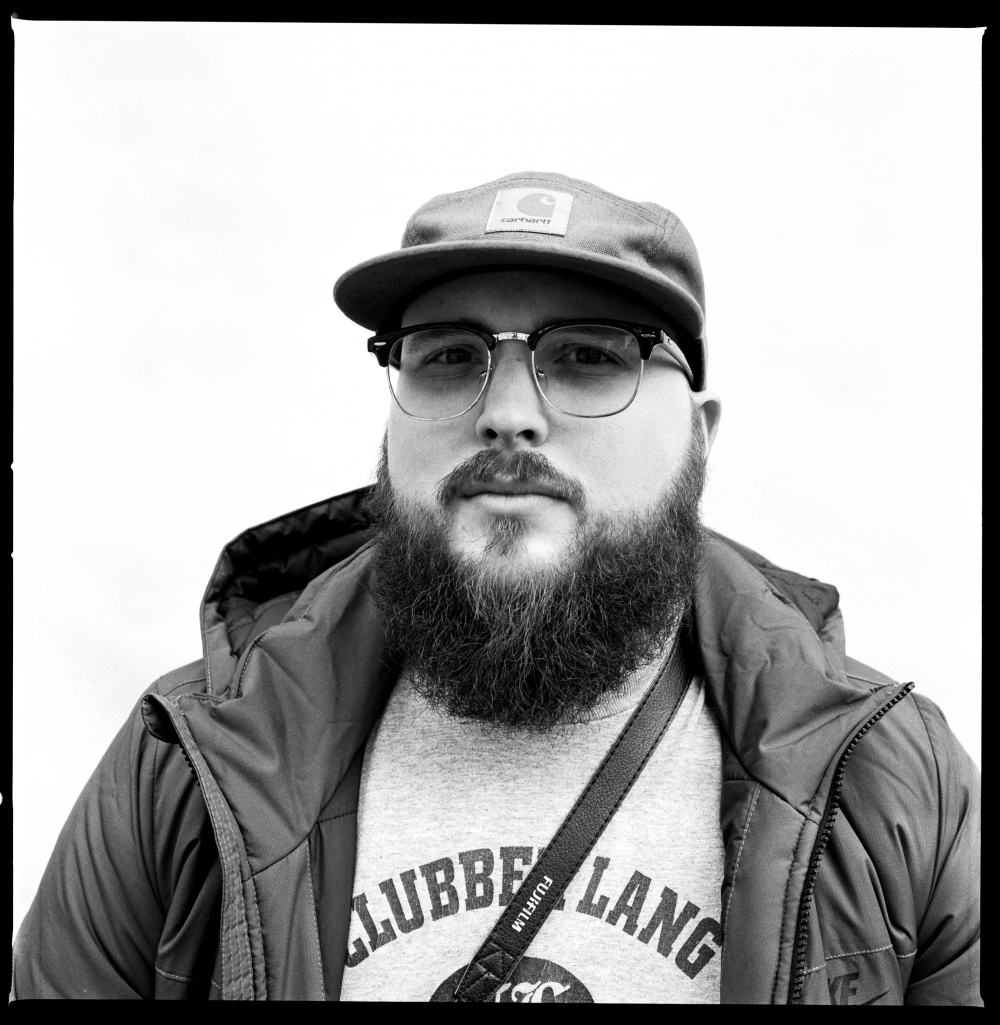 Jim Dee is doing his part to service the greater good of the hardcore community. I respect that. For starters, he helps book and run AHC Fest and various shows in the Boston area with his friend, Triple-B Records owner Sam Yarmuth, under the moniker "Stupid Idiot Productions." Jim also runs a Massachusetts show listing site called Safe In A Crowd. On the musical side, he used to play bass in Direct Impact and I sang for Labeled, and is currently working on some new stuff that he tells me isn't quite ready to play shows yet.
Oh, and Jim is also a talented photographer. How could I forget to mention that, after all, that's why he's the latest member of the Photography Spotlight club.
Where were you born and raised, and were your parents into the arts?
I was born and raised in Maynard, Massachusetts. It's a pretty small suburban town that's about a half hour outside Boston. My parents weren't really into the arts outside of music. My mom was into stuff that had manifested locally like Boston, the Cars, J Geils, etc. But, honestly, she loves basically anything considered rock from the '70s. She actually saw so much cool shit, like Charlie Daniels Band in the cafeteria at a local high school. My dad doesn't really care about music much nowadays but he's the one who showed me Deep Purple, Steely Dan, the B-52's, Black Sabbath, CCR, Bee Gees, the Beatles, Lynyrd Skynyrd, the Rolling Stones, and so much more.
What came first, your love for music, or your love for photography?
My love for music came first by a long shot. My love for photography has only manifested over the past four to five years.
What was your first musical love?
I don't remember exactly when, but I wanna say I was 9 or 10 years old when my parents bought me the Beatles' 1 and Rolling Stones' 40 Licks albums for Christmas. I listened to that relentlessly and basically didn't listen to anything else for a long while after that. But shortly thereafter, my grandfather bought me a copy of Black Sabbath's Master of Realty from a local discount chain store. And since that first time I heard "Sweet Leaf," Sabbath became my favorite band. And honestly, they still are to this day.
Who were some of the photographers you looked up to during your formative years?
In Boston, when I first started going to shows, there was always so many photographers at shows. I remember this one Have Heart show that had like 10 photographers on either side of the stage, and that was kinda wild. There's a few from the era that really stand out and have admired their work then and to this current day. Those stand out few would be Zac Wolf, Reid Haithcock, and Todd Pollock. They're all incredible photographers in their own special way and have such a distinct style to their pictures. On top of that, I was and still am very inspired and intrigued in the works of Glen E. Friedman, JJ Gonson, Martin Sorrendguy, Phil in Phlash, and Robby Redcheeks.
What is your camera and post set up?
Up until recently, I shot only film. But I just recently delved into the world of digital photography and have been shooting with a Fuji X100f. It's truly the most badass range finder, and honestly is a cheap man's Leica. For post I don't really do too much, but if so it's done with Lightroom. I also shoot a lot using point and shoot film cameras such as the Yashica T4 or Olympus Stylus Epic. I own way too many film cameras, but the only other one I use on a sort of regular basis is a Pentax K1000 with a 23mm/2.8 lens.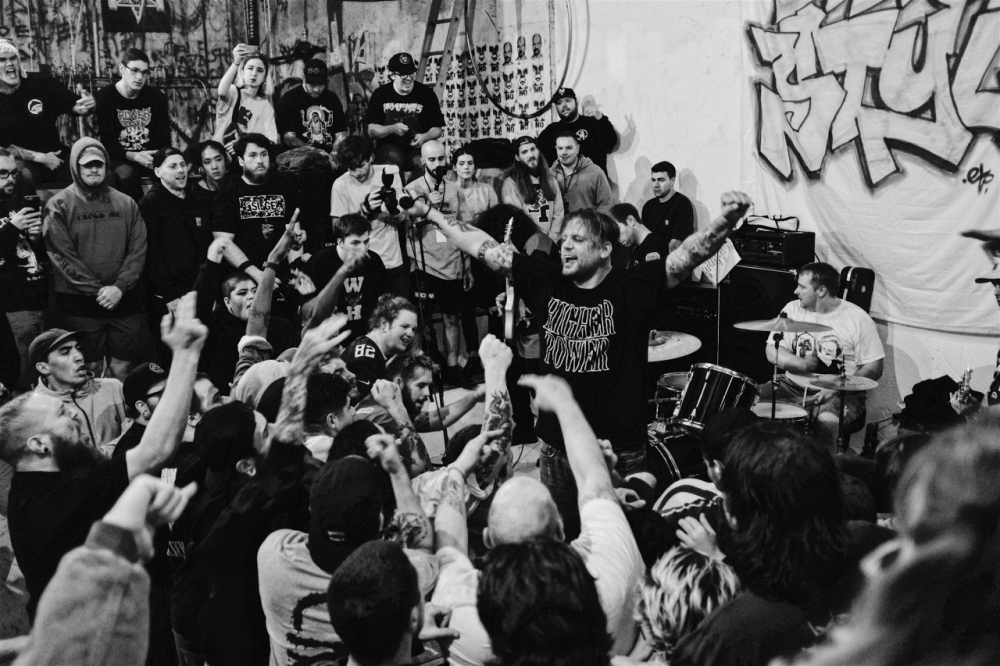 In terms of your non-musical photo work, what kind of stuff do you do?
I do a little bit of everything, if I'm being honest. I've been spending a little time on a portrait series called "How Do You Feel" that will be released as a zine in the Summer and/or early Fall. Outside of that, I truthfully do not focus on anything specific outside of music. I try to capture life from my eyes and show what I feel through my pictures. I try to take pictures that feel real to me and showcase my point of view. It could be a band, my friends, a stranger, an interesting scenery, an everyday item, an animal, etc....it's got to have feeling. If it doesn't meet that criteria, it's not coming from me.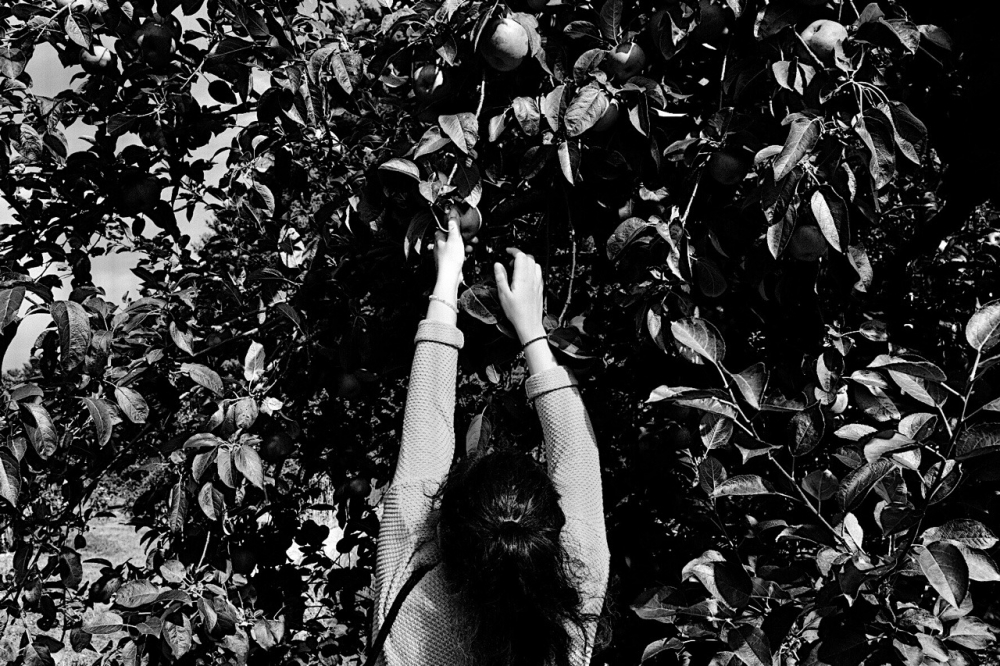 Who are some of your favorite bands to shoot?
Well, they recently called it quits, but No Tolerance is definitely up high on that list. Justin was/still is an amazing frontman, whether it's No Tolerance, Mind Eraser or Innumerable Forms. Followed closely by Fury from California, a straight up badass band in all aspects. More recently I have loved shooting Wound Man from New Bedford.
If you could go back in time, who are some bands that you would have loved to shoot?
Even though his live ensemble changed various times in his career, it would without a doubt be Johnny Cash sometime in the early 1960s, to be specific. In terms of hardcore, I'd really would love to have the chance to shoot the '89-'93 era of hardcore in the Boston and Massachusetts area. It seems at least for me to go pretty undocumented for a time that had so many incredibly great bands. For instance, Sam Black Church, Bloodbath, Kingpin, Slapshot, Only Living Witness, Wishful Thinking, Out Cold, Intent to Injure, Backbone, G-Man, Toxic Narcotic, Prohibiton, Crossface, etc.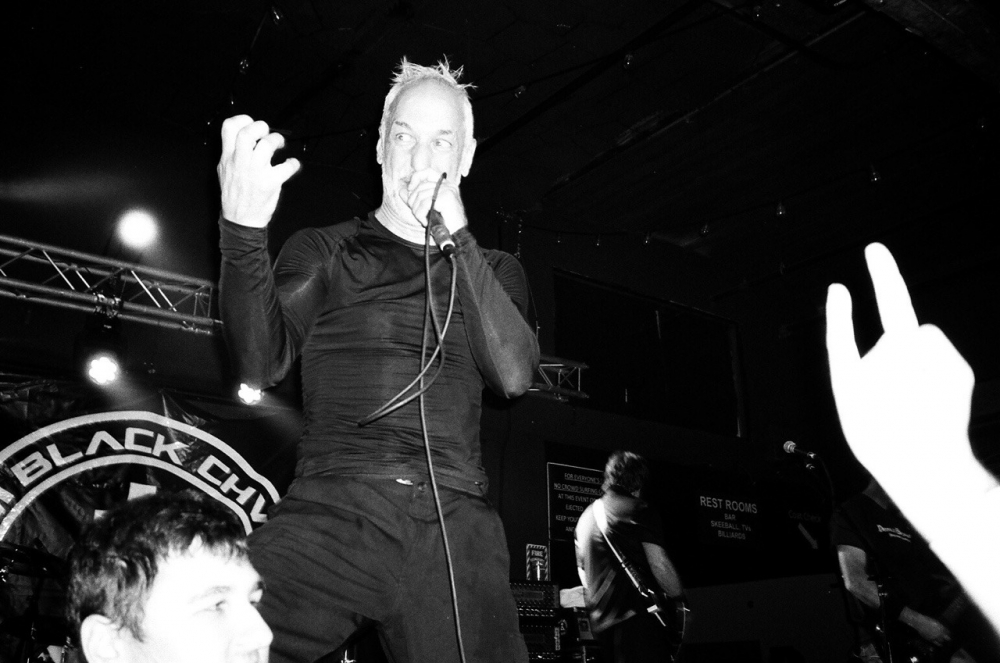 What are the toughest aspects to shooting live shows?
The single toughest aspect for me is getting an angle that is unique and helps convey the energy of the performance and act you're shooting. It's crucial to me to have an angle to capture that. If it doesn't, I'm usually pretty bummed and won't even shoot certain things if I can't get an angle I like.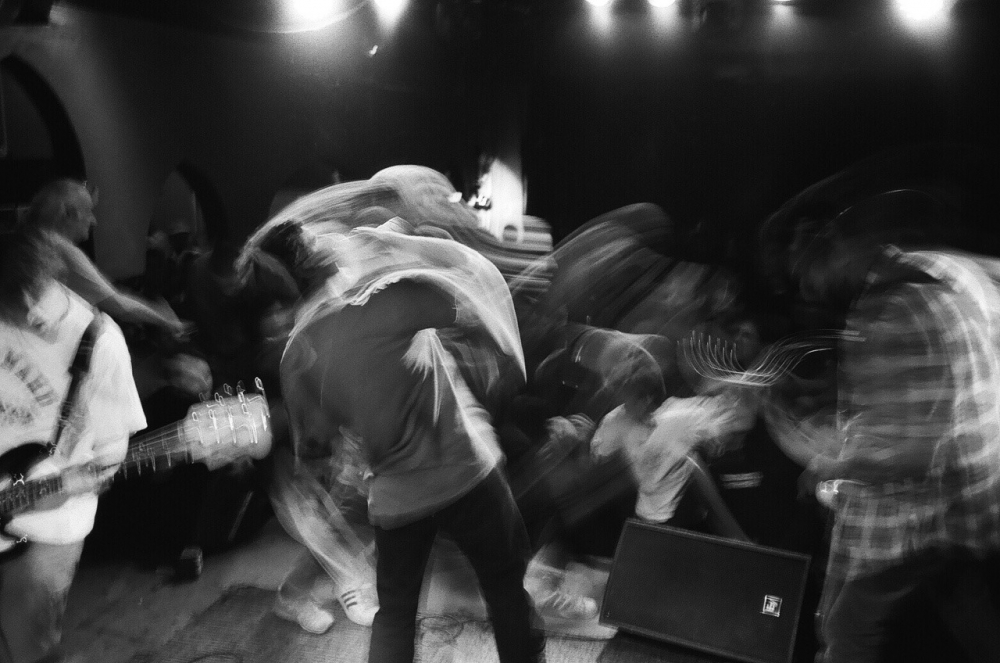 Tell me about some newer bands that we should all be on the lookout for.
Been a lot of new bands in the past year or so, but I've been really feeling Restraining Order, Vile Gash, Vantage Point, Brother, Illusion, Glacial Hell, Civilized, AmmuNation, Up In Blue, Raw Breed, Deflect, Skinned Alive, Anxious, Combatent, Red Son, and Dominant Force are just a few that come to mind. I'll take this time to shout out to all the local bands still killing it from the Boston area: Waste Management, Dame, Sunshine Ward, Streetsweeper, Fiddlehead, Wound Man, Free, Pummel, Peacebreakers, Exit Order, High Command, Glory, Boston Strangler, Big Contest, Conmen, Maniac, Savageheads and there are more I'm definitely forgetting.
Who are some modern-day photographers that you admire?
Locally, we have always had a really cool and diverse range of photographers in the Boston area. Those being Angela Owens, Reid Haithcock, Todd Pollock, Dan Gonyea, and Zac Wolf. Three out of five of those names listed have moved away from Boston in recent years but they're all the coo lest and best people. Outside of that I really enjoy Danielle Parsons, Jaime Salazar, Justin Friskie, Lucas Anderson, Martin Sorrendguy, and Andy Wilcox are just a short list of people's stuff I really enjoy.
If you had to pick one of your photos that best encapsulates why you love shooting bands/artists, which one would it by and why?
It's got to be this picture I took of Ladball at the Recycling Center in 2015. Not just of what's captured in the image but how the show turned out....so there's a little backstory. There was a sold-out Flex/Red Death/Strangler/Leather Daddy/Preskool Dropouts show in Cambridge. So, someone set up an after show across the river in Allston with No Tolerance, The Flex, Red Death, and Bombers. It was in a Recycling Center with "Boston Straight Edge" spray painted on the wall behind where the bands play. There wasn't much light in the building, but there was a ton of firework that was set off mostly during the first band. But Ladball was members of The Flex and Red Death playing Madball's Ball of Destruction seven inch. There were different people singing each song, and during the Animals cover "It's My Life," Sam picked Dave Sheehan (of Peacebreakers) up on his shoulders to sing the track and that's just what you see in this photo. This photo encapsulates everything that I personally love about hardcore, the unscripted nature and DIY ethos of what transpired to make this show and image possible.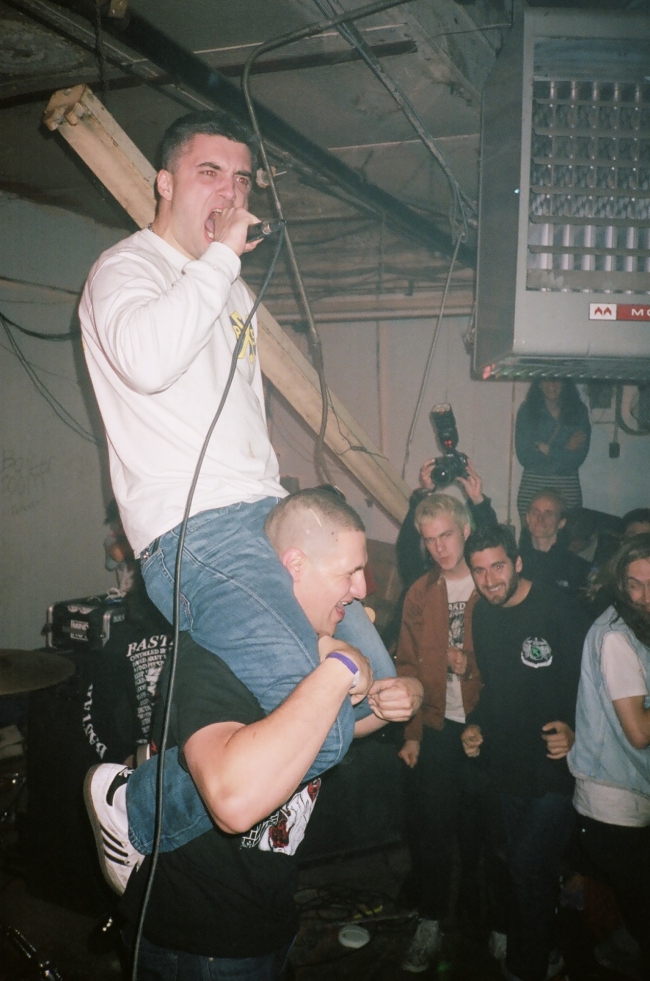 ***
See more of Jim's photos on his Instagram page.
Tagged: photographer spotlight