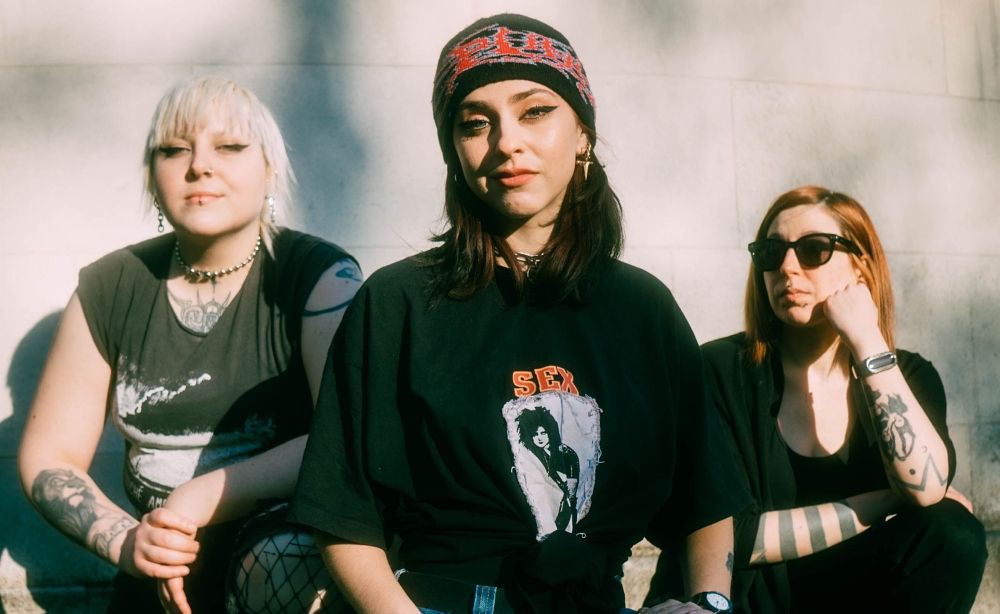 Shooting Daggers is a feminist/queercore punk outfit based out of London, UK that some of you might have heard on the 2022 Hardcore Releases playlist I curate.
The song (also featured below) is called "Liar" and is lifted from Shooting Daggers' forthcoming debut EP, Athames. "We're all from different countries: I'm from Spain, Bea (bass) is from Italy and Sal (vocals/guitar) is from France," drummer Raquel J Alves tells me. "I've been living in the UK and playing in bands for a while. I used to play in a couple of post metal/doom and sludge bands called Sūrya and Prisa Mata, and also a few punk bands like Atavistik Death Pose and Bos Tux."
With a slashing, abrasive yet still catchy sound, Shooting Daggers incorporates elements of everything from classic hardcore to riot grrrl punk to dissonant post-punk.
Shooting Daggers guitarist/vocalist Salomé Salgado Pellegrin says the following about their influences: "We started as a hardcore punk band but we ended up adding all our personal musical influences to our sound. We all come from different scenes: Bea is the Screamo kid, Raquel has a doom/post-metal background, and I'm a massive fan of hardcore.
"Our influences always change but big staples of bands we like are Turnstile, G.L.O.S.S, Tørsö, and Gouge Away."
Before you check out "Liar," here's what Salomé wants to share about its lyrics: "The song is a response to the abuse we experience everyday, is about breaking the silence over abusers, a song that calls them out for who they really are with no more excuses.
"This is a really important song to us and we would like to spread this message, to not only the victims of rape and abuse, but also to the entire community, encouraging people to not engage with abusers and to stop trying to justify their rapist friends. We know this happens in any community. If that ever happened to you, we hear you, we stand together and this song is for you."
Withe the Athames EP hitting stores later this month, Shooting Daggers bassist Bea shares her thoughts on their lyrical point of view:
"For us, feminism is intersectional and complex but we're trying to cover some of the issues that concern us firsthand in this EP such as beauty standards, animal rights, abuse and rape, the struggle of being queer, and queercore rage."
Before they promote their upcoming record release show, Raquel wants to show some love for Shooting Daggers' punk compatriots: "London always gives birth to some amazing bands, and the scene is great. Some of our favourites include Death Goals and Pupil Slicer, two bands that are already smashing it, but also keep your eyes peeled for Trading Hands, Do One, Comeback Clit, Haest, Gender Warfare, ABE, Ruined By, and the Migraines.
Ah, yes, that aformentioned record release gig! Salomé fills us in: "We are releasing Athames on May 20th and we planned a really fun queercore night to celebrate at the Shacklewell Arms in London. We asked a few awesome bands we love to be part of it, and we got a couple of surprises prepared that we will reveal in the following weeks, so keep your eyes peeled!"
Anthames will drop on May 20th via New Heavy Sounds (pre-order).
***
Help Support What No Echo Does via Patreon:
***
Tagged: shooting daggers