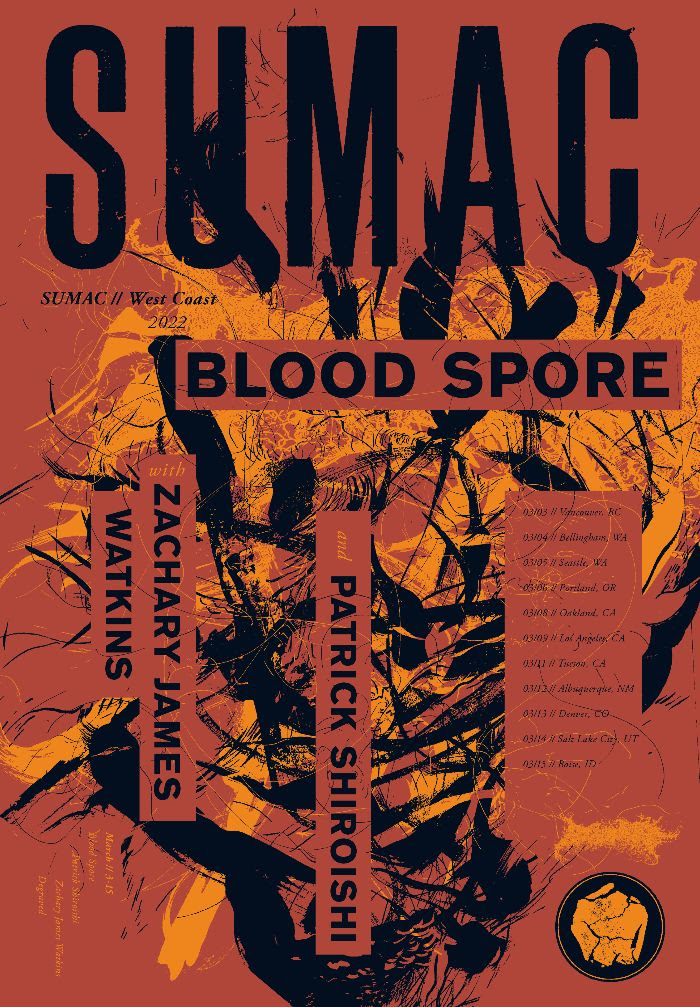 In my attempt to become comfortable with going out again, I was grateful to learn Sumac would be coming to the Echoplex. It was my fourth in-person concert since November of 2019 and my first back in Los Angeles. I've seen them with various artists, and this lineup was eclectic in the most exciting way.
Any lineup where each artist will likely shift the venue's atmosphere from the first note is my favorite.
Starting the night was a set from Zachary James Watkins. My previous familiarity with his music was from the band Black Spirituals which also included Marshall Trammell; if you're familiar with Sige Records, the label Aaron Turner of Sumac has with his partner Faith Coloccia, these names will likely be familiar.
Zachary performed a solo set that I believe was improvisational put together, but I'm unable to confirm it. I can confirm that I was immediately entranced by the sounds he was building and creating through his guitar and pedalboard. Depending on your familiarity with sound as an art form or music without a clear formulaic structure, this may be challenging music to approach.
Still, I believe the reward becomes more apparent with every listening experience. His latest release through Sige is two live recordings, one from 2017 and the other from 2021, and I'd highly recommend checking it out.
In a likely intentional and neck-breaking shift, Blood Spore was on stage next. On their first west coast tour, the Philadelphia-based band reminded me how much I enjoy seeing death metal played live.
With an EP of their own and two split releases currently on Bandcamp, they bring a punishing interpretation of death-doom all their own.
On an important side note, all their artwork is designed by their drummer, and you can find more of his work on Instagram at Form Terror Growth.
While hearing the music is always the best way to know if you will like it, I feel confident in saying if you're a fan of distorted buzzsaw guitars, haunting vocals, and solid drumming, Blood Spore is what you're looking for. If you're looking for physical CDs and they don't have them on their personal Bandcamp, check out Blood Harvest based out of Sweden, and they should be able to help you out.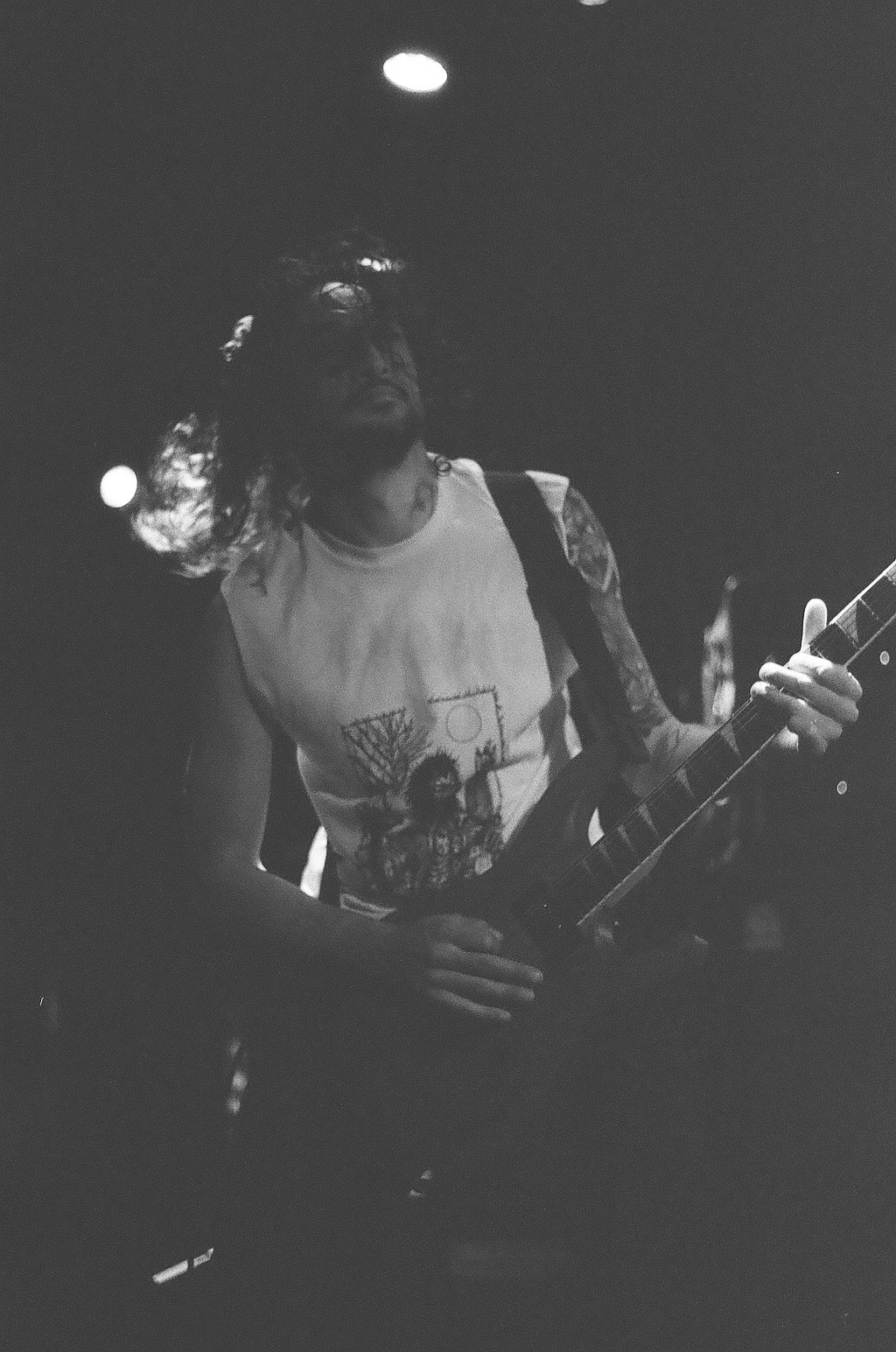 Now for some, a death metal set might be hard to follow. However, Los Angeles-based saxophonist Patrick Shiroishi couldn't have been a better way to move the night forward. Composing music in various capacities, Patrick performed solo material on this particular evening.
Using a few pedals, I believe sample audio, and his saxophone, Patrick took the audience on a journey into his creative process. I was lucky enough to chat with Patrick briefly after his set and look forward to seeing him perform again. Utilizing his music as a way to occasionally speak without words and also not being shy about speaking his mind, Patrick's playing is an extension of himself as a Japanese-American.
While America at large can vary in its privileges and disparities, the last few years have been a wake-up call for some; the importance of work being created by Patrick in voicing his thoughts and processing is hard to appropriately express other than saying it is a firm reminder of how necessary the arts are in shaping culture and opening minds to a different perspective.
The mix of joy, mourning, loss, apathy, and clarity heard from his saxophone is a welcome discovery.
I promise this is the end; I appreciate any who read this all the way through and understand why some might skim it or focus only on the photos. Experiencing live music is one of the few things I enjoy talking about in life, which is why I write these reviews. Anyhow, it was time for Sumac.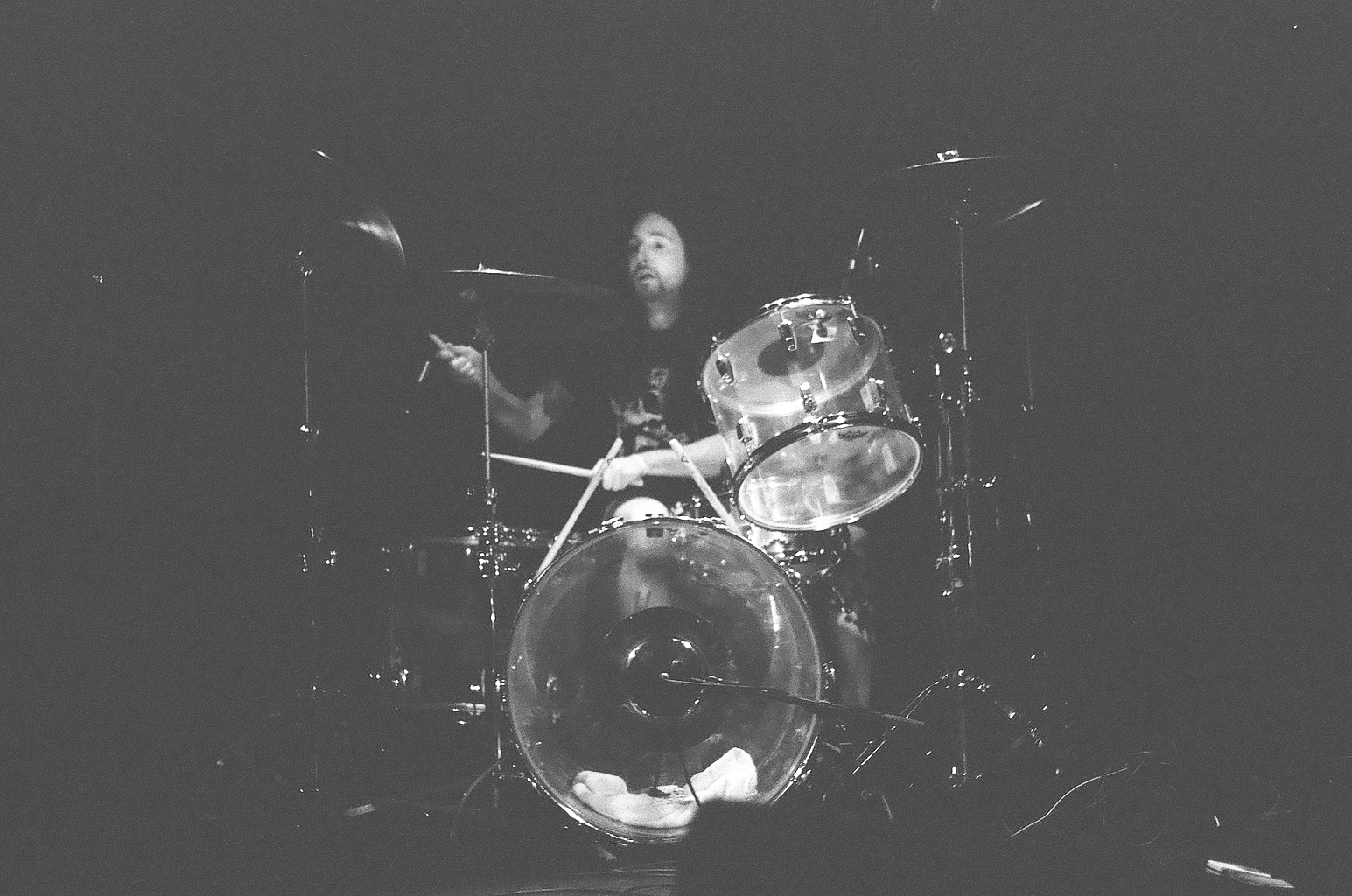 This was my fourth time seeing Sumac live, and I've never walked away from their shows without complete astonishment. The musical force heard when Brian Cook, Aaron Turner, and Nick Yacyshyn play together is something I've tried to simply describe a few times already but still find it challenging. Their set was dizzying, incredible, and went by in a flash.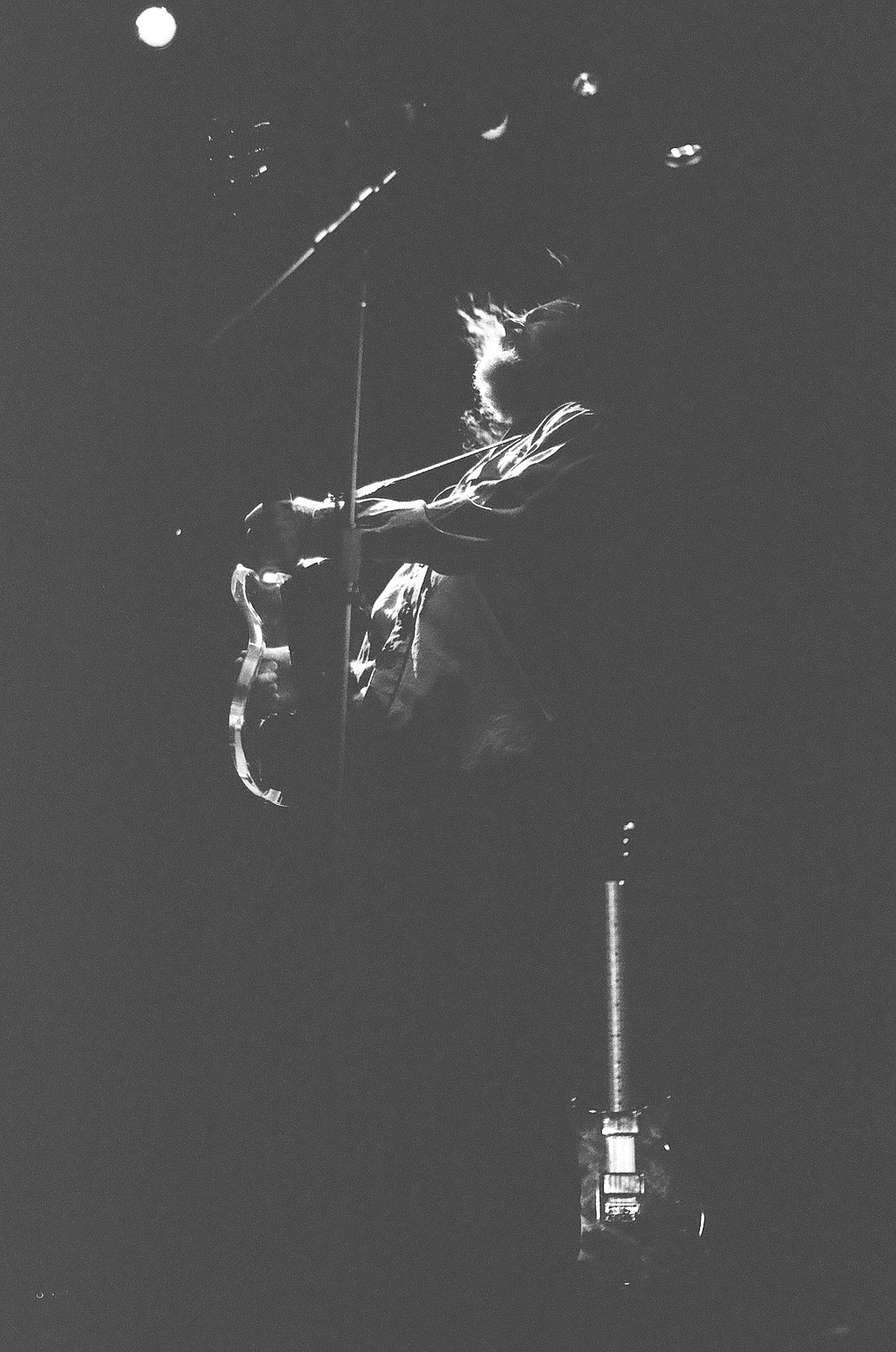 Heavy music doesn't need to be innovative, at least not as a rule. With Sumac, I believe you hear a process of innovation as much as a distillation of three individual musicians who have come together to create something unique. Some might argue that this is a common trait of music, but I'd disagree entirely.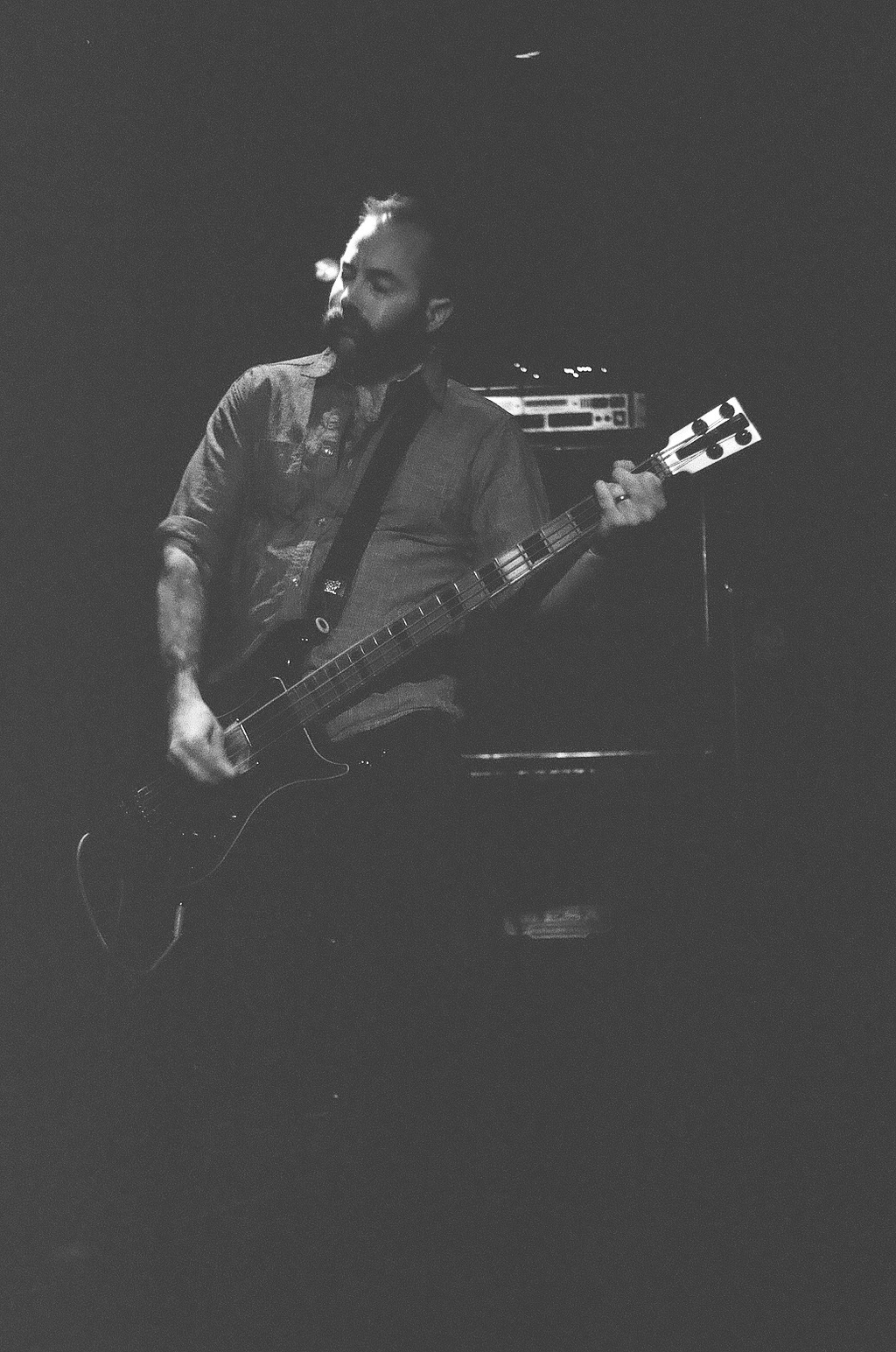 Some bands rely on the strength of one individual, a distinct duo, etc. Still, the members of Sumac complement each other as they create complex music that flips any understanding one might previously have about what "heavy" music is.
I hope anyone who reads this is well and finding some stability in these days of constant changes. Take care, thanks for reading, and please support these incredible bands/artists.
***
Help Support What No Echo Does via Patreon:
***
Tagged: blood spore, sumac