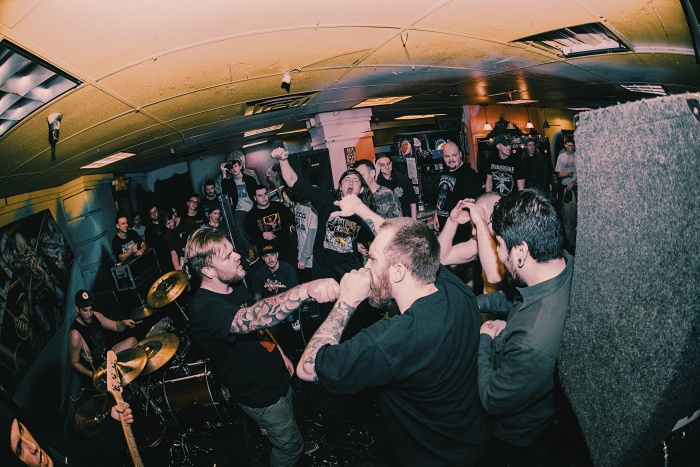 "We are always on the look out for up and coming bands and Low End caught our attention, because they have already put in a lot of time on the road and have put out an incredible EP in a short amount of time," Safe Inside Records owner and operator Burt Jenkins tells me via email about Low End, the latest band to join his growing roster (Pain Strikes, Bystander, Dying for It). The EP Burt is referencing is Steadfast, a 6-track collection the Milwaukee hardcore crew dropped digitally in 2018 and that his label will be releasing in vinyl form.
I asked vocalist Jimmy LaDue how his band and Safe Inside Records got on each other's radars. "Burt approached me a few weeks ago about wanting to work with us. I thought it was funny because he said, 'yeah man, I didn't want to hit you guys up because I heard you were already talking to a bunch of different labels.' My response to that was, 'Nope you're the first one! But I'm flattered that you think we're that cool,'" laughs the frontman.
Burt is fired up about Low End joining his label with Steadfast: "It has a perfect mix of metal and hardcore and even reminded me of Buried Alive and other hardcore bands I have grew up liking. The lyrics have meaning and are well written. It's just a great all around EP and needs to be pressed on vinyl. I'm really excited to be working with these dudes!"
How about we check out a track from the 7" to whet your appetite? Listen to "Struck My Chord" below for maximum mosh:
"This song is about a situation I went through last year that effected me and my friends in more ways than I can mention," James says about "Struck My Chord." James is psyched for Steadfast to finally get the wax treatment. "I'm not sure what everyone can take from this release. I do know that for all of us, this record means a lot and is full of emotion. The last year and a half has been pretty difficult for me personally, and I'm glad I had the chance to let it out lyrically."
In addition to Steadfast's release, Low End will be going out on a run in March with Judiciary, so check those dates below and follow the band at the links below to stay up to date with their plans.
Low End socials: Facebook | Twitter | Instagram | Bandcamp
Low End tour dates w/ Judiciary:
3/17 - Louisville, KY at Spinelli's
3/18 - Milwaukee, WI at JJ's
3/19 - Des Moines, IA at Vaudeville Mews
3/20 - Colorado Springs, CO at The Black Sheep
3/21 - Salt Lake City, UT at The Beehive
Tagged: low end