The last time No Echo covered Life Force was back in January on our 12 Newer Hardcore Bands to Check Out in 2020 list feature. With a penchant for Youth Crew-styled hardcore with quick tempos and sing-along parts packed into every song, the group features none other than former Shai Hulud guitarist Matt Fletcher within their ranks.
Knowing a good thing when he hears it, Mike Hartsfield of New Age Records signed the band, and Life Force will be releasing their debut LP through the seminal hardcore label this summer.
Earlier this week, Life Force dropped the first taste of the album via "Out Front," a track also featuring Tim McMahon (Search, Mouthpiece) on guest vocals. Check it out below:
Life Force vocalist Flint Beard had a lot to say about "Out Front," and its lyrics. This is what he sent No Echo via email about the song:
"Simply put, this track is meant as a message that addresses two basic points:
1. The idea that the consumption of intoxicating substances is some sort of rebellious act (or anything other than the willing consumption something that keeps us numb and complacent) is a farce and an underhanded sales tactic. The goal of this tactic is to dupe consumers into remaining loyal and obedient, at the expense of their own mental and physical health, not only to the makers and sellers of these substances, but in general.
2. Breaking this conditioning, through actively defying social norms, endless advertising, and overt propaganda presented in media on a daily basis, is a way for us to take our lives into our own hands. As opposed to taking a passive position in your own decision making, and surrendering your judgement and mental faculties for the sake of an ultimately temporary and empty escape, we can step forward together and break away from this sad version of what has become "normal" and stand out front... whether that means at the front of our community, at the front of our peer group, or just at the front of our own minds."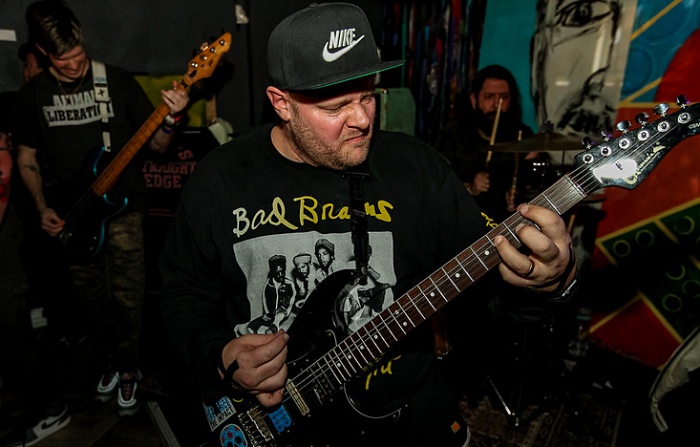 As far as Hope and Defiance, Flint offered some liner note tidbits behind the recording. "The album was recorded in 2020 at 33rd Street Studio in Oklahoma City, produced by Tyler Garcia et al. The record was then shipped to Will Killingsworth at Dead Air Studios in Massachusetts for mixing and mastering. We intentionally selected both parties because we have worked with them before, in this band and past projects, and their final product is always above and beyond expectations.
"We couldn't be happier with the final results, and would highly recommend them to any artist."
Hope and Defiance will be out this summer via New Age Records.
Life Force on social media: Facebook | Instagram | Bandcamp
***
Donate a few bucks to help with No Echo's operating costs:
Tagged: life force, mouthpiece, search