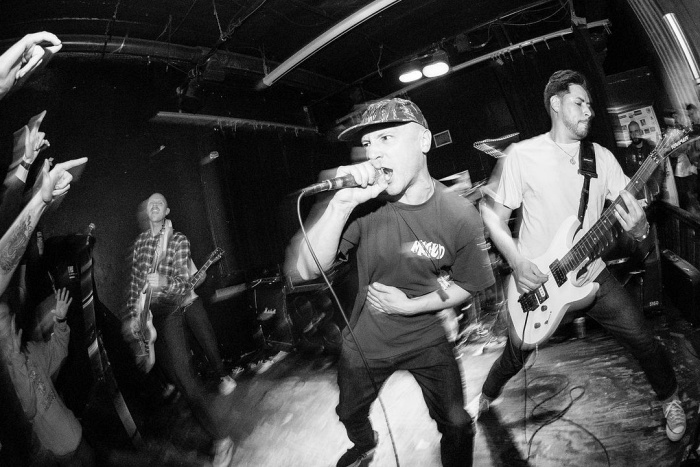 "Man, we've been floored by the support these songs have seen already, and we haven't even played our first show back," Jocko drummer Cameron Leininger tells me when I ask him what the response was like when No Echo premiered "Future Form," the title track to the Nebraska band's new EP. "I don't know if timing is the case, because we meant to release this EP over a year ago... with the pandemic, and then record plant delays, we had to sit idle for a minute while everything flushed out.
"Plus, we had a stacked West Coast tour that we had to cancel! But in a way, the setbacks just proved to us that these songs age well, and our excitement to share them just grew. It feels like a full step ahead from our last record, Expression."
Blending bouncy hardcore with hip-hop-driven vocal cadences, Jocko's dance floor-baiting style is on full display on Future Form, which you should definitely stream below:
I'm intrigued with the visual aesthetic to what Jocko does, and it all feels like part of a bigger/longer plan. Since Cameron handles that stuff for the group, I wanted to get his thoughts on the graphic direction for Jocko. "I don't know if i'd say bigger or longer plan, but I think congruency is always important.
"Most of my art is influenced from old skate videos we grew up watching. I started doing sculpture from always seeing mike hill use sculptures and other physical art as B roll and board graphics for Alien. I take those concepts of physical/mixed media art—with the help of Jacob's lyrics—to help mold the concept with whatever energy I absorb from the punk and hardcore scenes at the time."
According to guitarist Joey Claus, things are moving along nicely in Jocko's world right now. "We are more than ready to be back, and firing on all cylinders. That'll be us hitting the road with some quick Midwest runs to end out the year. We're planning to hit the coast in 2022 and push out more releases.
"At the moment, we are sitting on a few songs that haven't been recorded yet and we'll continue to keep writing and staying active."
The Future Form EP will be out on October 8th via Dog Years Records. Hit this link to pre-order the EP, and there's still a few copies of the No Echo vinyl variant left.
Jocko on social media: Facebook | Instagram | Twitter
Tagged: jocko