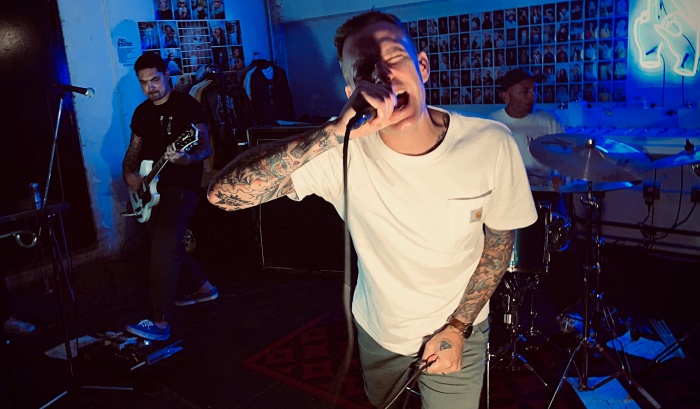 Vinnie Caruana has been busy as of late. Best known as the frontman for both The Movielife and I Am the Avalanche, the singer-songwriter recently collaborated with drummer Sammy Siegler (Judge, Rival Schools) in a killer hardcore project called Constant Elevation, releasing an EP a few weeks back. A true troubadour of song, Vinnie also just dropped Aging Frontman, a 6-track solo EP showcasing his penchant for melody and introspective lyrics, all wrapped around in wide-screen production.
Speaking of the recording, Vinnie collaborated with his I Am the Avalanche cohort, Brett Romnes, who produced, engineered, and mixed the Aging Frontman sessions, along with lending his instrumental talents to the affair:
Since Vinnie is synonymous with his hometown of Long Island, No Echo asked him for a list of the hardcore bands from there that helped shape him. The stylistic variety of his picks speaks volumes for not only his personal taste, but also the importance of the region's hardcore history.
***
Vision of Disorder
My first show ever was a VOD show in Elmont, NY in 1991 (at least, I think it was '91). My brother grew up with these guys and to this day we are buds. But they are probably the reason I'm where I am now. After my first show, I knew this stuff was for me. I was fucking in.
Mind Over Matter
VOD was kinda operating in their own little scene in my town. There was another thing going on altogether in other towns and it took a short while for everything to come together and form what I know as Long Island hardcore. And Mind Over Matter were at the forefront of that other thing. They were far ahead of anything going on at the time. Their own brand of hardcore that still hasn't been duplicated.
Neglect
I got to see them a handful of times and [vocalist] Brian ["Zoid"] was always bleeding. Basically all of their songs are about suicide and as kids we never took that seriously. They were contenders for heaviest band on the Island at the time. Everyone found them quite endearing in their own morbid way. I fucking love Neglect.
Silent Majority
My first time seeing Silent Majority was at the Right Track Inn on a Sunday. Probably '92. They stretched every boundary of what I thought was hardcore. The melodic, bouncy, lovely, warm, incredible music blew me away live, before I heard the cassette. The crowd would be filled with every Long Island band the world would come to know. Glassjaw, Taking Back Sunday, Brand New, The Movielife, Crime in Stereo, and all the bands from my age group, owe a lot to Silent Majority,
Glassjaw
For about a year, Daryl was the only other kid my age going to shows. We were drawn to each other and became best buds. I was lucky enough to witness the very early Glassjaw days. I would join Daryl on stage and sing a song with him sometimes. One day after singing a song with him at a basement show, Eddie Reyes asked me to try out for a new band he was starting. That band ended up being The Movielife, and the rest is history.
***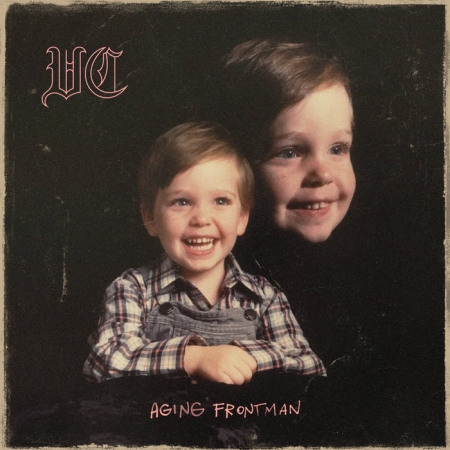 Aging Frontman is out now via Know Hope Records (US) and Big Scary Monsters (Europe/UK).
Vinnie Caruana tour dates:
Wed, Oct 9, 2019 San Francisco, CA - Cafe du Nord
Fri, Oct 11, 2019 Portland, OR- Hawthorne Lounge
Sat, Oct 12, 2019 Seattle, WA- Funhouse
Mon, Oct 14, 2019 Bozeman, MT- Whistle Pig Korean
Wed, Oct 16, 2019 St. Paul, MN- Amsterdam Bar & Hall
Thu, Oct 17, 2019 Chicago, IL- Beat Kitchen
Fri, Oct 18, 2019 Detroit, MI- El Club Back Room (early show)
Sat, Oct 19, 2019 Lakewood, OH- Mahall's Locker Room
Mon, Oct 21, 2019 New Haven, CT - Cafe Nine
Tue, Oct 22, 2019 Boston, MA- Great Scott
Thu, Oct 24, 2019 Asbury Park, NJ- Wonder Bar
Fri, Oct 25, 2019 Philadelphia, PA- Bourbon & Branch
Sat, Oct 26, 2019 Washington, DC- Songbyrd (early show)
Sun, Oct 27, 2019 Norfolk, VA- The Taphouse Grill
Tue, Oct 29, 2019 Atlanta ,GA- The EARL
Wed, Oct 30, 2019 Orlando, FL- Soundbar
Fri, Nov 1, 2019 Dallas, TX - Three Links
Sat, Nov 2, 2019 Austin, TX- Mohawk (small room)
Thu, Nov 7, 2019 Phoenix, AZ- Rebel Lounge
Fri, Nov 8, 2019 San Diego, CA- HOB Voodoo Room
Sat, Nov 9, 2019 Los Angeles, CA- Moroccan Lounge (early show)
Tagged: constant elevation, i am the avalanche, the movielife, vinnie caruana