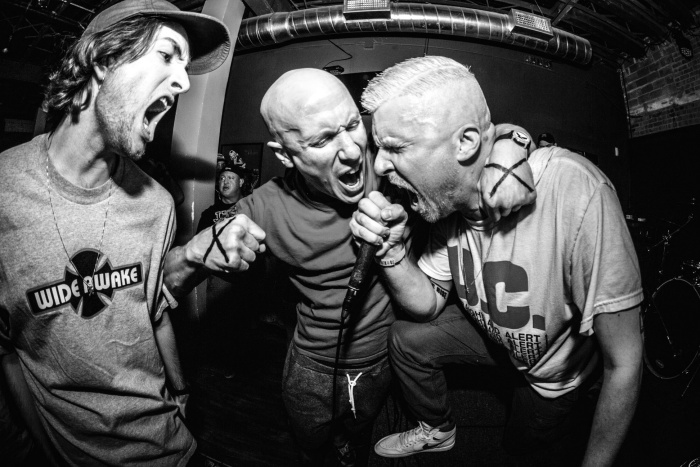 With its members spread out between Texas and Oklahoma, Life Force is a new hardcore band that was started by Matt Fletcher (Shai Hulud, Zombie Apocalypse) and Flint Beard with a clear focus. That mission was to form a group with the sound, aesthetic, and spirit of classic Youth Crew, albeit with darker musical hues found throughout their songwriting and a socio-political lyrical point of view they felt was largely missing in modern hardcore.
Having released their MMXVIII Demo in 2018, and also appearing on the Underdogs II benefit compilation later in the year, Life Force are gearing up for the forthcoming release of their debut 7", The Impact, this coming summer. No Echo is pleased to bring you the premiere of "Two Words (feat. David Wood)" today. And yes, that's the vocalist of Down to Nothing joining Flint on the track:
Flint broke down the inspiration behind "Two Words" for the site: ​"This is a song that I wrote to convey two distinct messages. First, that it takes strength and courage to take a stand against the inherent problems and eventual self-destruction that almost inevitably result from choosing a path of substance abuse and intoxication, especially when you take that stand as a literal kid who is watching their peers fall victim to the allure of the escapism that such a choice of intoxication can provide. Secondly, I'm not shy about saying that I'm proud to have upheld a vow that I took very seriously at the age of 16, and that I still take seriously at 30; and when you go back on vows, back on your word, that is an indication that the 'flame' of integrity, discipline, and dedication has gone out.
"Unfortunately, when you are straight edge for long enough, you become all too familiar with the narrative of people in the scene, friends, and even personal heroes deciding to turn away from the lifestyle; and in a nutshell this song is meant as a statement of disappointment in those who have fallen in line with the culture of fear that drives the need to escape into a bottle or a needle or a pipe, and a simultaneous statement of pride for staying steadfast in one's beliefs."
Recorded by Corey Ray at Amped Recordings in Oklahoma City, The Impact will be issued via Blind Rage Records, and Elimination Records will be handling its cassette release throughout Australia, New Zealand, and Asia.
Life Force will be part of the Promcore benefit show for Oklahomans for Equality this Saturday (May 18) at The Vanguard in Tulsa. BraceWar, Bent Life, I Am, and Piece of Mind are among the other bands scheduled to perform.
Follow Life Force on Bandcamp, Twitter, and Instagram.
Tagged: life force