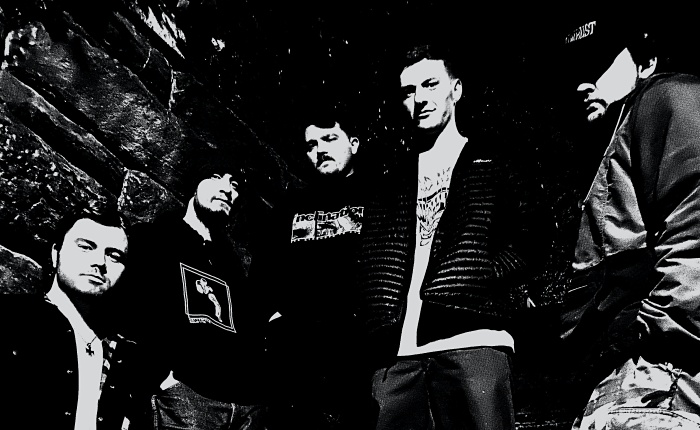 Just last week, Andrew Kline (Strife, Berthold City, World Be Free) texted me about a new band he was bringing on to his growing WAR Records roster. He sent me a track from said group and I was instantly hooked on the savage metallic hardcore piercing through my speakers. Hailing from Virginia, Ironclad sound like a band you would have heard on the hallowed New York's Hardest compilation from 1995.
"Bailey (guitar), Tyler (drums), and myself have been playing music together for a while now," bassist Brett Cooper tells me about Ironclad's formation via email. "The first band all three of us were in together, Compulse, sort of ran its course. Once that band was officially done, we immediately started writing for what would eventually become Ironclad. Our second guitarist Nick we met through playing some shows with his band, Brick. We hit him up and he agreed to drive down from where he's from to jam with us.
"After a couple of months with Nick, we were mostly done with all the instrumentals. We tried out a couple of friends to do vocals, but ended up reaching out to Danny (vocals). We knew him from being in Heavens Die, and knew that he had a solid background in hardcore music and has toured extensively. He liked the tracks we had and he laid some vocals down and sent them back to us. After listening to what he had, we all agreed he was the final piece to our puzzle."
Oh, snap! I haven't even mentioned the Ironclad track that first hooked me. Well, it's called "Beholden to None" and it's embedded below for your listening pleasure:
Like so many other groups in the hardcore community, the members of Ironclad keep busy in other outfits, as Brett fills me in: "As far as bands we have been in or are still in, Bailey's in Outsider (RVA), Danny is in Heavens Die, The Mirror, and the Atomic Cannibals, Tyler is in every band from Roanoke, and Nick is in Brick (HVA)."
I already gave you my 2 cents on what vibe Ironclad gives off to me, but I ask Brett for his analysis of the matter: "I think our sound has a contemporary hardcore vibe to it, with elements from '90s hardcore and metalcore. The goal is to be a hardcore band, to have that unmistakable hardcore sound just with hints of our personal tastes.
"If I had to list a few common influences between all of us, I would say Cold as Life, Death Threat, Criminal Instinct, and Naysayer."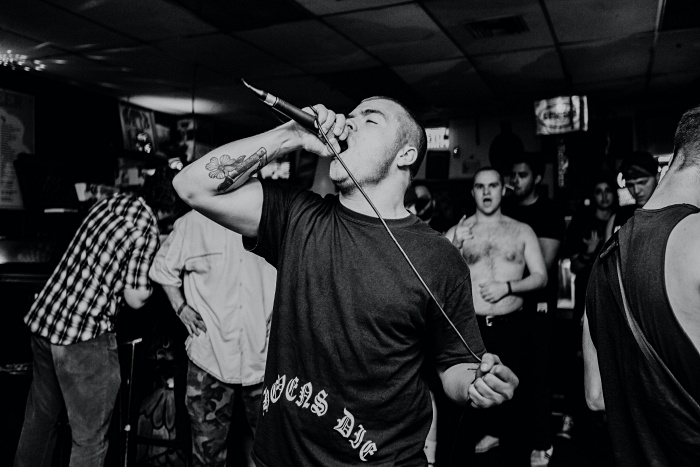 WAR Records will be relasing Ironclad's debut EP, Peace Out of Reach, next month. Since we already know from what sonic place they're coming from, what else can we expect on the songwriting side of things? "Lyrically, Danny has talked about Merauder being a big influence on his vocal style, he also says War and Murder. As far as instrumentals go, Bailey and I write most of the riffs, then run the riffs by Tyler during practice. He will generally have the drum parts down to a tee by the time practice is over.
"Nick and Danny live in different parts of Virginia so they can't make it every week to practice. Nick usually makes it in a couple times a month and is able to contribute remotely if he can't make it out. He's especially good at adding layers and intricate leads to our songs. As for Danny, we send him a finished song, and within a short period of time has all the lyrics and vocal patterns down to perfection. That man is a force of nature."
How did Ironclad end up becoming part of the WAR Records roster? "Well, we basically had this plan to send it to multiple labels, WAR included, and WAR happened to be the first one we reached out to. Andrew got back to us before we heard back from the other labels. He really liked the tracks we had and said he would be willing to do tapes for us.
"We all collectively decided WAR was a good fit for us and went with it. We knew WAR from bands like Enforced and Fixation, I would say those are our two favorite bands on the label."
Peace Out of Reach will drop on May 29 via WAR Records. Pre-order the cassette today.
***
Donate a few bucks to help with No Echo's operating costs:
Tagged: ironclad