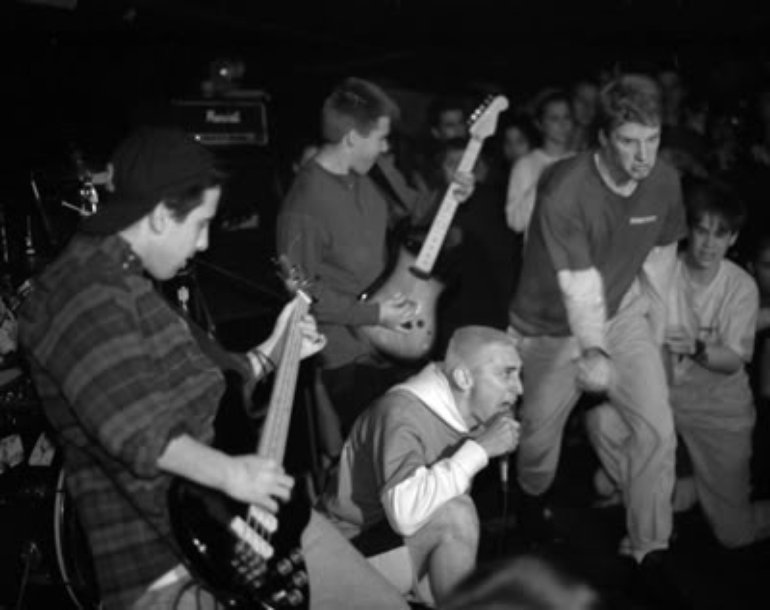 Comprised of musicians that have also played in such beloved hardcore bands as Side By Side, Breakdown, Uppercut, and Judge, Alone In a Crowd released one EP in 1988, played one show (at the Anthrax in Connecticut that same year), and then went away as quickly as they appeared. That hasn't stopped the group's self-titled 7" from influencing musicians for years now. But unlike many of their NYHC contemporaries, Alone In a Crowd hasn't reunited for any show, let alone a proper tour. But as the hardcore scene has proven time and time again, if one of us needs help, we mobilize.
On Feb. 16, 2019 at the First Unitarian Church in Philadelphia, PA, Alone In a Crowd will play their second and last show, in support of their guitarist, Howie Glen Wallen, who was diagnosed last year with an acoustic neuroma: a slow growing tumor originating off of the auditory nerve between his inner ear and his brain. The surgery Howard went through wasn't completely successful and not only stuck him with permanent deafness in his right ear, but also left behind part of the tumor, which has been growing back ever since.
Needless to say, Howie must have another procedure, this time a 10-hour surgery, followed by radiation treatment. A married father of a teenaged daughter, he needs our help with the enormous medical costs. In addition to Alone In a Crowd, the bill will also feature Terror, Break Away, and Search, with more acts to be announced soon.
In this exclusive interview, Alone In a Crowd vocalist Jules talks to me about the band's short history, their legacy, and the story behind the benefit show.
First off, can you give me some background on the upcoming show and why you decided to do it?

Howie, our second guitarist, has been struggling with a tumor in his head for almost two years. It is very debilitating and he can't work. So he and his family need help. Carl wanted to do something, so he got Lars and Rob to agree to a benefit show. Lars called me and told me what was happening with Howie and that the band was down to help. How could I say no?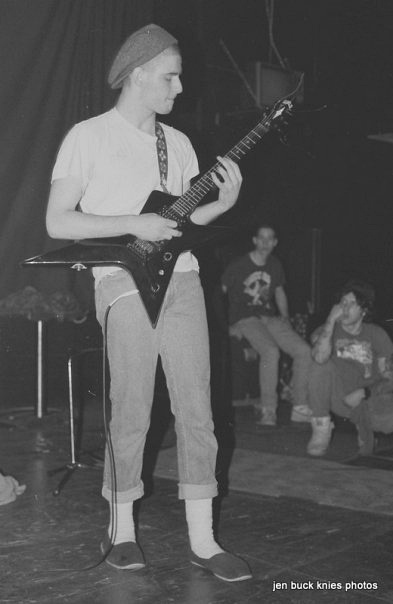 Side By Side, Breakdown, Uppercut, and Judge… that's quite a pedigree. For those folks who might not know AIAC's history, what's the truncated version of the story behind the band?

[Mike Judge from Judge, Youth of Today] Mike Ferraro came to my house and he had the Judge New York Crew recording on a cassette. Nobody had heard it yet. So Mike had this awesome recording... and it was just him and Porcell. He was able to create something without a band. So, I got it in my head that I would get some guys together to cut a record, and maybe play a few shows.
I intentionally went beyond the usual suspects — I even tried to make it an intercity project, not just NYHC. I started talking to guys like Mark Pingitore from the Pagan Babies — he was in Philly — to see if he'd want to lay down some tracks. Mark expressed interest, but I don't recall why he ended up not being involved.
I felt bad that Lars had joined Side By Side, learning all the songs, playing only one show, and then having the band fold up on him before the record was released. Lars was then committed to Uppercut, but he had some material that wasn't really "Uppercut-like" and he thought it'd be cool to do a side gig. He in turn recruited Rob, Uppercut's drummer. Lars was from Yonkers, and friends with Carl (Raw Deal — I don't think they had changed their name yet). So we bounced the idea off him, and he picked up the bass. And then there was Howie. I have absolutely no recollection of where I first met him. He was from Allentown, PA — then living in Jersey, I think. Anyway, I always liked two guitars, so I asked him to jam with us and we had Alone In a Crowd.
You recorded the 7" with Don Fury. What memories stand out about that experience? Don is quite a character!

Oh, Don wasn't the character! Anthony Drago was! Drago, the drummer for Raw Deal, was in the booth making fun of us and telling us what to do the whole time. I don't even know why he was there! While we were recording "When Tigers Fight," Drago's like "you gotta do the ding! You gotta do the ding!" So — mostly to shut him up, I think — we set up a cymbal in the studio and mic'd it, and Drago put the headphones on. Don played the tape and there Drago was... alone in the studio... listening, getting ready... and then ding! Maybe you had to be there, but it was freaking hilarious. I figured we could always take it out… we kept it on the record.

As far as Don — during the recording, for some reason he told us that his real name was actually Fiori, and he said wished he had never changed it to Fury. So when we credited him on the record, we used his real name. I vaguely recollect him getting pissed at us about that.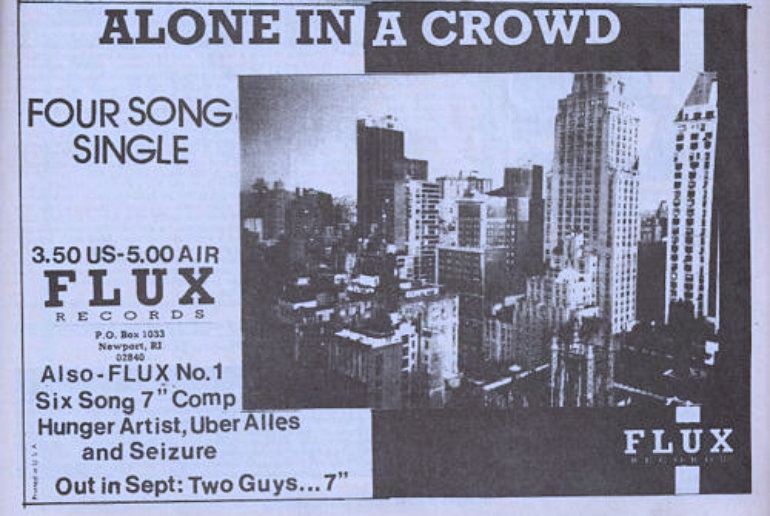 Alone In a Crowd famously only played one show. I know the band didn't last long by any stretch of the imagination, but didn't you guys do any more gigs?

I tried to keep the band going, but to be honest it was very hard because except for Howie and me, everybody else had other band obligations that, understandably, took priority. If memory serves, Carl was only onboard for the record and the one show. Lars and Rob had Uppercut and were not available much. We found another guitarist, Glen, and a drummer, Rich. I think that lineup lasted for half a practice; I seem to remember Rich hating the new music we were trying to get off the ground and quitting there on the spot. Luke Abbey (Warzone, Gorilla Biscuits) actually practiced with us one or two times after that while we tried to come up with more material. But it just sort of fell apart — and I didn't have it in me to keep it together.
And make no mistake — this band is not getting back together. This is not to relive any glory days. You will not see us touring. We are playing one last show, for Howie. If you ever want to see Alone In a Crowd live, you must come to Philly on February 16!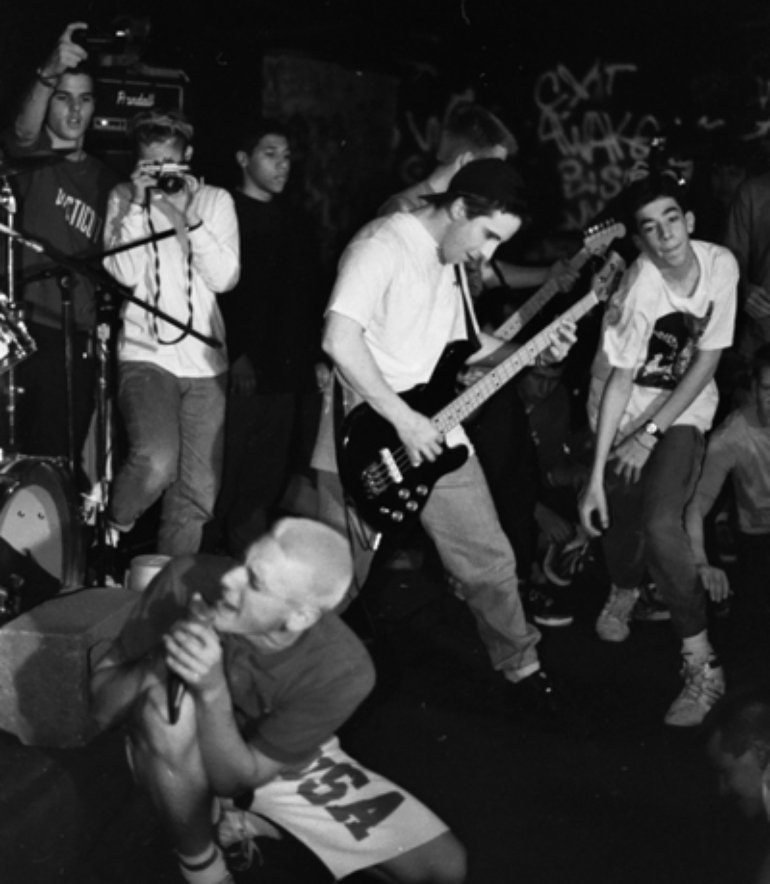 It's interesting, but despite the fact that all Alone In a Crowd released was one 7", I've seen you guys cited as an influence by many hardcore bands throughout the years. What are your thoughts on that? Have you had a lot of people asking you about the band/record throughout the years? How do you feel about the record?

I'm really not qualified to answer that first one; I would think the only way you find that out is ask those individuals why the music was influential. Honestly, until a few years ago, I didn't know that anybody had any interest. Over the last three decades I'd maybe get a random phone call or email from people to do an interview. I always declined — didn't see the relevance. It wasn't until 2011 that I agreed to do an interview — but that was in connection with a fundraiser — kinda like this show for Howie.
As far as the record, it was fun as hell to make — and Don really captured the sound we wanted. I never did understand any of the graphics, though. That was all done outside my purview — so the midtown Manhattan cover, and the Marlon Brando cover… I have no idea what that was all about. And what the heck was that creepy skeletal dude on the b-side label?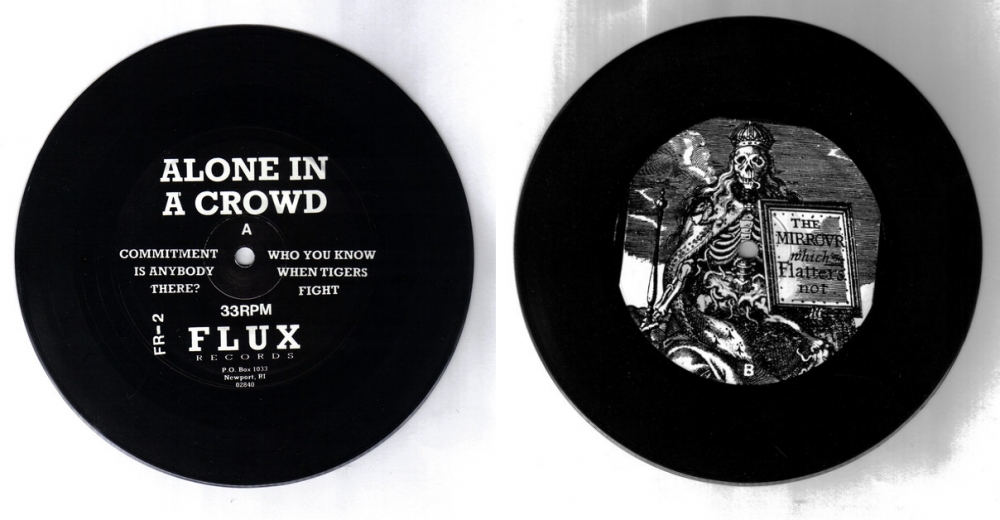 Lastly, who will be in the lineup for this upcoming reunion show?
The original lineup that played on the 7" and the first and only show in 1988 — me, Carl, Lars, Rob. We will be minus Howie, who can no longer play guitar because of his condition, but we're going to have some "special guests" help us out. We're going to do more than the four songs on the original EP, along with a few other surprises… But this is it, one and done. Buy a ticket or miss out!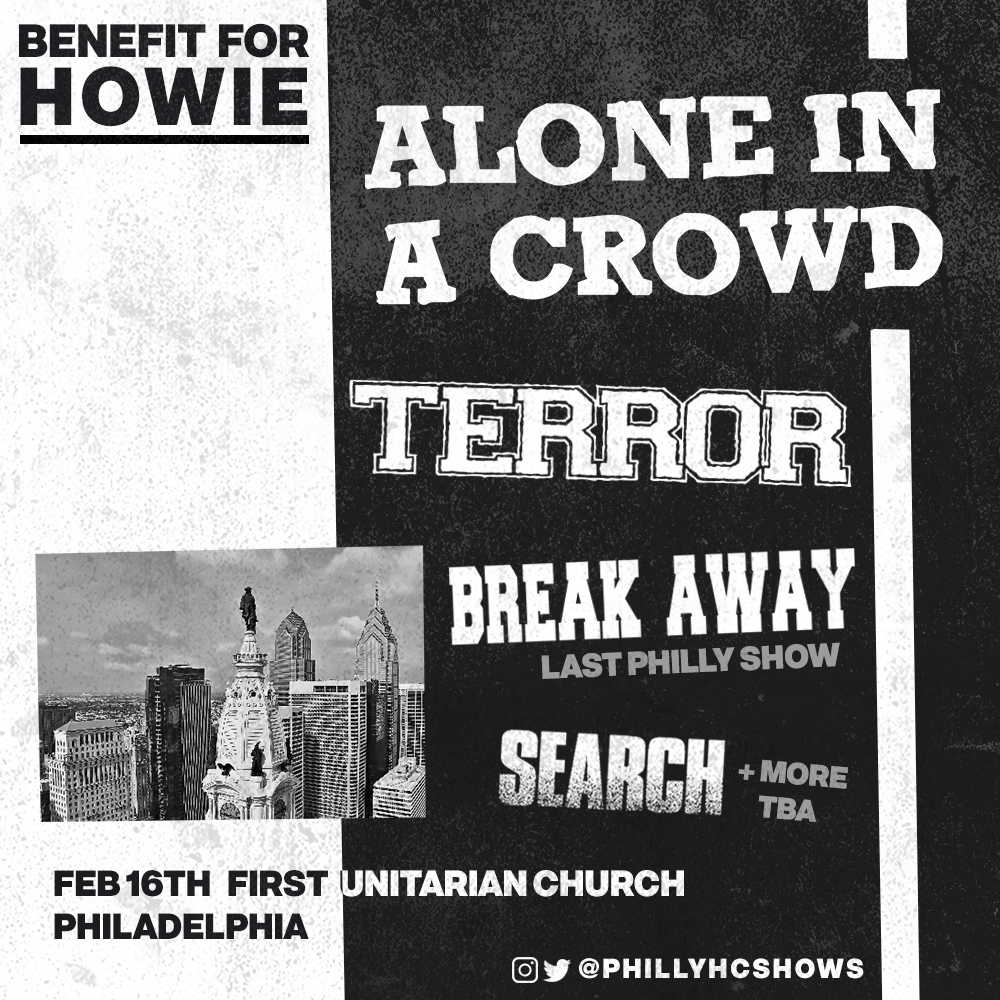 ***
Pick up tickets for the Alone In a Crowd reunion show at this link. If you can't go to the show, you can still donate to the fundraiser that Joe Hardcore and Philly Hardcore Shows have set up for him.
Tagged: alone in a crowd, breakdown, side by side