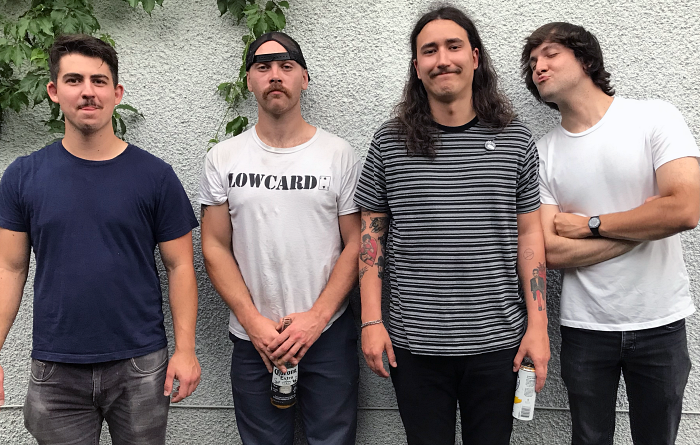 Formed in late 2019 by brothers Lewis and Eric Podlubny, Headcheese is a band with a penchant for hooky hardcore punk. It's a refreshing take since most groups these days tend to lean into the harsher side of the sonic spectrum when it comes to hardcore.
The British Columbia-based quartet only managed to play 2 local shows before the lockdown, but the Podlubny brothers used the downtime at home to write and record their new forthcoming eponymous album.
No Echo got the early jump on the record, which you can soak up below:

"The lyrics are pretty centered around university small town/city type shit," Lewis told No Echo via email about the songs on Headcheese. "Alienation, lack of community, drug abuse, jocks, hyper conservative surroundings."
Lewis also offered the following about the album's unique cover imagery:
"The artwork is based on an 1882 US mousetrap patent that involved a load gun and a mouse activated trap. The idea of a loaded gun going off at a mouse is fucking hilarious and also a really nice analogy on human relations with anything other than human."
Headcheese will be out in early March via Neon Taste Records. Pre-orders for the vinyl and digital are up on Bandcamp.
***
No Echo has launched a Patreon with 3 tiers offering all kinds of hardcore-related goodies to help support the site:
***
Tagged: headcheese