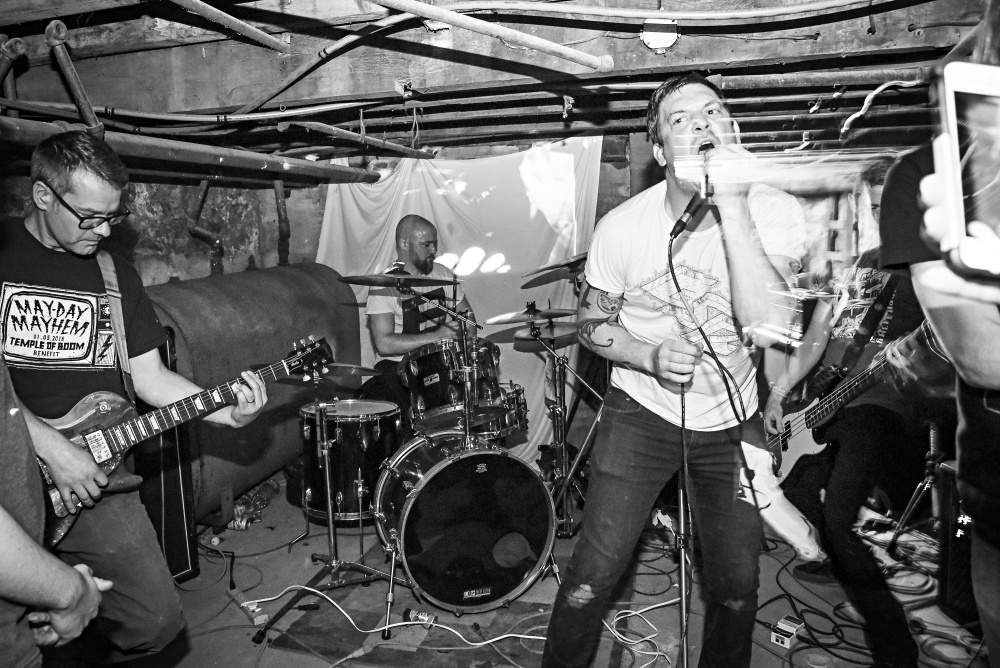 Grey C.E.L.L.'s lineup is an impressive one. Janis Cakars (Citizens Arrest, Hell No), Derik Moore (Automaton, The Scarlet Letter, Citizens Arrest), Jim Robinson (To Tremble, HTML), and Kane Cathain (Nema, Stations) came together in mid-2017.
In terms of their sound, Grey C.E.L.L.'s new EP, Confused Executive Loss Leader, finds the band weaving together discordant hardcore in the vein of Mohinder, Honeywell, and Union of Uranus. Recorded by John Dyer Baizley of Baroness, the EP lives up to the formidable discography of each of the group's members. In particular, Cathain's vocals come ripping through the mix with an ugly vengeance.
"For me, it's an exorcism, self flagellation, nostalgia, medication, poetry, and purged futility," Cathain tells me about the inspiration to start Grey C.E.L.L. in the first place. "It's a fucked up world and playing this music is an outlet for the frustration it breeds. I'm happy to get to create something with these weirdos and have the opportunity to share it." Since Grey C.E.L.L. only formed less than a year ago, I'm eagerly awaiting what they have coming for all of us in 2018.
Learn more about the band on both Facebook and Bandcamp.
Tagged: citizens arrest, grey cell band, hell no band