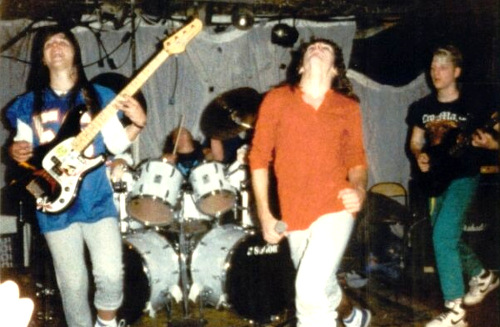 Beyond's Dew It demo from 1988 was such a mind-blowing revelation. I remember picking it up at Some Records early that year. Everyone I hung out with was completely entranced upon hearing it, all of us wondering, "Where the hell did these guys come from?" The songs on the demo jumped off the speakers, brimming with a raw intensity that only the best hardcore tunes can deliver. It wasn't until years after the fact that I came to understand that nothing really appears fully formed without putting in time and effort, especially in music-related matters.
The musical chops and precision to pull this off in a seemingly "limited" format like hardcore reflects years of practice, and that's where this article comes in. I am going to attempt to document the dozen or so heavy metal bands that all the members of various Beyond lineups cut their teeth in, prior to recording Dew It. So get a scorecard ready, this incestuous family tree can get a bit confusing.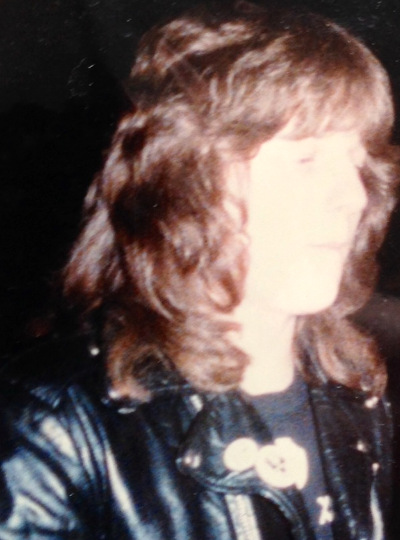 North Sachem High School in Ronkonkoma, Long Island is ground zero for the Beyond story. In the fall of 1984, a long-haired, denim jacket with a Venom backpatch, upside down cross wearing freshman named Tom Capone was the go-to person for the more extreme sounds happening in the metal underground during that era. Having put out one issue of his D.I.Y. metal fanzine named Mutilator, he is also heavily involved in the worldwide metal demos tape trading circuit.
Plans for a second issue are scrapped as Tom decides to play music influenced by the thrash maniacs he's interviewed. Getting together fellow classmates Scott Oliva (vocals), Rob Porta (bass), Denny Darmo (drums), and himself on guitar, Radical Behavior is born in 1985. No demos exist of this short-lived band, except for early rehearsal tapes showing a heavy Exodus influence, and later tapes going for an Amebix vibe with Tom on vocals.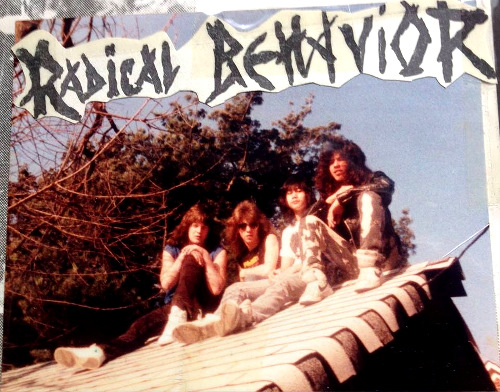 Radical Behavior soon breaks up with Tom and Scott going on to start 1000 MPH, a fast NYC Mayhem/D.R.I.-sounding band that records three demos plus one live tape, with most songs clocking in under the one-minute mark.
1000 MPH is a two-man project with Tom playing drums and doing some vocals, plus Scott playing guitar and singing.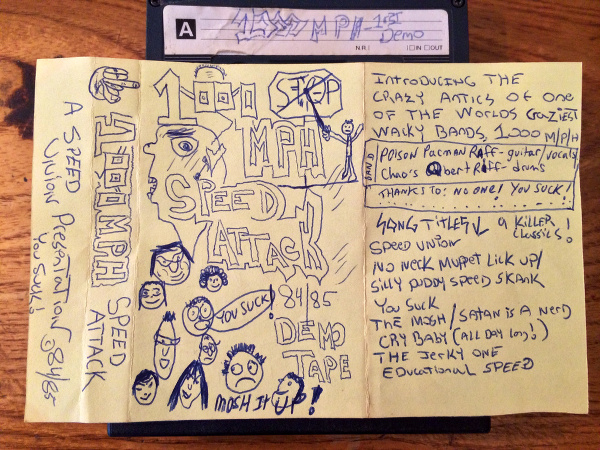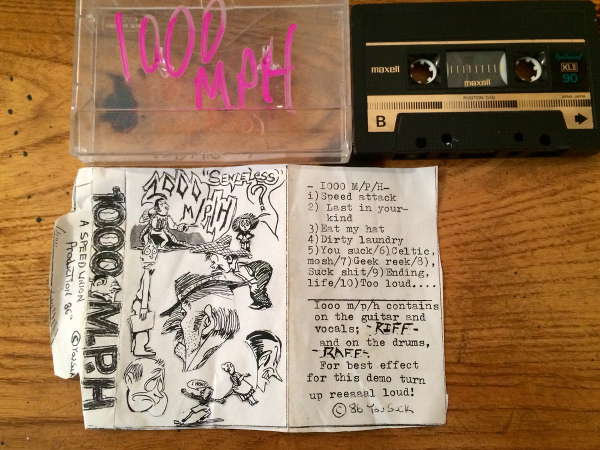 Rob Porta from Radical Behavior goes on to Late to Church, a straightforward metal band with future Beyond bassist Lance Jaeger and guitarist Mike Yannicelli, both coming from joke band Rotting Fetus, a combo that plays local keg parties parodying punk music. Around that time, Mike Yannicelli does a 1000 MPH "tribute/rip off" band called Total Stupidity, opening up for 1000 MPH at "jamborees" held in Capone's basement with friends from North Sachem High School in attendance.
Late to Church wins North Sachem High School's battle of the bands in 1986, playing Metallica and classic rock covers. Lance and Mike soon join Tom Capone in Third Planet after their respective bands break up. Third Planet is a crossover band, heavily influenced by Long Island crossover heroes the Crumbsuckers with Tom singing plus Lance, Mike, and Radical Behavior drummer Denny. No demos exist except for a rehearsal tape that showcases songs like "Suffer," which would later become the template for "Vitality," a Beyond track.
Mike Yannicelli would later go on to play in 1.6 Band with Kevin Egan as well as drummer Vin Novara. Vin also played on the Socially Incorrect demo from 1987. Socially Incorrect was a thrash band that featured Capone on vocals and Vic DiCara on guitar.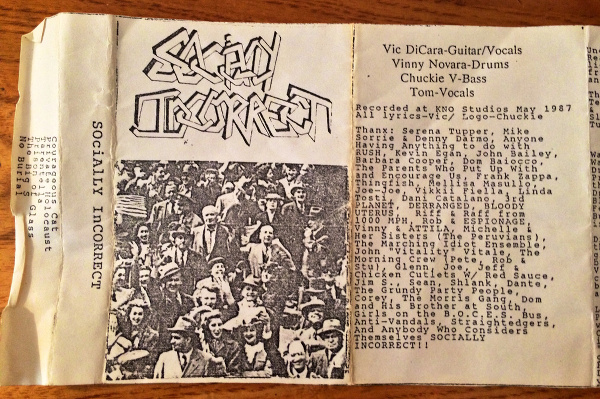 Tom then starts a "horror hardcore" band, influenced by the Misfits and Samhain, called The Ghastly 1000 with future Beyond members Kevin Egan on bass and Vic DiCara handling vocal duties. Larry Gorman, the cover artist for the Dew It demo, and an Astoria to Long Island transplant, also draws the cover of The Ghastly 1000 live demo, 1000 Years of Horror, and is present for a memorable backyard show on Halloween.
Gorman also plays drums in Reach Out with Tom singing for one show and Vic later taking over on vocals. Both The Ghastly 1000 and Reach Out demos come out on Shred Zine productions, an extension of Vic's skating fanzine. Kevin Egan had previously sang briefly for a thrash metal covers band called Espionage, and also played in crossover outfit Toxic Phlegm with Vic DiCara. Gorman went on to play drums in Glassjaw, Head Automatica, Orange 9MM, Fountainhead, and is currently a member of dream-poppers, Asobi Seksu.
Senior year of high school finds Tom and Kevin pairing up for a new positive-minded hardcore project called Beyond. They recruit Lance Jaeger with Tom sitting him down and playing Youth of Today, Minor Threat, and Uniform Choice records so he can get a feel for what they're trying to accomplish. Kevin's fellow mall co-worker and Socially Incorrect drummer, Vin Novara, is asked to join Beyond but due to his (at the time) peripheral interest in hardcore declines, opting instead to join a Chicago covers band that never gets off the ground. Drummer Dominic Biaocco from metal band Deception is bought in to the drummer's spot, and it is this lineup that records the eight-song Dew It demo in the early part of 1988.
They play a couple of shows in Long Island before Porcell from Youth of Today hears their demo and enthusiastically asks them to open up for YOT. By that time, Lance and Dominic are gone. Drummer Al Cage and Rob Porta, playing in Inner Strength, a crossover band formerly known as Deranged (with Scott Oliva from 1000 MPH on vocals) are bought in as replacements.
Rob only lasts for a couple of shows and is replaced on bass by Vic DiCara, who was brought in briefly on second guitar. Vic leaves for college and is replaced by Ed "Direct" Ciappa, who played in thrash band Critical Absence as well as Difference, with original Beyond drummer Dominic Biaocco.
It is this lineup of Tom/Kevin/Vic/Alan that records the seminal No Longer at Ease album in 1989, before calling it quits as members go off to college or other projects.
For those keeping score, that's everyone that was ever involved in Beyond before their untimely breakup in 1989. In the '90s, the members of Beyond went on to bands like Burn, Quicksand, Inside Out, 108, 1.6 Band, and tons more. They are all, for the most part, still involved in music. Check out some of their current projects like Poor Lily, Kevin Egan is a Jerk, Angelo Gallo Trio, Kassy Key & The Raindoggs, Wind Wraith, and Alarms & Controls. Not to mention the upcoming Beyond discography on Revelation Records, which will include the demo, album, and a live WNYU radio session.
Beyond recently made an appearance at this year's Black N' Blue bowl with Sergio Vega (Deftones, Quicksand, Absolution) The band will return to play an all-ages Sunday matinee with Antidote, Manipulate, Downlow, and Point Blank in Brooklyn on August 3rd at The Grand Victory.
Besides Beyond, Capone has reunited his old bands Quicksand and Bold. Last time I hung out with him, he stated: "Hardcore saved my life." One can safely assume that heavy metal had as much of a life-saving impact on him and his fellow band members during those Long Island salad days.
To close this piece, I've decided to include "Seasons," my favorite Beyond song, since it's the perfect balance of Iron Maiden-ish guitar leads and a Dag Nasty type of vibe:
*Huge thanks to Rob Porta, Lance Jaeger, Kevin Egan, Larry Gorman, Mike Yannicelli, and Vin Novara for all the info; and to Tom Capone for his enthusiastic support for this article, as well as sharing all of the amazing photos/info and songs from his old bands.