Fuming Mouth is deserving of your attention and honestly always has been.
A death metal band with one foot firmly planted in the genre's apocalyptic visuals and meaty sound, while the other is at home lifting aesthetics from hardcore.
Fitting, truly, since that's just about how death metal's Stockholm syndrome first took hold.
Either of Entombed earliest pair of albums might as well be the model for the longstanding infatuation with HM2-infused hardcore, but that's a moot point this late in the ongoing fad.
That's the unique thing with fads though, there are the bands that dip their toes in, making a decent track here and there, but never leaving an impression.
Then you have Fuming Mouth (and several others), who have, by my humble metric, improved with each subsequent release.
As may have been gathered already, this Massachusetts outfit is a band near and dear, most certainly due to my having heard them come up from their crusty, addictive 2013 demo all the way to last year's monstrous debut album, The Grand Descent.
At 12 songs, the latter felt and truly is a massive album, with Fuming Mouth burning through the death metal textbook in a relatively digestible 30-odd minutes. Astounding it is then, a year later, that they can drop a three song nuke like Beyond the Tomb, challenging any material found on The Grand Descent .
Familiar readers may be rolling their eyes, "Bruce, you're being fucking hyperbolic again," and while there is substance to that, I know, I kid you not, Beyond the Tomb is Fuming Mouth's best material to date. I don't make the rules, they do.
There's a focus to their songwriting here, that while present on earlier material, is acute here, with an almost pop level of addictive songwriting at work on the title track. The riffs churn from the signature toothy-tone to the insidiously melodic, creeping beneath the repeating, anthemic chorus, all while surging full blast in true windmilling form.
I won't lie, "Master of Extremity" is my new favorite Fuming Mouth jam, and that certainly has to do with it being their most hardcore-oriented song yet. It's a line that they have long walked, taking steps here and there into either side; cover art by Mariusz Lewandowski or signing to renowned hardcore label Triple B Records (and so forth).
While these moves aren't unique to Fuming Mouth, songs like "Master of Extremity" are structured deliberately to cater to anyone who might be listening. Vicious riffs barrel along at the cadence of the heftiest breakdowns, chest-rattling vocals descend into bestial revelry, it's everything you could ask of a song like this.
Upping its own violent ante threefold by its end, "Master of Extremity" is white-knuckled, hit-your-friends music; y'know, the good stuff we all miss right now.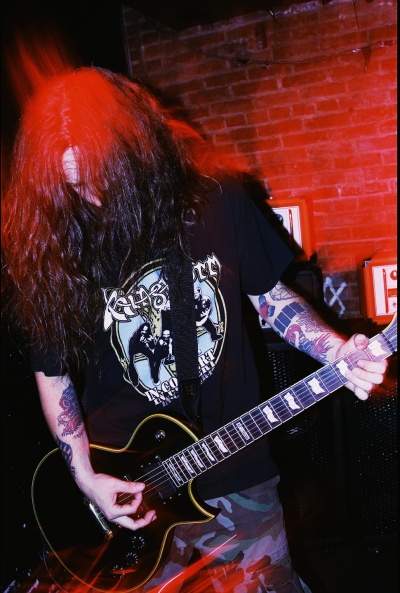 "Road to Odessa" is a deliberate creature, dragging its weight in menace on all fours, its tempo clawing before dancing with surprising agility into a whirling, beautifully contorted riff tower. That beauty is shredded away to reveal the true beast beneath, with Fuming Mouth throwing all that menace into a muscular, slow headbang of a finale.
Having signed with a sizeable label like Nuclear Blast, my paramount hope for Fuming Mouth is that their music, with its ability to handily appease both hardcore kids and death metalheads, will finally find the wider audience it has long deserved.
The Grand Descent was hardly required as a course correction, but its presentation and magnitude did finally earmark them for impending greatness.
Whether Beyond the Tomb is a masterful last hurrah to their hardcore foundation or a firm sign of what's in store for LP 2, rest assured that Fuming Mouth's next move will be a resoundingly apocalyptic checkmate.
Get It
Tagged: fuming mouth