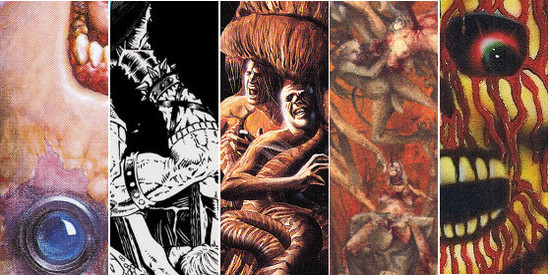 While doing some research for a different piece for the site, I began to piece together the fact that 1993 was a year where some superb death metal albums with a shared dedication to groove-based riffing hit store shelves. Obituary, Jungle Rot, and Cannibal Corpse are among the best at delivering killer groove parts within their brutal death metal attack, but some of the bands I've listed below might not have hit your radar yet.
So, whether the following albums are already in your collection or not, it's hard to argue that 1993 was a very good year (for groovy death metal).
Pyrexia, Sermon of Mockery
The version of Pyrexia that recorded the band's Liturgy of Impurity in 1992 helped create the blueprint for most of the groove-obssessed death metal that came after it. Pyrexia would experience a slight lineup change the following year, but their Sermon of Mockery album still holds true to the Long Island group's stylistic origins. Like the other records listed below, Sermon of Mockery isn't a wall-to-wall slam fest, but the groove sections on such songs as "Demigod" and "Abominat" lay into the pocket like no one's business. Side note: I used to hang out at Pyrexia's rehearsal spot (it was in the basement of a bagel shop) back in the early '90s, and I remember the band practicing the songs on this album for hours on end.
Wombbath, Internal Caustic Torments
Wombbath are natives of Sweden, but this isn't a band that merely bows down to the power of the almighty Boss Heavy Metal HM-2 guitar pedal. Sure, they share many of the same sonic characteristics of their fellow Swedish death metal compatriots, but Wombbath choose to focus deeper into the groove elements of their songwriting. Their Internal Caustic Torments debut showcases one nasty groove after the other.
SEE ALSO: Best Beatdown Hardcore Bands
Banished, Deliver Me Unto Pain
Originally known as Baphomet, Buffalo, NY's Banished unleashed some of the fattest grooves ever to be found on a death metal record. On their Deliver Me Unto Pain album, drummer Rick Breier keeps things simple and lays hard into each part, mirroring the guitar and bass riffs. This is the kind of stuff that you could play to the staunchest Hatebreed fan and even they would buy into the whole thing.
Illdisposed, Four Depressive Seasons
Tragic cover art aside, Illdisposed's Four Depressive Seasons is an album that grinds out a mouth-watering collection of groove-based parts throughout its 47-minute running time. Hailing from Denmark, Illdisposed continues to grow their impressive discography, but it's on Four Depressive Seasons where most first heard their mosh-ready death metal.
Demilich, Nespithe
The oddest pick of the lot here is unquestionably Nespithe, Demilich's celebrated debut full-length. Some of you might even question their inclusion here, but I will be damned if this record isn't packed with a worthy array of groove sections. But like everything else the Finnish combo has done, the groovy parts in their songs swing and sway in a completely unique way thanks to Demilich's technical prowess.
SEE ALSO: 7 Underrated Albums Recorded at Legendary Death Metal Studio Morrisound Recording in the '90s
Deteriorate, Rotting in Hell
Pennsylvania's Deteriorate had a four-year run together before throwing in the towel. Of their two studio albums, their Rotting in Hell debut is the one to seek out if you love healthy amounts of groove with your death metal. Yep, the band would follow a black metal path on their later material, but tracks like "Cannibal Autopsy" from their 1993 effort are overflowing with groove riffs for days.