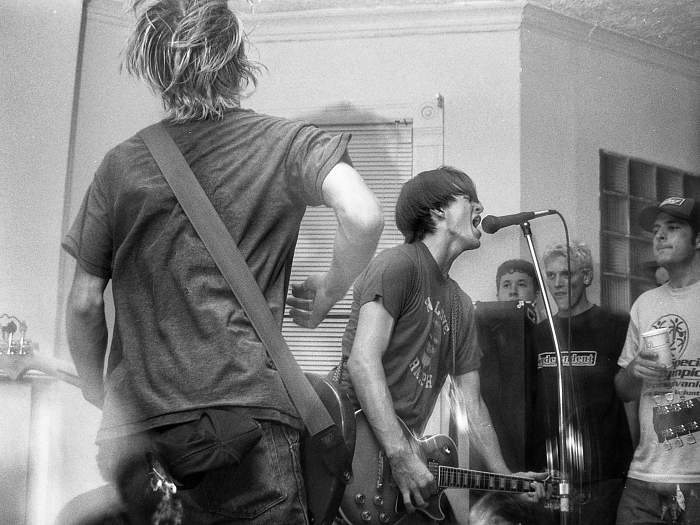 Named after a Circus Lupus album (!), Solid Brass Records is a new record label co-founded by three friends from the '90s DIY music scene: Jason Pearson, Chuck Pettry, and Justin Sinkovich.
The mission at hand for Solid Brass Records is to reissue music from that period, and also showcase new bands similarly inspired by that era.
The company's maiden release is a discography from early '90s Ohio post-hardcore band, Grain. During their time together, Grain shared bills with the likes of Lincoln, Archers of Loaf, Kerosene 454, and Avail.
I spoke with the three founders of Solid Brass Records to get the skinny on their new endeavor. As a bonus, we're streaming a track from the aforementioned Grain discography so you can get better aquainted with the band and why Jason, Chuck, and Justin decided to launch with them.
How far back do the three of you go back? Have you all collaborated before on any projects at your other gigs in the past?

Jason Pearson: I met Chuck through a mutual friend shortly after moving to LA during the pandemic. I didn't know Chuck prior to that. However, Chuck and I are both originally from the east coast and we had shared connections with the punk and hardcore music scene in the early '90s. In many ways we were living parallel lives for 30 years.

Shortly after Chuck and I started laying the groundwork for Solid Brass, we got in touch with Justin. Chuck knew Justin from back in the '90s when they were both running their own labels; Sound On Sound and File 13. I was a big fan of Justin's old bands Atombombpocketknife (ABPK) and Thumbnail, and Chuck had worked with ABPK back in the day. Initially, we wanted to talk about some ideas we had and pick his brain about general label operations stuff. Justin was a wealth of information and ideas and immediately wanted to get involved. We were excited to have him come onboard.
We all hit it off really well. It was quite obvious we were all coming from the same scene and held a lot of the same values. We were aligned musically, philosophically, and aesthetically and it seemed to gel. With very distinct skills and areas of experience we knew we should collaborate together on this new label.
Chuck Pettry: Jason and I met here in LA. We're neighbors and shared a similar story and taste in punk and hardcore. I've known Justin for over 20 years. My old label, Sound on Sound, was supposed to release the final Thumbnail LP before I threw in the towel. I've worked with him on some of his other releases and always had a lot of respect for him.

Justin Sinkovich: I've been friends with and collaborated with Chuck since the '90s. His label Sound on Sound put out a single and an early ABPK record back then. We sort of lost touch except for on social media. He introduced me to Jason as they were starting up this label. While talking to me about their plans, and asking me questions, I thought what they are doing is so cool.
I kept in touch with them, helping them when they needed something, and luckily for me, they ended up asking me to partner with them. Since then we've been working together every week and it's been super rewarding and enjoyable.
Do you feel like personalities and work strengths are very different from each other in a complementive sort of way?

Jason: Absolutely! We all bring a lot to the table. This was clear in our first few conversations so it was a no-brainer that we should start collaborating together. There are an insane number of moving parts when trying to grow a small label and between the three of us we have been able to cover the bases pretty well.

I spent the last 15+ years working in production, project management, and customer operations roles for a number of tech companies. It was a blessing and a curse. After moving to LA I decided to take a break from that world. I wanted to use what I had learned and give back to the punk/DIY community that I grew up around. Starting a small record label was a big departure for me. I needed to learn a lot and ramp up quickly. Chuck and Justin have run labels in the past. It's not their first rodeo so I was able to lean on them a lot.

Justin started the independent music streaming site, Epitonic, back in the 90s. He's also worked for Cargo, Southern, and Touch & Go, and currently teaches kids how to start and scale their own businesses at Columbia College in Chicago. He knows the ropes and he's been a total mentor to me. Together we've built up the base of the label. He and I spend a lot of time working on timelines, production schedules, budgeting, spreadsheets, legal stuff, etc. You know, all the really fun stuff…haha!

Chuck knows a ton of people so he's helped us from a networking standpoint. He works in music merchandising so he's got that piece covered as well. I know I don't need to rack my brain too much when it comes to setting up a webstore because we can pass that baton to Chuck. Chuck has a good design eye as well. I can bounce ideas off him and he'll always be a straight-shooter.

Light in the Attic and Numero Group obviously come to mind, but what are some of the reissue labels that you looked to as inspiration? Did you see a way to do things a bit differently in your approach?

Jason: It's hard not to be inspired by labels like those. They're delivering a master class on beautifully reissuing records from a curation and design perspective. I've enjoyed a number of reissues from Superior Viaduct as well; Contortions, Crime, Suburban Lawns, DNA. All these labels go deep. They are tapped into multiple genres; punk, soul, experimental stuff, and that breadth is incredible.
As for mid-'90s post-hardcore music, Numero did a phenomenal job with Indian Summer and Unwound. It was nice to see Temporary Residence reissue Lincoln and Falling Forward as well.

Chuck: I love everything those labels have done. I'm a fan. My hope is that we are mentioned in the same breath as them as well as labels like Trust, Gravity, Troubleman Unlimited, Kill Rock Stars, Vermiform, Touch and Go, Hand Held Heart, and countless others who treated records as a really special thing; more of an art project as opposed to something as part of an industry.
It's just really important to me to shine a light on bands or releases that were important, or needed to be heard. We're trying to make sure all of our releases have special packaging, booklets, mailorder editions, etc.
When I look at our releases every record should tell a story. If someone buys it they should feel like they are discovering something new, or stumbling upon a community they either love, loved, or had no idea existed. When I started buying records in the '80s, the inserts, booklets, and packaging were so important to me. It was like discovering another world by accident.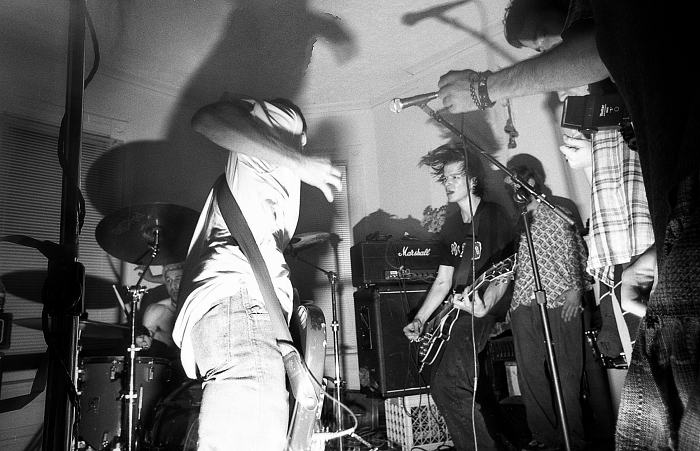 Tell me a bit about the first wave of releases you're launching the label with. I'm also curious about the liner notes since that's such a huge part of the archival aspect of what you're doing.

Jason: When Chuck and I first started talking about what we'd like to release there were a handful of bands that were immediately top of mind for us. We started talking with a few bands and things started falling into place quickly. We have releases in the works for Grain, Nuzzle, and The Pines of Rome.

Grain is a mid-'90s band from Cleveland. When I moved from Richmond, Virginia to Ohio in the summer of 1993, Grain was one of the first local bands I saw live. They blew me away! They were only around for a few years and it always weighed on me that they never had a proper LP. They were hugely important to the development of the Ohio music scene back then, and to me as a young punk, and I knew I wanted to do something for them.
Anyone who enjoys bands like Hoover and Kerosene 454 with melodic undercurrents, catchy hooks, and occasional hardcore breakdowns should enjoy it. We spent a lot of time putting together a 12 page booklet with written memories from friends and bands they played with, as well and lots of never before seen live pictures and flyers that were unearthed during the process. It was fun to get so many people involved. I'm particularly proud of this release.
Chuck: Nuzzle are friends of mine from the Bay Area. I put out a 7-inch and CD comp for them in the late '90s. At some point they recorded an album, scrapped it, and then rerecorded most of the songs for a release on Troubleman. That was a great LP, but the unreleased songs had a different energy to them. I've had these recordings on tape forever and would still come back to it.
When we were thinking about things to put out this definitely jumped out at me. The mix is incredible, the mastering is great, it's the definitive Nuzzle album. Take the urgency and energy of an artist like Unwound and combine it with melodies from the Athens, Georgia scene of the '80s. We also worked on an 8 page booklet with liner notes and an oral history from the band.

Pines of Rome are an active band recently brought back to life to show us what we didn't know we needed. They're longtime friends from Providence, Rhode Island, and we jumped at the opportunity to work with them. The new album is beautiful. If you like artists like Codeine, Bedhead, and Rex you will love this. Those guys are incredible songwriters. I encourage everyone to check out their other albums as well.

Justin: These first three releases were in the works before I started working with the label. I was friends with Grain back in the '90s. My old band, Thumbnail, would pass through Ohio and play with them quite often and stay at their houses so I'm particularly excited about Grain! I'm a big fan of Nuzzle and Pines of Rome and I'm psyched to help them out.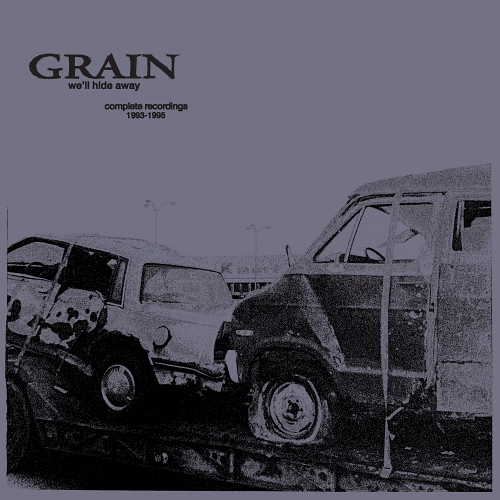 How far in the future are you guys planning releases for? I imagine there's a lot of legwork involved before you even get to the remastering stage.
Jason: It is a lot of legwork and a lot of what we're learning in our early days are things labels like Light in the Attic and Numero Group are all too familiar with. These older bands have often moved on, they have careers, families, and competing commitments so things move slower. Sometimes they have their master recordings and sometimes it is a scavenger hunt to track them down.
Wrangling assets takes a lot of time. It's also interesting in the sense that you're following a trail of historical events to get what you need. Along the way you meet more people and gain more context which is fun. It's all part of the band's journey and hopefully part of the story we get to tell as the label.
It's been interesting to learn about the whole vinyl production process and the supply chain issues that still cause a lot of delays. It's easy to forget that when you grab a newly released record off the shelf at your local store it has been a work in progress for probably close to a year! Coming from the world of fast-paced technology and product development I have learned that patience is not my strongest virtue [laughs]. But, as they say, "Slow and steady wins the race." In this case a "win" for us is to have a beautiful product to give to the band and their fans.
After these first three releases, and without giving too much away, I will say our release roadmap is quite busy well into 2023. There will be a new record from a current, active band, in addition to several other reissues that are in various stages at the moment.
Justin: This is the first time I've worked on reissues since my time at Touch and Go where I worked on several reissue projects as Head of Digital. I worked with a lot of Touch and Go's distributed labels like Kill Rock Stars, 2.13.61, and Jade Tree. One thing I'm reminded of is that reissues take time; particularly in reconnecting all of the old members and getting folks to start working together again.
I used to be one of the main folks at Touch and Go working with the catalog archives, so getting back into that mindset is really fun. I'm having a lot of conversations with people I haven't talked to in 20 years or more who were like family to me back then. That has been incredible! We are not strictly working on reissues though. It is a lot of work and I'm having a lot of fun again on the label side.
***
Solid Brass Records on social media: Linktree | Instagram
***
Help Support What No Echo Does via Patreon:
***
Tagged: grain, record label profile