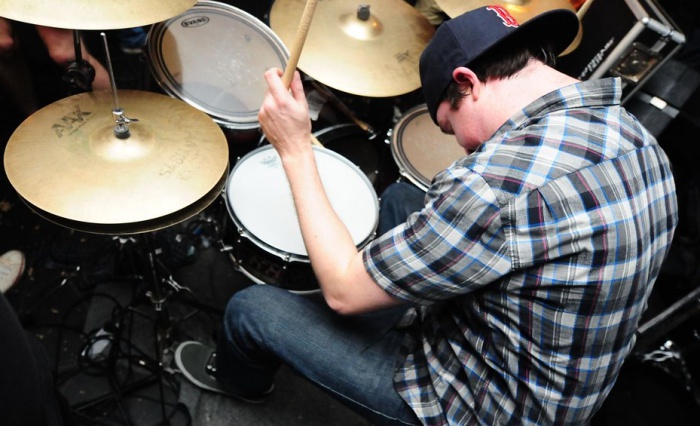 Who are you?
I feel like this is an opportunity to provide a nuanced and complex ontological answer, but i'm going to keep it simple: I'm Shawn Costa.
Where is your homebase?
Providence, RI.
Who are you currently playing with?
Right now the only active project that I am a part of is Fiddlehead. However, Have Heart is reconvening this summer for a quick jaunt. It sounds weird to say, but technically we will be an "active," living, breathing creative unit this summer…at least for a period of 3 weeks anyway.
What originally sparked your interest in drumming?
For me personally, growing up I always thought that drumming just looked tremendously cool and fun. I have vivid memories of watching Dave Abbruzzese performing with Pearl Jam for their MTV Unplugged set in 1993. I was 8-years-old at the time, and I was just completely awe-struck by his command and mastery of the drums. I first sat behind a kit when I was around 10 or so. One of my best friends at the time, his father had a rehearsal spot in the basement, and I remember always eye-balling the drum set. He finally allowed us to "jam" down there after we pleaded relentlessly to let us do so. My friend and I were taking guitar lessons at the time, and our parents were essentially paying this guy $25 an hour to teach us how to play Green Day songs, which sounds like a pretty sweet deal for that instructor.
Our parents were definitely supportive of our creative interests. Anyway, this was my first opportunity to even simply hold drum sticks, let alone play a full kit. I made no attempt at even utilizing the bass drum whatsoever, so I was all hands, all the time, but I had so much fun. More fun than I had playing the guitar to that point.
Did you ever take lessons?
Nope, I've never taken a single drum lesson. I received my first drum set (a silver Tama Rockstar) as a birthday gift in 1999, when I was around 14/15. I practiced relentlessly, and had a decent feel for timing right out of the gate. I was also using the bass drum this time around, so progress was slowly but surely being made. From the time I got my first drum set, I was always interested in utilizing proper "technique," so I subscribed to Modern Drummer magazine, and would read every single detail and piece of information/advice, even from drummers that I had absolutely zero interest in emulating.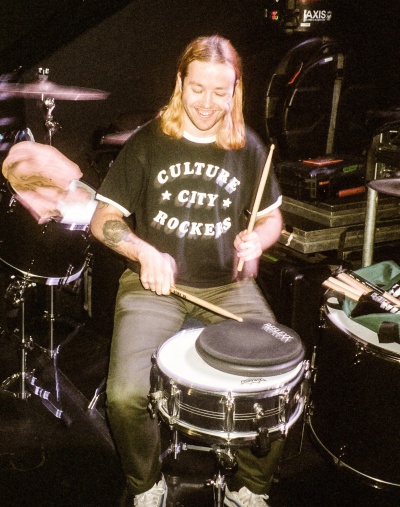 Who were some of your earliest influences?
Chad Smith (Red Hot Chili Peppers), Dave Abbruzzese (Pearl Jam), Daney Carey (Tool), Tré Cool (Green Day), Chad Sexton (311), and Travis Barker (blink-182) were my earliest influences by the time I had actually started playing the drums. I also really enjoyed Abe Cunningham from Deftones. Any drummer who could articulate clear ghost notes, always caught my attention and I tried my best (though it sounded poor) to mimic graceful playing very early on. If we're talking purely hardcore drummers I'd have to say Nick Branigan (Close Call, Bane until 2003), Alan Cage (Quicksand, Seaweed), and Mackie Jayson (Cro-Mags, Bad Brains) were my three strongest influences.
Who are some of your favorite drummers to watch live?
Jimmy Chamberlin (Smashing Pumpkins) is probably the best drummer I've ever seen live. His ability to blend Bonham-esque rock drumming, with the improving chops and flair of Jazz drumming is a sight to behold. One of my all-time favorite drummers is Josh Freese and I had the chance to watch him play in Weezer during the Blue album/Pinkerton anniversary tours and it was amazing. In regards to hardcore drummers: D-fang is always fun to watch play, as well as Jake from Freedom (RIP) and Citizen. Abbas from Burn/Rule Them All is unreal to watch play live. Champ from Foundation (also RIP) is one of the cleanest/tightest drummers to ever do it in hardcore as well. Evan White (Brother) is always locked in and he's a hard hitter. Mike Ralston (Ekulu, Illusion) has great, great style and we share a lot of the same influences. It's also always fun to watch the greats do it, so Alan Cage is a must watch whenever I'm lucky enough to see Quicksand.
Out of all of the albums you have recorded over the years, which one are you most proud of, and why?
Wow, that is a tremendously difficult question to answer. Every album I've recorded, whether it was with Have Heart, Verse, Sweet Jesus, Fiddlehead, or FREE, holds somewhat of a special place for me. There is an associational memory attached to the writing process and recording of virtually any record I've done, so there is a real "time and place" factor that usually makes me feel sentimental in reflection. If I had to pick one, and only one…I'd probably choose Songs to Scream at the Sun. It's really the only record that I've ever done where there was a full-on budget for us to take creative risks in the studio.
Kurt Ballou was phenomenal to work with, and we rented this really big studio in Somerville MA, called Q Division to track the drums. Alex Garcia-Rivera teched on the record, and he brought his collection of vintage snares. Kurt was really into swapping different kits and snares to match the overall feel of the song. We ended up using at least 3 different kit configurations, and I probably used at least 4 different snare drums on that record. If I recall correctly we used: a vintage Ludwig black beauty, an '80s Tama Artstar rosewood snare (which I loved), a DW collectors maple shell, and a Ludwig Supraphonic. It really felt like a legitimate "recording experience" and I love some of the drum sounds that we were able to produce on that record.
How many different bands have you been in with Pat Flynn? 4? 5? Were you in any bands with him before Have Heart?
Officially, Pat and I have been in four bands together. Unofficially, we've started at least 6 or 7 projects, though a few of those will probably never see the light of day. Have Heart was our first time playing together, and over the years we've really developed a neat musical chemistry. I read a recent interview were he essentially stated something to the effect of us being "musical soulmates." I'd have to say I agree with that sentiment, and I think we share a lot of common musical sensibilities and tastes, which has served us well over the years as a creative unit.
Tell me about your current drum kit and set up.
I actually upgraded my kit very recently. After years of playing Tama and SJC kits, I'm now the proud owner of a Sonor SQ1. In essence, it's the same build as their flagship SQ2 kits, just with less customizable features. Benny Greb and Chris Coleman are two of my all-time favorite drummers, and I've always been so impressed with the sounds they've been able to generate from their kits. So I've wanted to own one for a while. The problem has primarily been that they're stupid expensive. Fortunately, I was able to secure a really good deal on an SQ1 that I couldn't pass up.
The full set up is a: Sonor SQ1 birch shell kit in cruiser blue with a 17x22 kick, 8x12 rack tom, 14x13 floor tom, 16x15 floor tom. Snare drums I currently own: Ludwig copper phonic 5x14, Sonor SQ1 6.5x14 birch shell snare, and a DW performance series 6.5x14 brass shell.
Cymbals: Meinl 14" byzance vintage series sand hats, 18" byzance extra thin hammered crash, 19" byzance traditional medium-thin crash, 20" byzance extra dry dual crash-ride, 20" mb20 heavy crash, 22" byzance foundry reserve light ride, and a 22" byzance heavy ride
Hardware: DW 9000 single pedal and hi-hat stand, and an assortment of DW 5000 and 9000 cymbal stands.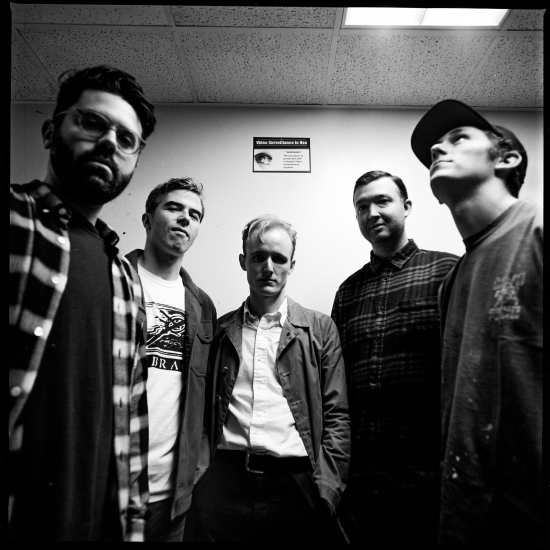 Are you very particular about the drumstick brand and type you use, or do you use whatever?
I'm definitely pretty particular. I've generally been a 5b profile guy over the years, and have switched back and forth between Vater and Vic Firth. For the past 2 years I've exclusively been using the Vic Firth Benny Greb signature stick. It's essentially a standard 5b profile, with a shortened tear drop tip, which helps with controlled rebound and cymbal articulation.
If you didn't have to worry about money, what kind of drum set and cymbals would you use?
I actually think my current set up is my "dream set-up." I don't imagine I'll be upgrading any time in the near future, if ever, as there is probably no point. Having said that, It'd still be cool to own a 60's Ludwig classic maple in a Psychedelic Red finish.
Recommend to the readers some albums that you think have incredible drumming on them.
My three favorite albums for drum performances are as follows:
Slint, Spiderland: just incredible jazz-inspired drumming and feel, over really interesting song compositions. Also the snare drum sounds absolutely incredible.
Weezer, Pinkerton: probably my all-time favorite drum tone on an album. The whole kit sounds really bombastic and out of control, but in the best possible way. Also, Pat Wilson lays down some incredibly filthy drumming on this record.
Smashing Pumpkins, Mellon Collie and the Infinite Sadness: Chamberlin is just on a completely different level, and his drumming on this album is a straight up marvel. Especially on "Fuck You: An Ode to No One"
Tell me about something (non-hardcore related) that you are genuinely excited about.
I'm graduating from a masters program at Boston College (for counseling psychology) next month, and it's been equal parts exhilarating and exhausting. Definitely excited to finish up.
Top 5 things that can "make your day"?
Food that tastes good. Listening to John Frusciante play the guitar. Watching PJ20. Also watching Impractical Jokers. Spending time with BBB.
What do you have coming up in the near future?
Fiddlehead will begin writing new material soon. No firm plans set in stone, but we've talked quite a bit about starting that process and I'm hopeful it'll begin soon. Have Heart, somehow, will be playing 8 shows this summer. In all seriousness, I'm very excited to re-visit these songs and to approach them through a new musical lens, while still keeping the spirit of the original drumming intact.
***
If you're shopping for vinyl, CD, and cassette hardcore titles, head to No Echo's partner store, Reverb LP, to see what they have available. Every purchase you make helps No Echo with site costs.
Tagged: cutting steak, fiddlehead, free, have heart, sweet jesus, verse