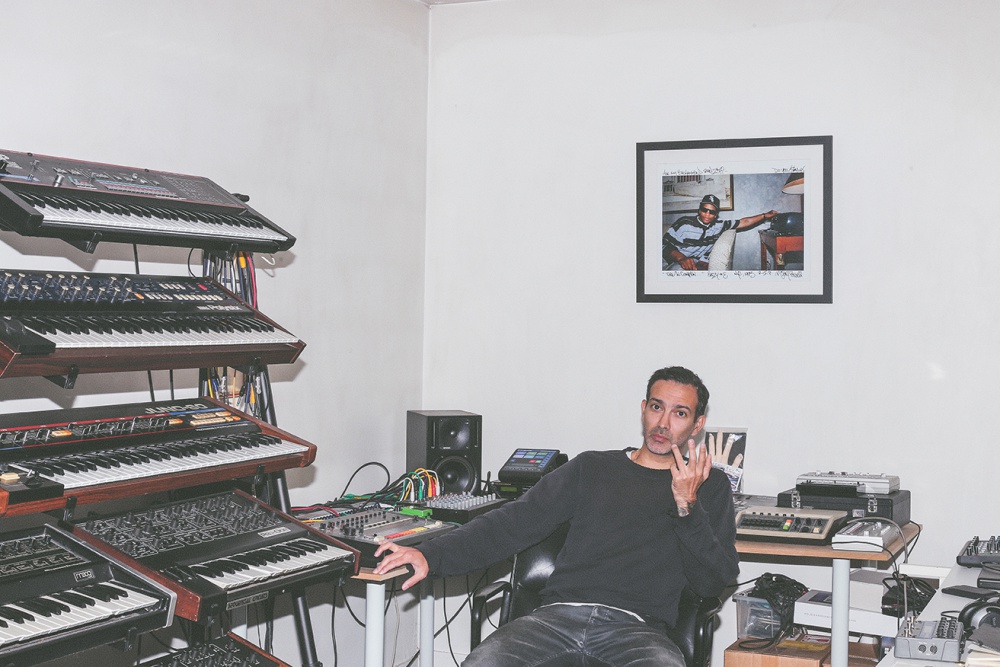 I first met Ron Morelli in the 90s when he booked my old band, C.R., up in New Paltz, NY. We hit it off right away. That very same night, our bassist, Grover, repeatedly smashed someone's head into an oven for having some unfavorable words about the Bad Brains. Anyway… Ron and I became close friends over the years. He sang in the hardcore group Devola and our bands played together often. He was also a regular guest at the apartment I shared with Mike Ciasullo (52X, The Last Crime, Wheelchair, Dynasty) in Bellmore on Long Island.
Many years had gone by and we lost touch, as people do, but during that time, Ron became a world-renowned house, techno, and electronic producer and DJ, touring the world and running his successful label, L.I.E.S.
About a year ago, I ran into him on the street in Brooklyn and it made my night. Finding out about my old friend's many adventures and accomplishments over the past however many years was really awesome. I decided to do a feature on him in the Gear Nerd series because his world is a little bit out of the ordinary for me. Read on, readers!
Please Introduce yourself and give us some background on your band/musical history.
My name is Ron Morelli, aka HCR, aka The Falcon, from Merrick, Long Island. I'm currently residing in Paris, France (how, I don't know). I played in a band Devola for a couple of years in the '90s, then did two other bands after that never toured or anything, just messed around. Around 2000-2001, I got sick of playing music with people, so I turned to other options of being creative in a solo manner, namely DJing, and then later on more with production.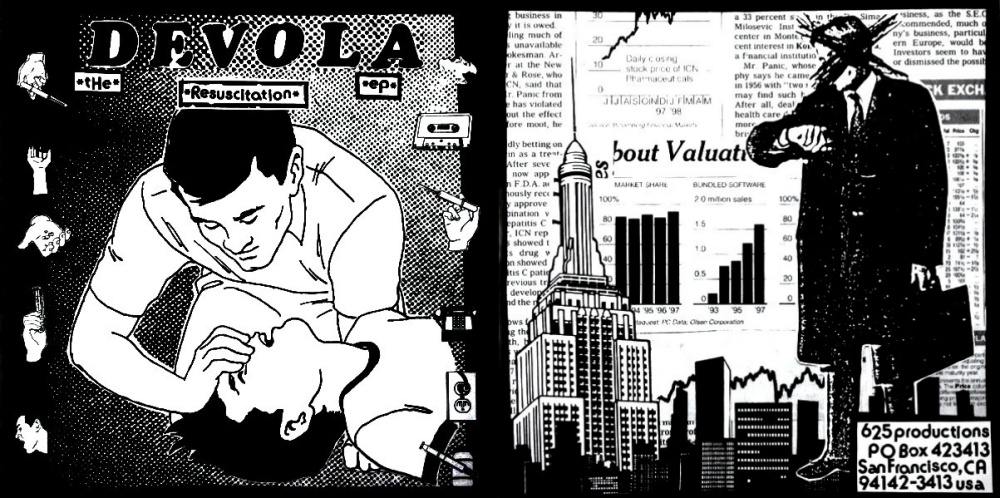 How would you describe your musical output now?
Heavy, fucked up electronics.
In your opinion, how does it parallel hardcore/punk?
To me, it's actually one in the same, if you break it down to the bare essentials. It's extreme music made out of necessity, granted the world of electronic music runs far and wide with many sub-genres, some being more extreme and some being more club-oriented, usually made in bedroom studios with a simple goal of making a demo or simply self-releasing music. The foundation of much early electronic music is DIY from the original Detroit techno and Chicago house in the '80s, to say, the scumtronics of labels like Zhark in the mid-late '90s, or pioneers like TG and Whitehouse or early SPK or groups like the Grey Wolves, or, I guess, Suicide in New York, who were the real OGs.
These people were making extreme music in the '70s and '80s and people hated it and couldn't wrap their head around it. And alot of this came out of punk as a backlash to the commodification and commercialization of it or out of sheer boredom. So, moreso, it's about the ethos and less about the sonics but again they do run quite close in many instances, the connections are all there and documented.
Do you still follow anything going on in the hardcore/punk scenes?
Unless it's friend's bands, not really, but I always I guess check things here and there. Like I knew Infest was back together playing shows [laughs]. And somehow via the internet, I'm definitely wasting a lot of time looking at old punk and hardcore flyers and photos from back in the day. But yeah, I always see [Mark] McCoy's label [Youth Attack] is still going strong and putting out ripping stuff, and yeah, I don't know, it seems like there are more bands than ever.....maybe because the world is smaller place because of the internet. I definitely listen to Assuck's Misery Index a couple times a year and also wild out with Crossed Out whenever I can. I will never tire of that. But I'm out of the loop on alot of current stuff.
Have you met anyone in this scene that we might know?
Oddly enough, I have not. I figured through the years I would have crossed paths with someone from the old scene but I have not. With that said, my old friend, Billy Werner, who played in the band Saetia and this other band Hot Cross, has done two records for the label under the M/R name. We have been in constant contact through the years and he's one of the first people I actually DJ'ed with almost 19-20 years ago!
What type of venues do you perform in?
Only the worst [laughs]. No, thats not true. It's a pretty wide range from squats in Italy to museums in Brussels to abandoned warehouses in Russia to your typical nightclub in London or a slasher movie gay bar in Detroit...it runs the gamut.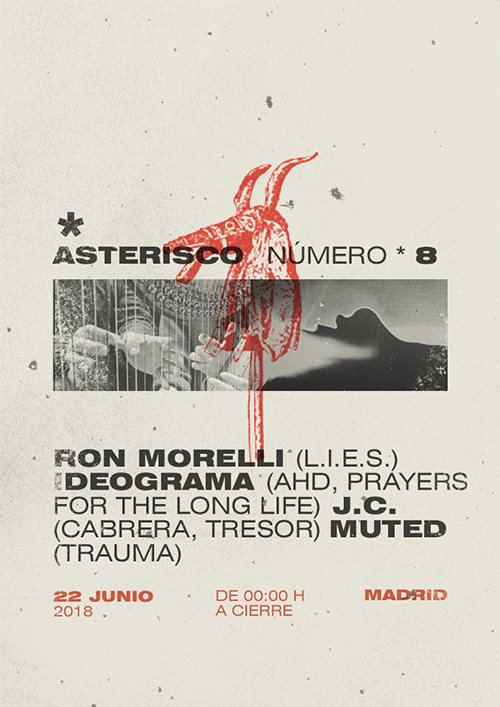 Can you run through your live set up?
Well, I'm mostly known as a DJ, so most of my bookings are for that, usually I'm just showing up and playing records in a club setting. But over the last years, I have done this ambient/drone project and handful of times, which is me performing original music live. With this project it was very simple, I was running a computer with Abelton live a mixer and a couple of pedals. No hardware in this case.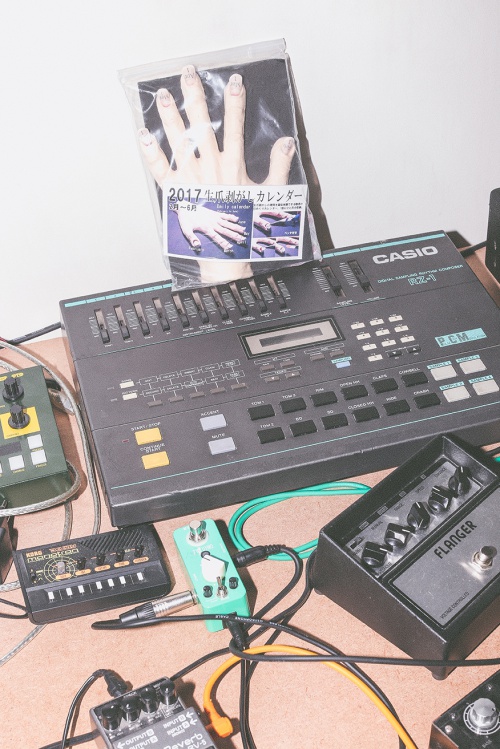 Do you use the same gear for local/regional shows as you do when you travel?
It's a rare occasion I'm doing the live set, but I think if I do it more I'll stick to the computer and maybe integrate smaller pieces of hardware into it like a 303 or a Volca or small drum machine, it really depends on the context and sound I'm going for.
How about your recording setup? Do you have any home recording gear or do you record in different studios?
All of my music is recorded at home in my home studio and occasionally I'll go to a friend of mine's studio to do a final mixdown as he has a proper set up for mixing. But yeah, I have a pretty decent amount of gear I've complied through the years. Some drum synths, a bunch of drum machines, various pedals, a grip of synths. Everything is routed through a patchbay which in turn goes into a soundcard and then is recorded multitrack in Abelton. I also have an alternate setup where I can run everything through this shitty but badass '90s Boss mixer just stereo out trying to blast the best live takes I can with little to no editing afterwards.
My studio set up is pretty versatile and set up to make the workflow fast and efficient especially with the patchbay you can do different effects chains and experiment fast without tearing apart your whole studio. With that said, I also like to simply use Abelton to make music as well. It's great when you are on the road, just put on your headphones and you can get lost in it. Really its endless.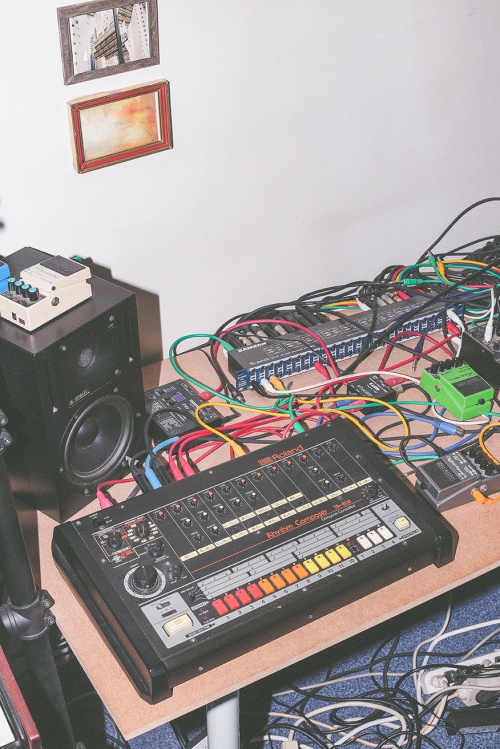 Give us the history behind your label L.I.E.S. Records.
I started the label in 2010, so we're hitting 9 years this coming year. I had experience putting out records in the mid-'90s and then again later in 2000 doing a one-off release of this underground hip-hop act. So, suffice to say, I already knew what mistakes not to make when starting this new label. It was always something I enjoyed but I knew this time if I did it I wanted to do it "right," or as pro as possible, for lack of better words. But yeah, by 2010 I had already been deeply immersed in the vast world of dance music for years... from all strains of disco to house music to techno and all the offshoots and mutations Belgian new beat, old-school electro, Hague squatter techno, Midwest frop bass stuff, UK Bleep, wave, minimal synth, experimental electronics....anything and everything I could get my hands on really.
I had also been living in Greenpoint since 1999 and lived a block away from The Thing (legendary junk shop/dollar record store) right when it opened. So, literally, you could just bring a coffee in there and hit the basement and leave with gold at the time...and everything was a dollar. I was casually able to get a good amount of crazy stuff there as well at many of the other sick shops around the city...it was a special time now looking back. And then in 2009 till I moved in 2013, I worked at A1 Records in Manhattan, which was just sick. Basically, I had a one track mind...all music all the time...complete obsession and immersion. But back to the label...it was pretty organic how it all started as I had been around all these music freaks who were making tracks...alot of them were just bedroom producers with no real goal, they were just recording their shit and that was that.
So, at this time, I had luckily for once got my finances in order and said to myself, "yeah, I'm gonna do this label." I just hand-picked artists that were friends of mine and then it spiraled out of control...more people came out of the woodwork and actually a pretty interesting local scene came together through the label. At this point, I'm shocked but the label has taken a life of its own and I've got to work with many killer artists worldwide. I feel very fortunate that in this day and age that I can keep doing it at the pace I keep doing at and that people are still consistently interested.
Do you want to take this opportunity to highlight any of the artists you work with?
You know, oddly enough, i've been working with Mick Harris of Napalm Death as of recently. Mick was obviously part of the original Scum lineup and recorded their most legendary and groundbreaking album and toured on that. Mick is truly a pioneer and extremely forward-thinkng, never content to stay in one place for too long. After Napalm Death, Mick did the Scorn project, which for those who don't know, was this for lack of better words downtempo, electronic dub project, heavy ambience and low end sonics. He also played drums in Painkiller with John Zorn and Bill Laswell, which I guess you could call free jazz grindcore. Anyway, post-Napalm Death, Mick was unstoppable with his projects and especially focused on electronic music. He has tons of aliases over the years and has a strong connection with Karl O'Connor's Downwards label, which forged a now legendary "industrial techno" sound in Birmingham 25 years ago till present.
So, yeah, basically, Mick's always been making heavy music and through a mutual friend we got connected and now have been releasing his new music through the label. And believe me it is heavy! That is undoubtedly something I'd never thought about happening in this lifetime....putting out the music of the drummer of Napalm Death. Funny enough, I see Justin [Broadrick] from Godflesh here and there as well, as we record for the same label, Hospital Productions, so sometimes we get on gigs together and whatnot. Justin, like Mick, has also been deeply immersed in electronics for a long time.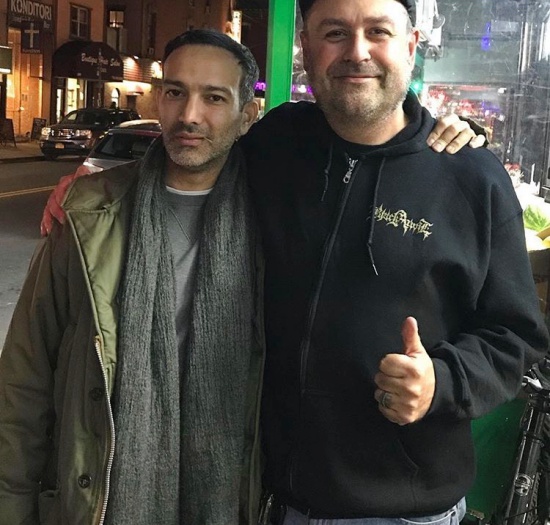 ***
Check out L.I.E.S. Records' website to see/hear what Ron has cooking, you can also follow the label on Instagram.
Tagged: devola, rom morelli